Preview 2018: Wrap
Brian
September 1st, 2018 at 12:18 PM
Hello. You have made it to the end. Apologies for the slippage this year. There is a certain kind of despondency you can only feel when your OL post is struggling to get under 10,000 words and you decide you just have to split it up. I have felt this despondency. This year's preview checks in at 53,433 words, give or take the tags. I should probably count them since I typed them but I forgot to so now it's gone.
STUFF I STEPPED ON
Preview: Notre Dame. Seth watched ND's spring game as part of his research.
Punt/Counterpunt. Welcome Internet Raj, who's from the internet, everybody!
THE STORY
Lie Back And Think Of Iowa. How can we football when the football is an atrocity machine?
OFFENSE
Quarterback. When I say "TATE" you say "FORCIER" where are you all going
Running Back. Speedy and Bleedy.
Wide Receiver. Quit stepping on Tarik's foot and throw it to Grant Perry. FFS!
Tight End And Friends. Dominant traits.
Tackles. The balsa wood holding up the whole damn building.
Interior OL. Cesar and His Large Friends.
5Q5A: Offense. The Warinner impact. How will Harbaugh spread?
DEFENSE
Defensive End. I need clips. Give me clips.
Defensive Tackle. If we can't believe this hype, what hype can we believe?
Linebacker. People had doubts about my squirrel-man interbreeding project but look at me no-
Cornerback. Ben Wallace, the unit.
Safety. Not great, but goodish!
5Q5A: Defense. I don't have any questions? So I turn statements into questions? Making sentences that are spectacularly annoying to read? Because your internal monologue raises its pitch at the end of them?
MISCELLANEOUS
Special Teams. Someone punt it good plz.
Podcast 10.0A. Podcast 10.0B. Podcast 10.0C. wsg Seth.
MGoRadio 4.0. I don't remember doing this.
Heuristics and Stupid Prediction. 10-2.
ELSEWHERE
This Blog has been around for Ten Years Good Grief Also It Is College Football Season, BYCTOM
College football offers a great backdrop for writing because it is impossible and insane. There's the serious articles about the various ways that college football remains profoundly fucked up and morally indefensible-- an elaborate system of inflicting brain traumas on unpaid teenagers that is somehow simultaneously a lawless free-for-all where institutions hide grievous and even unthinkable crimes and an impossibly intricate parallel justice system where players are monitored at all times for accepting a five dollar milk shake with an enforcement branch dedicated to investigating the unauthorized sale of game-worn pants. The entire thing is something out of Kafka.

The sport breeds colorful characters at all levels because it has evolved to turn itself into a network of unquestioned fiefdoms under the two types of people who absolutely should not be in charge of anything: college football coaches and people who give shitloads of money to college football programs so they can be Football Big Shots.
The Birds Who Die Each Autumn, Crimson Quarry.
After the rains of the monsoon season have subsided, thousands of disoriented birds descend onto the small village of Jatinga, India.
TIGER, Spencer Hall.
The Tulane students did nothing right. They chained the trailer to their car poorly, letting Mike's trailer roll free and untethered at one point, very nearly losing him before they chased it down. A cop stopped them, but the students somehow convinced him they were providing an escort to campus for the big cat before the game.

Please let me write that again: A New Orleans cop pulled over a car towing a tiger through town at something like 2 in the morning and did nothing to investigate the matter further. Normal place, normal people, normal cops.
------------------------------
Here is the answer to the question looming above next to The Story: they dicked with the band. The Michigan Marching Band won't play pregame and has been flung to the very boonies of the stadium tonight, and all concerns about how our great American pastime are immediately subsumed by a burning desire to see Notre Dame humiliated beyond reason, to see them beaten so badly that everyone except me turns the television off.
These days the offseason is eight months of increasing disgust at the college football's parasitic scaffolding. It's not that it was better in the past—less hypocritical maybe. It's that there was less leverage.
I turned on the Purdue-Northwestern game grudgingly. But did you know Purdue now has a 5'3" guy with seven legs, none of which you can grab? And that Pat Fitzgerald put his starting quarterback with NFL draft hype on a "pitch count" so he could play the exact same guy except younger and not so good? And it worked?
Aw, hell. 45 minutes into Purdue-Northwestern and there goes the righteousness. Then it's nine PM on Friday and Utah State is driving for the lead. For some reason the MSU students are chanting "Fuck Harbaugh" as they do this. The scaffolding is there because the great tower of ridiculous fun it surrounds conquers all. Let's fight to make it better; to abandon it would be a crime.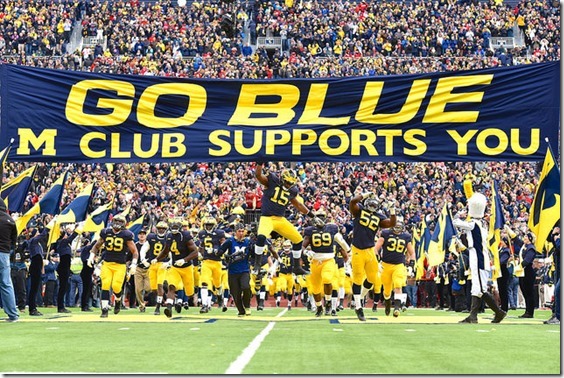 [Bryan Fuller]
Go Blue.
Log in or register to post comments