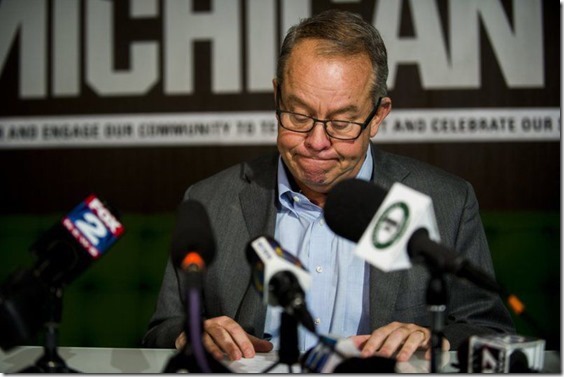 i quit
In the wake of... all that at Michigan State I thought it might be apropos to survey Michigan's own house, looking for warning signs. In part this is because I think there is a major one. To me, there are four major components that lead to something as callous as Michigan State's athletic department: a commitment to secrecy, an incestuous power structure, leaders who don't care about anything but the bottom line, and the ability to subvert outside checks on your behavior.
Point by point:
Pattern of DGAF discipline because you only care about the bottom line
Brandon Graham : Glenn Winston :: Winston : EL citizens
Mark Dantonio established a long time ago that he more or less doesn't care if you, football player, do something bad. Delton Williams pulled a gun in a road rage incident and served jail time. He was immediately reinstated. MacGarrett Kings was arrested for "super drunk" DUI and got a zero game suspension. MacGarrett Kings was arrested for kicking a parking enforcement truck and resisting arrest, still got a zero game suspension. Glenn Winston broke a hockey player's jaw with a sucker punch, served six months in jail, and was immediately reinstated. LJ Scott was arrested seven times for driving on a suspended license without reaction. Auston Robertson was admitted as a recruit after multiple high school assaults, one sexual, and proceeded to commit a sexual assault while in college. He didn't so much leave the team as go on the lam. Chris L Rucker was jailed for eight days during the 2010 season after a DUI violated his probation and played the weekend after his release.
And, of course, there was that probation. Rucker was on probation because even the Ingham County prosecutor's office—about which more in a second—couldn't make surveillance tape from a dorm brawl go away. That brawl was spearheaded by one Glenn Winston:
The fight took place during a potluck function sponsored by the Iota Phi Theta fraternity, hours after Michigan State's team banquet. Winston reportedly had been in an altercation the previous night at a party thrown by the same fraternity at an East Lansing nightspot. An unnamed Michigan State player was charged with public urination and possession of alcohol by a minor outside the Small Planet nightclub.

Dell's father told the Detroit Free Press that Winston informed his teammates about the altercation, and they agreed to follow him to the potluck the next night.
Winston was finally removed from the team, as well as one other of the twenty Michigan State players who decided it would be a good idea to rumble with the Jets.
It was only last year that the 16 sexual assaults Dantonio has overseen during his time at Michigan State were public enough, and the outside heat turned up enough, that Donnie Corley, Josh King, and Demetric Vance were probed, arrested, and booted. Even there Dantonio's hands were tied by the fact that their prison sentences are likely to extend past their eligibility.
Tom Izzo, meanwhile, kept Keith Appling, a man local police wanted to charge for rape, on the team for four years. He was not even suspended.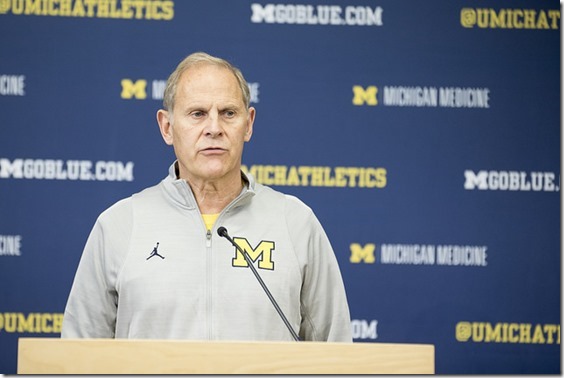 i know what this press conference isn't about [Marc-Gregor Campredon]
So. There's that. Michigan does not show the same proclivities, mostly. We have no idea what John Beilein's discipline policy is like because—except for Mitch McGary testing positive for pot at the NCAA tournament—literally none of his players have ever been in trouble. Laval Lucas-Perry was dismissed for violating team rules but there appears to be no legal reason.
Under Harbaugh, the only thing approximating lax discipline has been Grant Perry's three-game suspension in the aftermath of an incident outside an East Lansing bar. That resulted in probation and a diversionary plea deal; it cost Perry a quarter of a season. Other incidents under Harbaugh have been met with summary execution. C'sonte York, Logan Tuley-Tillman, and Nate Johnson were all immediately booted for incidents that would have been met with zero game suspensions from Dantonio.
I mean this literally. York sucker punched a guy, which is the same offense Winston committed minus the broken jaw and six months in jail. Tuley-Tillman was convicted of taping consensual sex and sending it from her phone to his; his conviction was also diverted. Nate Johnson was sentenced to four days in jail and probation for a domestic violence incident. That number of days in jail doesn't even warrant a weekend suspension at MSU.
Pre-Harbaugh Michigan did have Brendan Gibbons. Gibbons was not charged as a freshman when his incident occurred, but he should have been booted anyway. "Woman you have sex with does rape kit immediately afterwards" isn't a convictable offense in the court of law but should be disqualifying for a Michigan athlete.
More disturbing is Taylor Lewan's behavior in the aftermath. For the record, Lewan denies that he said this:
The alleged victim also accused Lewan, a longtime teammate of Gibbons with the Wolverines, of then threatening her if she pursued charges -- "I'm going to rape her because, [Gibbons] didn't."
I don't believe him. I don't believe him because there is a UM police report on the incident with a specific and believable account of this interaction. Maybe the exact phrasing involved is incorrect but the overall thrust of the interaction is clear: an attempt to intimidate this woman. That should have gotten him suspended, but it's clear from the way the Gibbons situation played out that Brady Hoke was a neanderthal in this department.
That had to change. External indicators seem to indicate that it has. For what it's worth, the whisper network had outed Gibbons just as thoroughly as it had outed Keith Appling and Adriean Payne before ESPN finally put their names and acts into print, and I haven't heard anything similar since.
Subversion of local prosecutor's office
lax MSU discipline did not help Keith Appling in the long run
The East Lansing police department recommended prosecution for Keith Appling and Adriean Payne after Payne essentially confessed in a police interview. No charges were brought for an astounding quid pro quo:
Schaner says campus police investigators told her that, because of Payne's police interview, they had a solid case to pursue. Once the case was forwarded from police to Ingham County prosecutors, Schaner was interviewed by an assistant prosecutor, Debra Rousseau Martinez. Schaner says Martinez told her she did not seem strong enough to stand up to questioning that would come as a result of making allegations against MSU basketball players.

No charges were filed in the case. The assistant prosecutor, Martinez, now works for Michigan State's Title IX office. She declined to comment on Schaner's case.
Meanwhile the Ingham County DA for the large majority of the timeframe covered here was Stuart Dunnings III, who eventually went to jail for a bundle of charges including soliciting prostitutes and, more relevant for this post, subverting the justice system repeatedly when favored people were caught up in it. Just a couple of the litany of offenses:
In August 2012, charges were inexplicably dropped in a drug paraphernalia case. When an investigator interviewed the person who dropped the charges — likely an assistant prosecutor, whose identity was redacted from the report — the person told the detective she doesn't know why she dismissed the case and "she would've documented if someone had contacted her requesting she dismiss the charges."
In November 2013, a woman arrested on a domestic violence charge claimed to know Dunnings personally and said she should be released immediately, a jail staffer told investigators. Dunnings called the jail and said he wanted the woman released into his custody. Though "the staff thought it strange that the prosecutor was getting personally involved in this case," investigators found at least eight women had been released from the jail in 2015 "at the request of the prosecutor or the prosecutor's office." The Sheriff's Office oversees the jail.
If Dunnings was willing to spring prostitutes from jail because he knew them, a call from Izzo or Dantonio only has one outcome. The woman assaulted by Travis Walton, who picked up a bizarre littering charge instead of the original assault charge, states the obvious: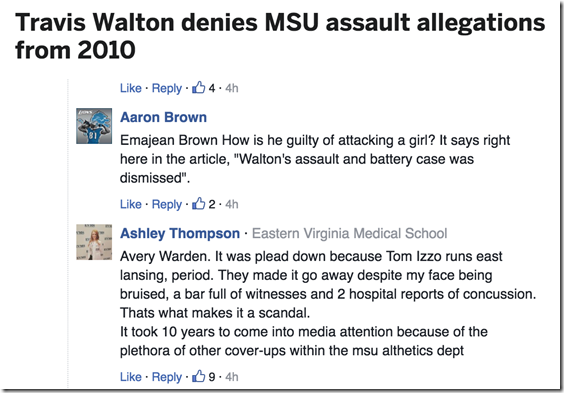 If Grant Perry played for MSU he would have gotten a littering charge, because it's hard to tell whether the Ingham County prosectuor's office is more incompetent or corrupt. This is Dunnings's replacement:
"You put all of these together after what we now know and they look like flags, but at the time … (it) was inappropriate, but did it rise to the level of knowledge of a criminal activity? No," said Whitmer, who was appointed to serve the last six months of Dunnings' term. She noted in a Friday interview that she was not privy to the investigation during her review of the prosecutor's office.
This is a dude in jail.
Wriggelsworth said Friday that it wasn't until this investigation that his office had anything solid — or even wrote an official report.

But the prosecutor's activities were so widely known, in fact, that an inmate laughed when he saw Dunnings being led down a hall in the county jail in cuffs in March.

"Everyone knows" Dunnings had been involved with prostitutes "for years," the inmate said, according to the records. "Damn, the man finally got caught up."
Either the dude in jail is the smartest guy in the building or the cover your ass attitude didn't end with Dunnings.
This does not appear to be the case in Ann Arbor. Even if Nate Johnson and Logan Tuley-Tillman aren't the best examples because both had been booted from the team as soon as their offenses had become known, they were still charged appropriately. Going a bit further back in time, Will Campbell was charged with a felony for this extremely unwise hijink:
Michigan senior defensive tackle Will Campbell is facing one felony and one misdemeanor charge of malicious destruction of property stemming from an April 7 incident, according to court records. ...

According to Ann Arbor police, Campbell was arrested after attempting to slide across the hood of a vehicle at 2 a.m. on April 7 in the 600 block of Church Street. An officer in the area could hear the sheet metal on the hood of the car buckle under Campbell's weight — he's listed at 322 pounds — and arrested the senior, police stated.

Campbell was intoxicated, according to police.
He pled down to a misdemeanor and paid restitution, as is appropriate for a first-time offender. He was certainly not undercharged initially. Meanwhile the main accusation leveled at Michigan's Title IX department recently is that they railroaded Drew Sterrett, a non-athlete whose preposterous expulsion was rightfully overturned in court. It is unlikely to be a haven for disgraceful ex-prosecutors who shuffled rape charges under the table in order to do Joel Ferguson a solid.
The nature of these kinds of issues is that they get shuffled under the carpet for years until someone ferrets them out, so that's not definitive, and unfortunately...
Terrible FOIA Office
ESPN had to sue MSU multiple times to get unredacted versions of the documents they requested, and was infamously sued by MSU because of this conundrum:
MSU argues in a court filing that it has been put in an "impossible position" because Ingham County Prosecutor Carol Siemon's office asked the university to withhold the records and ESPN asked for them to be released.
That's not at all how FOIA works, but ESPN had to take that case all the way to the state supreme court before they could proceed. MSU's Foia Office was in full thrall to their university-wide omerta policy. Any FOIA office that acts similarly should put its university under similar suspicion.
@mgoblog And by the way if you're FOIAing Brandon's emails, quit now. He deletes them regularly, and FOIA office doesn't get deleted emails.

— Adam Rubenfire (@arubenfire) October 23, 2014
@mgoblog I waited 18 months for a CMMS FOIA. They sent me some data I requested and some data they said they couldn't give me. ¯\_(ツ)_/¯

— Tom Church (@TomVChurch) October 24, 2014
Requesting Jim Harbaugh's very boring expense reports took Deadspin "months of back and forth," and this Daily article still remains the gold standard for FOIA office comparisons. Michigan's office is WORSE THAN MSU's, which is the second worst in all the land:
This is probably something that goes back to a state law that needs to be changed, but Michigan taking fuller advantage of it than the sexual assault enablers in East Lansing is unacceptable.
As someone with some experience with the FOIA office I can tell you that Michigan had a policy under Dave Brandon (and may still have it under Warde Manuel) where athletic department emails were purposefully and systematically deleted after a certain period of time to remove them from FOIA. This meant the infamous "find a new team" email returned no responses when people suspicious it was a fake asked for it. I meant that whenever I tried to get all emails from Dave Brandon over a month long period there were no matching results.
The FOIA office also always, always, always replies that they will not be able to get to your request in the five business days mandated by state law and will use the ten day extension, whereupon they use the full three weeks before responding.
This is a statewide problem and should be rectified by:
Making FOIA requests free short of purposefully vexing ones.
Making "deleted" emails subject to FOIA; there is absolutely no excuse for Michigan's behavior in this regard.
Establishing certain things as outside the bounds of FERPA, like names on police reports.
Michigan, meanwhile, should take these steps independently. Because right now their FOIA office looks a lot like one set up to shield sexual assault.
Incestuous power structure

clowns
Lou Anna Simon had never worked anywhere other than Michigan State. The Michigan State board of trustees is a collection of blatantly unqualified mandarins that in other circumstances would qualify as hilarious. It contains:
An 83-year old former football coach whose tenure ended when years of steroid abuse in his program came to light. George Perles denied any knowledge of such a thing.
Joel Ferguson, whose own words are sufficiently damning. If you need more, racketeering charges and straight up admitting that he's buying off the mayor of East Lansing.
Mitch Lyons, former MSU football player, who publicly outed Auston Robertson's accuser Robertson as the Corley-Vance-King whistleblower and was recently charged with assault. Lyons at least was the first to flip on Simon.
Brian Breslin, who is the son of the guy their basketball arena is named after.
Brian Mosallam, another former MSU football player. Mosallam at least seems to realize they screwed up massively.
Miraculously, the other three people are not obviously beholden to the MSU athletic department—their actions only imply it. Their unanimous appointment of John Engler to replace Simon...
MSU interim-president-to-be Engler backs Schuette in gov's race; Schuette investigating MSU handling of Nassar affair via special prosecutor roasted by booster Secchia, on whose company Engler sits on board. #justkeepingscore https://t.co/tv1PalPjsf

— Gary Miles (@GaryMiles_DN) January 31, 2018
...is a ridiculous, we-learned-nothing slap in the face.
Michigan had one notable misstep here that you undoubtedly remember: appointing Dave Brandon athletic director despite his extreme narcissism and total lack of experience in athletic department administration. Outside of that Michigan looks outside itself for top end hires. Mark Schlissel came from Brown, Mary Sue Coleman from Iowa, Lee Bollinger from Dartmouth (though he was faculty at M for a long time prior). The most recent president to move up the ranks from inside the university was James Duderstadt in 1988. Critically, no Michigan alum has been president at the university since 1951. An Ohio State grad has been president more recently than that.
Amongst the board of regents many care about Michigan athletics but there's only one person clearly indebted to it: Ron Weiser, who was endorsed by "Sarah" Harbaugh prior to the most recent board of regents election. There are no former football players or coaches.
Unfortunately, Michigan does display some signs of dysfunction at high levels. "Supplemental" pay has been rising dramatically in recent years, in an apparent effort—again—to skirt FOIA laws:
As a public university, U-M is required by state law to disclose annual salary reports. In those reports, U-M discloses base salary. Yet faculty say base pay is only part of the story, and that in disclosing full-pay U-M will increase accountability.

A group of about a dozen faculty members published an open letter to regents in April, suggesting that faculty pay has been increasing modestly in the last decade, while administrator pay at the school has increased substantially, both through hikes in base salaries and through supplemental pay.

"It shows this disparity [in pay] is growing," Dario Gaggio, a history professor at U-M who co-authored the letter, said of the supplemental pay data. "The higher up you go in the hierarchy, the faster the compensations grow."

He added: "I think the whole system really is in need of a general review."
The University in general shows little to no resistance to the increasing disparities between rank and file pay and executive pay that plague every industry in the country but are especially grating in a non-profit, public-interest enterprise like a public university. And they go out of their way to disguise that. From such small mendacities greater things can spawn.
Michigan, in general, must become more open. Open about compensation, compliant with the spirit of FOIA, not the mere letter. After all:
"A sign of high integrity is not [being] worried about being FOIA'd"