9/23/2017 – Michigan 28, Purdue 10 – 4-0, 1-0 Big Ten
POW! WHAP! [Bryan Fuller]
That has never happened before. Never in the 200-year history of the University of Michigan has a person done something so very badly for three hours, and then emerged some time later doing the same thing so well. James Earl Jones never sounded like a pimple-faced teenager. Lawrence Kasdan did not write Happy Gilmore before Empire Strikes Back. Gerald Ford was not also Dick Nixon. HH Holmes did not accidentally build a Mildly Annoying Castle.
When you progress, it is gradually, not all at once. And maybe John O'Korn has done that, away from the glare of the public. Maybe last year's Indiana game was an outlier amongst all of O'Korn's throws since he lost the starting job at Houston. Maybe we are have too little data and are making it big.
Or maybe dude got bit by a radioactive spider. Maybe he spent the offseason creating a powerful electromagnet that works on leather. Maybe he did a bunch of cool ninja stuff in the Himalayas and then brooded in a cave a bunch. Maybe there's about to be a bunch of John O'Korn sequels and reboots and superfriends movies.
Whatever it is, take it and run.
----------------------
Because I am a Michigan fan I can think of players that went the other way, mostly because of Brady Hoke. Blake Countess was asked to go from a zone corner to a man corner, guided by a linebacker who'd never coached DBs. He went from an All Big Ten player to Will Fuller toast. Devin Gardner's thrilling debut as #98 against the Irish was matched only by his performance in the 42-41 barnburner against OSU; in between he was a battered shell of himself.
No one has gone the right way so suddenly and dramatically. Nick Sheridan's blip against Minnesota is probably the closest thing, but that was clearly a blip at the time. O'Korn's eventually-confident performance against Purdue looks much more sustainable.
Gone was the Madden infinite dropback disease, except once when it made sense on the Gentry touchdown. Early, rough attempts to break the pocket seemed like an inability to read what was in front of him until he spectacularly avoided a sack, formed up, and found Grant Perry over the middle:
[email protected], escape artist. #GoBlue pic.twitter.com/FqSOlF2zej

— Michigan Football (@UMichFootball) September 24, 2017
This was the moment when it was clear Indiana 2.0 was not happening. O'Korn saw he had nothing to the outside and decided on another plan despite the likelihood someone was going to annihilate him from behind. It was a remarkably aware, mature play for a guy we last saw completing twenty-yard passes that were somehow at the line of scrimmage.
O'Korn would execute two other improvisational plays when his protection broke down, and on one scramble he dodged a tackler before plowing over another one for a first down. Michigan twitter cried out in unison on this run, because they were suddenly terrified of losing him.
When executing within the confines of the offense O'Korn was just as good, hitting a couple of deep shots to his tight ends and checking down when that was appropriate. Errors were acceptably few and mostly benign; even the interception was the kind of throw that ends up a tough catch or incomplete 9 of 10 times. The stats are in line with the performance: 18 of 26 for 270 yards, little of it cheap.
If you're not gob-smacked you're not paying attention. I don't know how or why, I only know what. And what I saw Saturday was a new starting quarterback emerging from a lagoon of nuclear slime, or being rebuilt out of old Soviet tanks, or finishing up a montage set to "Take It To The Limit."
Is it a mirage? Possibly. Will our new hero run out of spinach and flag alarmingly? Almost certainly at some point, yes. Is there anything to do but forge ahead and hope the new guy wasn't constructed of baling wire and North Korean electronics? No. So here we go, Mr. O'Korn. It's your show now.
[After THE JUMP: Devin the destroyer... but where are the bucket hats]
HIGHLIGHTS
Parkinggod:
Michael Hirsch got a Gameday segment:
AWARDS
king stay the king [Fuller]
Known Friends And Trusted Agents Of The Week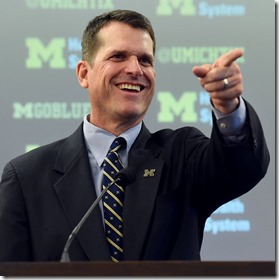 you're the man now, dog
#1 Devin Bush. Modest stats belie an outsized impact. Bush terrorized Purdue quarterbacks, ruined trick plays, broke up screens, and was everywhere all the time. He made up a ton of ground on Blough and would have been the guy preventing a touchdown if Kinnel hadn't made a great play. Already seems like Michigan's best ILB since David Harris.
#2 John O'Korn. More than ten yards an attempt is good against anyone. Heck, it compares favorably to Lamar Jackson (8.2), although O'Korn didn't quite match Jackson's 107 yards on the ground. O'Korn was cool, collected, and after some early bumps settled in as a confident, commanding quarterback. I be like dang.
#2a Chase Winovich. Three sacks and another TFL on another rampant day. Could not be blocked for more than a moment or two, and did not have a play on which there was notable downside. In for another big UFR day. The points are made up and don't matter!
#3(t) Sean McKeon and Zach Gentry. O'Korn's favorite outlets were Michigan's athletic tight ends, who combined for eight catches and 130 yards. McKeon was more reliable; Gentry had the best catch. Blocking? Ask again later. Both guys hinted at NFL futures.
Honorable mention: Chris Evans was productive and made an opportunity to close the scoring count. Mo Hurst had another dominant day that the stats completely omit. The cornerbacks probably didn't have a coverage minus among them.
KFaTAotW Standings.
8: Devin Bush (#1 Florida, T2 Cincinnati, T2 Air Force, #1 Purdue)
5: Chase Winovich(#1 Air Force, #2a Purdue)
3: Mason Cole (#1, Cincinnati), Ty Isaac (#2, Florida, #3 Cincinnati)
2: Quinn Nordin (#3 Florida, #3 Air Force), John O'Korn (#2 Purdue)
1: Khaleke Hudson (T2 Cincinnati), Tyree Kinnel (T2 Cincinnati), Mike McCray(T2 Air Force), Sean McKeon(T3 Purdue), Zach Gentry (T3 Purdue).
Who's Got It Better Than Us Of The Week
O'Korn escapes a sack, forms up, finds Grant Perry, and kicks off his day; embedded above.
Honorable mention: O'Korn's arcing bomb to Gentry; redzone touchdown 1, 2, or 3; Chris Evans puts the game to bed with a 50-yard TD; Devin Bush thunders into the backfield for... lots of stuff; Michigan corners bat down all the passes;
MARCUS HALL EPIC DOUBLE BIRD OF THE WEEK.
O'Korn is picked off with the game at 7-7, setting up a Purdue field goal and giving Michigan fans serious indigestion until about midway through the third quarter.
Honorable mention: Speight eating some sacks with open receivers; the all throwback Purdue drive; the throwback to start the game; throwback; throwback; throwback; also various guys shooting through the line untouched.
OFFENSE
[Upchurch]
The injury. I have no inside information and claim no REPORT. I also don't expect to see Speight for a while, O'Korn renaissance notwithstanding. The in-game report that they'd taken Speight away from the stadium for an X-ray not great sign. "We think you might need an X-ray" is never good, and we did not see Speight on the sideline afterward. Harbaugh said it was a "soft tissue injury," which could mean anything other than a broken bone.
This is probably a moot point. Because of the spider bite guy.
The problem. It's now time to ring the alarm bells about Michigan's offensive line. The sheer number of Purdue guys pouring through it unblocked, on run or pass, was dispiriting. It should not be so in year three. Michigan is young, but not that young. I can live with Nolan Ulizio getting run over for a sack—that's a guy you didn't want to play. I have a harder time getting over the fact that Michigan seemingly can't block a slant or twist to save their lives.
The worst part is that improvement has not been forthcoming. Michigan looks just as out of sync as they did in week one. More out of sync, actually: Bredeson was excellent in week one and has since been out of position with alarming frequency.
We'll see what happens after the bye week. Without a significant step forward we're going to be looking back at this unit as the reason Michigan topped out as a good, not great team despite a punishing defense.
The bonus. A lovely side effect of seeing O'Korn play so well: we don't have to be down on Brandon Peters's future anymore.
MESH MESH MESH MESH. Michigan had a ton of success running mesh, often out of heavy formations. Zach Gentry's touchdown was mesh; his cover guy didn't get rubbed, exactly, but had to get through so much trash that he might as well have been:
Touchdown, Michigan!
John O'Korn hits Zach Gentry for a 12-yard score. Michigan takes a 7-0 lead over Purdue in the 2nd Quarter. pic.twitter.com/gdviQz5zUT

— Evan Petzold (@EvanPetzold) September 23, 2017
The Evans touchdown was also assisted by Michigan's frequent mesh routes. Ty Wheatley gets a two-for-one here because the LB on him never figures out Wheatley's going for a block instead of running a route:
Touchdown, Michigan!
Chris Evans breaks loose for a 49-yard rushing score. Michigan takes a 28-10 lead over Purdue. pic.twitter.com/dyBbtd9KTi

— Evan Petzold (@EvanPetzold) September 23, 2017
Maybe next time that guy will check to see whether his man has a big ol' cast on his arm. Tight-end heavy mesh promises to get a lot of two-for-ones like this because the route looks exactly like a second-level block until it's too late.
YOINK [Upchurch]
Speaking of tight end heavy. O'Korn's entry spurred a ton of targets to tight ends. Most were to Gentry and McKeon, who combined for eight catches with one Gentry drop; Eubanks was also targeted on a wild throw that resulted in a targeting penalty. Add in one toss in the flat to Henry Poggi and half of O'Korn's throws where he actually read downfield* were to block/catchy types.
These weren't just little stick routes to move the chains, either. O'Korn's three most impressive downfield throws were to the tight ends:
An inch-perfect crossing route finds McKeon and sets him up for a catch and run that results in a 30-yard chunk.
O'Korn threads the needle between three defenders to hit McKeon on a dig route and convert second and 17.
Purdue shows pure zero coverage on first and 25; O'Korn punts one up to Gentry for the conversion and first and goal.
The latter was pretty indeed:
Quite a grab, @ZGentry10! #GoBlue pic.twitter.com/mb5ScfHKC8

— Michigan Football (@UMichFootball) September 24, 2017
Aside from one bomb to Eubanks in the opener, we hadn't seen the downfield tight end passing game that was much-discussed in the offseason. It showed up in spades here. Both Gentry and McKeon are plus athletes for the position and it showed here. Gentry's ability to pick up YAC was impressive for a guy his size, and when McKeon got in a one on one matchup with a linebacker he didn't even have to put a move on him to blow by: he just ran across his face and that linebacker was done.
*[IE, not the three or four smoke screens.]
despair [Upchurch]
Please cease the fumbling. Evans got a hook for a fumble two weeks ago; Higdon got one this week. With Ty Isaac limited due to the injury he suffered at the end of the Air Force game that left Michigan with few options. Evans did play well late, with a couple of trademark interior darts and the sweet juke on the safety that sprung him for his touchdown.
Post-Black-era wide receivers. Grant Perry and Nate Schoenle emerged into larger roles in Black's absence; Perry is now getting run on the outside, and deservedly. Both guys got open on some slick routes—Perry was repeatedly helpful when O'Korn broke the pocket—and caught everything that came their way.
Meanwhile, Kekoa Crawford had nothing downfield. Both his catches were long handoff/smoke screen things. His only downfield targets were two deep shots he was nowhere near. One drew a (terrible) flag; that was a double move that he failed to sell. If Michigan does start incorporating Donovan Peoples-Jones more—and by God they should—that'll further reduce Crawford's targets. He's got a few more weeks to establish himself.
Note that Oliver Martin and Nico Collins did not play.
In and out at right guard. Mike Onwenu and John Runyan Jr platooned for much of the game. Harbaugh said that was a heat and endurance thing:
Why are you rotating Runyan? Is he giving you a different—what is he doing when he comes in, because you've been doing it a lot.

"Yeah, we were trying to keep Mike fresh, you know. So we're platooning other guards. Took place a bit today. Old school."
Onwenu didn't seem much better or worse than the rest of the guys on the line at first glance.
The other injury. A doctor-seeming guy tweeted at me that he thought the Crawford injury was an achilles; several dozen people responded that it was almost certainly a cramp. The latter does make more sense given the heat and what Michigan was doing in response. I wouldn't worry about his status unless the internet is wrong. Notably, there's no grim talk from insiders like there was last week about Black.
DEFENSE
Simply the best. You've probably heard that Michigan is the #1 defense in the country already. Well, it is.
Seriously though, how do you send 11 players from the 2016 defense to the NFL and still remain the BEST DEFENSE in the country? pic.twitter.com/WQYYm2NFkB

— Aaron Bills (@AaronBDesigns) September 24, 2017
A year after losing 10—okay, 9.5—starters. Don Brown.
TE throwback remains undefeated... once a game [Fuller]
One gimmick drive and nothing else. Purdue had one five-play, 75-yard touchdown drive based almost entirely on throwbacks, a 24-yard quarterback throwback on the first play of the game, and nothing else. Aside from those items the Boilers had 90 yards on 44 plays. Their only plays of more than a few yards were a few scrambles and one 14-yard run on third and 21. That was as dominant an outing as you could expect against a pulse-having opponent, and Purdue has one this year.
The throwbacks were frustrating but Michigan adapted immediately afterward. Purdue's first offensive play after their touchdown was an attempted tight end screen that Hudson had blanketed; Devin Bush was specifically tasked with defeating a tunnel screen a bit later. Those screens will remain a bugaboo for the duration of the season; Michigan does have some countermeasures it's deploying.
SUPER BEST FRIENDS [Fuller]
Devin "Binky" Bush. Surely the Michigan fanbase's mancrush on Devin Bush cannot continue increasing linearly. If it does that means Bush's national reputation also increases in kind, and I don't think you can win six Heismans.
At one point during the second half Fox put Bush's stats up, and they were thus: one sack, one PBU, five tackles. They did this while naming him player of the game. Think about that: a national broadcast was so enamored with a dude they said he was the best player on the field when he had one sack, the end. They passed up a guy with three sacks and a QB with more than 10 YPA. And they were correct.
Bush's raw speed is perfect for modern football, and by God I hope Michigan recruits one of him every year until the sun burns out.
And his partner in crime. Chase Winovich had three sacks, two of them late when the offense had to throw downfield and Michigan could tee off. I'm pretty sure his first sack was actually two half-sacks he shared with Bush, one of which can be seen above. On both Bush was first to the party and on the verge of losing the QB when Winovich, after beating a block, came in to finish with authority.
Winovich has six sacks already and will threaten Michigan's single-season record of 12. If he's not Michigan's best defensive player it's close.
[Fuller]
And his accomplices. While Bush gets the glory the outside linebackers are doing the dirty work. Most of the time you see Bush jet into the backfield untouched it's because Furbush, or sometimes McCray, has cleared the way by bashing an OL who didn't expect it. Furbush is the unsung hero of the defense, constantly executing assignments that have little or no probability of creating a stat for himself but opening things up for the folks around him.
McCray has grabbed more attention, both good and bad, this year; in this one he was pretty quiet except for one screen he chased down from behind for a minimal gain. That was going to be a big play if he didn't execute there; he did, and Purdue exited this game without many—any?—yards on the edge stuff that has been his bête noir.
A BRIEF DISSERTATION ON PASS INTERFERENCE AND PREEMPTIVE APOLOGY TO JANE COASTON. Late in the second half, Lavert Hill was running downfield with a Boiler receiver. The throw was well outside of both WR and DB. The WR naturally perceived this more quickly than his defender, and tried to get to the ball. He ran into Hill and fell over. There was no call, and FOX spent five minutes complaining about it. I would like to give a gold star to the ref who did the just thing.
I've seen this called a penalty so many times. The first time it really rankled me was actually when Michigan got that call in the 2006 Football Armageddon Game. It absolutely should not be, whether or not the defensive back is looking back for the ball. If the defensive back is in dominant position he should be able to use it. Stop rewarding terribly thrown balls with PI calls. New rule: you are entitled to your position and your momentum. If someone initiates contact with you that's on them. That includes terribly underthrown balls that turn into PIs way too often.
a new hope [Barron]
Building some depth. Mike Wroblewski got a first-half series, and with no apparent damage to Bush that was probably a decision to rotate him in just to save Bush a little wear and tear. The downgrade was notable but not particularly damaging as Purdue went three-and-out. On the DL, Mike Dwumfour got his first meaningful snaps, turning in one impressive pass rush. Michigan also ran a few sets with Aubrey Solomon and Mo Hurst on the field at the same time. Solomon continues to flash his talent; I think he had another +2 pass rush in this one.
With Carlo Kemp rotating in and three functional corners Michigan has reasonable depth at a majority of spots right now. There would be a dropoff anywhere, but probably not a crippling one. Michigan is also through a third of the season without major damage: the only player lost for an extended period of time is freshman Donovan Jeter.
The injury apocalypse forecast in the season preview is significantly less likely at this juncture. I hereby knock on all available wood.
Mike Zordich must be a stickler [Barron]
Tested, and passed. Michigan's cornerbacks not named Brandon Watson got their first real tests this offseason and did as well as could reasonably be expected. David Long and Lavert Hill were in glove-tight coverage the whole day, with both guys getting impressive PBUs. (Hill was not credited with his for whatever reason, but he absolutely got a hand in to break up a slant.) Purdue's receivers are Not Good, especially their outside guys, but at some level being a cornerback is a Man vs Self proposition; seeing Hill and Long make excellent plays on the ball was encouraging no matter who they were going up against.
In fact, the worst coverage of the day was perfectly acceptable. Josh Metellus did get beat by a step on a deep ball; he was in close enough contact to make the throw difficult and was likely to tackle if a catch was indeed made. That's a push or maybe a –1, and that's the worst thing that happened to the Michigan secondary on the day.
Bigger tests await; this was a significant step towards erasing back-end worries.
The one concern. Tyree Kinnel had a couple questionable tackle attempts on Throwback Drive. One of the tight end throwbacks was against zone coverage and Michigan had an opportunity to hew the guy down for a minimal gain. Kinnel tried to tackle the guy up high, and that went badly. He also missed a tough tackle attempt on another tunnel screen that was getting loose. That's another one of those situations where you've got a blocker and are in tough, but he didn't make the same play he did against Cincinnati.
SPECIAL TEAMS
The bad KO return. We got this wrong on the podcast: that was Ambry Thomas, not Kekoa Crawford. Both wear #1 for maximum Braylon trolling.
Otherwise: eh. Purdue's punter erased DPJ as a threat with a bunch of high hangers. The one notable punt return event was a Purdue player shoving DPJ into a rolling ball, which I'm sure they'll yell at him about a little this week. Nordin did not have a FGA, Foug continued banging KOs into the endzone, and Brad Robbins emerged as a solid but unspectacular punter. He had a similar output of high hangers that were mostly fair caught, with the occasional return of a few yards.
This was a game where special teams were very boring and not worth talking about. Good luck, Adam!
Purdue did try this. Patrick caught another attempted trick on a kickoff, this one somewhat unsporting:
you can't see me **JOHN CENA MUSIC** [Barron]
The kick was not returnable.
One minor downer. Michigan hasn't come particularly close to a punt block this year. I'm not sure you can characterize 7 blocks in a year as a blip but it appears opponents have adjusted. Michigan isn't going after all of them; on a large number of punts they'll send three guys through the line to dissuade any funny business without actually rushing the punt.
MISCELLANEOUS
A wild redzone appears. 3/3, nothing structurally wrong with Michigan's approach as they near the goal line, one nice pitch sweep counter for an RPS +2 score, expect Michigan's redzone offense to be about as good as their overall offense, give or take some small sample size issues, the end.
Threes come in fours. With the switch to Robbins, Michigan has almost reached the theoretical maximum of #3s they can start in a game. In this game their QB, SDE, K, and P were all #3, leading to three quarters during which the announcers called Robbins "Quinn Nordin."
Michigan can squeeze one more #3 on the roster without having to get persnickety about substitution penalties if James "Ol' Doug" Foug dons #3. As a bonus this would confuse opponents uncertain whether Michigan intended to kick, punt, or kick off.
One gold star for the stripes. Michigan was the beneficiary of the bulk of the close or bad calls. The holding call on a Purdue defensive back after he got a perfectly legal jam on Kekoa Crawford was brutal. Michigan also escaped a roughing the kicker call with a mere five yard penalty despite clearly striking the punter's plant foot. I was surprised that Hill didn't get a flag on the play that spurred the dissertation above, even if the outcome was only justice.
I've seen some complaints from Purdue fans about Michigan escaping targeting calls; those are bad complaints. Neither Winovich or Kinnel made high contact on the hits in question. Both players hit the shoulder area. Meanwhile, the ones that did get called...
having less of this is the point of targeting [Upchurch]
GOT A LITTLE HEATED ABOUT TARGETING. Purdue got two targeting calls in this game, both of them totally obvious. Credit to Jeff Brohm, who acknowledged that in the post-game. I was Mad Online about the second because Brady Quinn hemmed and hawed about a call that was the platonic ideal of the rule: a defenseless receiver on the receiving end of a full-body launch from a defensive back. Football's great and I'm on board for It's Worth It; that hit was one that should be forcibly ejected from the game, along with the player who perpetrates it.
That was clear immediately. Eubanks had to go to the locker room, presumably for concussion protocol. Meanwhile the Fox crew was hedging. Stop being mad about "Brady Quinn For Heisman," Brady Quinn.
Another player safety issue. DPJ got called for cutting a defender on a crack block, which is fine. Some level of cut blocking is necessary for run schemes to work and we should allow it between OL and DL in the tackle box. Requiring blocks above the waist in situations when they don't cripple whole offensive schemes is a good thing. But why isn't the offense extended the same courtesy?
Yes, this is about Grant Newsome nearly losing his leg because he pulled to the outside and a defensive back submarined him. Would the game be worse if that was illegal? No. You'd get some bigger runs on outside plays because DBs would get whooped. I'm fine with that. Ban defensive cut blocks.
Poor damn Khalid Hill. Hill, a fullback, got his second illegal man downfield penalty of the year on Saturday. This one was actually a penalty, but not on him—Gentry was covered up and went downfield—and since Michigan didn't get anything on the play it was worth it to see Hill plead with the referees and the universe in general to explain what he did to deserve this treatment.
HERE
Best and Worst:
Best: Assimilation is Awesome

Last year's defense was one of the best in Michigan's history; it was both remarkably efficient at getting teams off the field and deadly at ending drives that did get into scoring position without giving up points. It was one of the national leaders in sacks, tackles for loss, and red zone defense. And it featured two first-rounders as well as a slew of 3rd- and 4th-rounders. In fact, Michigan lost so much talent on the defense that even the most optimistic fans assumed Michigan would take a step back this year. I mean, they had to. Even with a number of playmakers coming back, expecting that dominance to continue simply wasn't reasonable.

And yet, 4 games into 2017...Michigan is again one of the national leaders in sacks, TFLs, and red zone defense. They lead the nation in yards allowed with 203 per game. Both Chase Winovich and Devin Bush are top-10 players nationally in sacks, and Winovich is also #4 in TFLs. Hurst and Gary, despite not collecting a bunch of sexy stats, have been dominant; Purdue's running game finished with 30 yards on 20 carries. For almost the entire second half of the game, Michigan's defense held Purdue to 1 yard of total offense. More generally, Purdue came into the game averaging 6 yards per play and 25 first downs a game; Michigan held them to 3.8 and 9 first downs, only 1 in the second half.
Watching John O'Korn:
Then there's the basic fact the first five drives of the second half (punt after decent gain, Higdon fumble, TD, TD, TD) was the best 25 minute stretch of football has played all year. The defense held Purdue to 9 yards on 5 combined drives, while the offense gained 279 yards on 33 plays for 21 points, which is 8.46 yards per play. I omitted the final four drives (two for each team) of the second half because offensively, Michigan was simply running out the clock. For the first time all year, Michigan's offense clicked. Offensive line is still a work in progress, but big running lanes finally opened because Purdue feared the QB's ability to throw it down the field, a first this season.
Take the fan satisfaction index survey.
ELSEWHERE
i bet there is reasonable discussion to be had [Fuller]
Harbaugh on the stick to sports topic du jour:
Asked by a reporter after Michigan's 28-10 win over Purdue, Harbaugh called the comments made by Donald Trump Friday night in Alabama "ridiculous."

The Michigan coach even offered up a suggestion to Trump, whom he once complimented for being anti-establishment.

"No, I don't agree with the president," Harbaugh said. "Listen, that's ridiculous. Check the Constitution."
2,700 MLive comments await the brave and/or deranged.
Sap's Decals:
OFFENSIVE CHAMPION – Remember the George Orwell book, 1984? Well, good thing this is not 1984. If it was, the season would have been over the moment they walked Wilton Speight off the field early in the first half. Thirty-three years ago, when coach Harbaugh was felled by a broken arm against Michigan State there was a significant talent drop-off at the QB spot for Michigan.


[via Detroit Free Press]

You think Bo and Jim have ever forgotten that? Nope. That is why John O'Korn and Brandon Peters are waiting their turn. Did you see that type of performance coming out of #8? I certainly didn't, but I will tell you this: sometimes when you get thrust into the fray, you don't have time to think and over-analyze things. When that happens, instincts and muscle-memory kick in and you get what we all saw Saturday out of O'Korn – WoW!
HSR:
We only fret about things we care about. Even if those things are seemingly foolish or ultimately unimportant in the grand scheme of things, when we care, we worry. We worry when things don't seem to be going the right way, we are uneasy when something feels "off". So when Wilton Speight goes down (on an uncalled late hit) and is escorted out of Ross-Ade Stadium on a peripatetic search for an X-ray machine, we worry. When there are turnovers, we fret. When O'Korn looks OK, not great, we grouse. But I have a new working thesis, in re Harbaugh.
Maize and Brew Nation:
We also learned that Michigan is a different offense with John O'Korn on the field. It's not that Wilton Speight was doing anything terrible...he's just not the same QB we saw through much of last season. He just seems...off for whatever reason. On the flipside, O'Korn seemed anything but. We heard all offseason about the progress O'Korn was making and yesterday, we saw it. He looked poised, and ready, when Speight whet down. This could be due in some part to his former passing coach at Houston Tony Levine, who benched O'Korn thus leading to his transfer, is now the co-offensive coordinator at Purdue and was on the sideline yesterday.
Winovich on opponents running their mouths:
"I don't want to get in trouble here, but it's just crazy to me," Winovich said. "It's like, why give a team that's already young and hungry like locker-room banter?

"It's like common sense to me, like, 'Maybe we shouldn't do this.' Like ... ah, I don't want to get too far in-depth because I get fired up about it."
Maize n Brew. Also them. Big House Blog. More about the Harbot. TTB. Purdue takes on the game from Hammer and Rails and Boiled Sports. The overall feeling seems to be "we are not there yet." Holder of the Year wins Tweet of the Week. On bringing a knife to a gun fight.
Florida had quite a weekend.