Previously: Last year's profiles. S J'Marick Woods, S Jaylen Kelly-Powell, S Brad Hawkins, CB Ambry Thomas, CB Benjamin St-Juste, LB Drew Singleton, LB Jordan Anthony, LB Josh Ross, DE Kwity Paye, DE Luiji Vilain, DE Corey Malone-Hatcher, DE Deron Irving-Bey, DT Donovan Jeter, DT Phil Paea, DT James Hudson, DT Aubrey Solomon, C Cesar Ruiz, OT JaRaymond Hall.
Sugarcreek, OH – 6'6", 285


[Isaiah Hole]

Scout
3*, NR overall
#54 OT
Rivals
3*, NR overall
#49 OT, #19 OH
ESPN
4*, #200 overall
#22 OT, #7 OH
24/7
3*, #782 overall
#73 OT, #30 OH
Other Suitors
Oregon, MSU, PSU, Auburn, OU, WVU
YMRMFSPA
Mike Schofield
Previously On MGoBlog
Hello post from Ace.
Notes
Twitter.

Film

Junior:

Senior:
Joel Honigford is this year's edition of Devin Bush, in that Michigan hired a new coach who must have gone "yowza!" when he checked out the recruits he was inheriting. Bush is the perfect dreadlocked missile for Don Brown's linebacker corps; Honigford is the kind of athletic jumbo tight end who Greg Frey has consistently turned into NFL linemen. (JaRaymond Hall is also in this category.) Lorenz asserted that he "fits Greg Frey's body type to a tee."
Honigford popped up as a Frame to hang muscle on. Scout noticed him at a big man camp, praising his "great frame" and "bright looking future." He then proceeded to hang muscle on his frame. After his commitment to Michigan last summer he talked about where he was, and where he's going:
"A little over a year ago, I only weighed 240 lbs. and had one scholarship offer. … I have a great frame that I can continue to build weight off of and I work hard every day already, so putting in the time isn't going to be a thing for me."
A year after checking in at 240 he was up to the mid-270s. Now a year removed from Honigford's commitment he reports a weight of 285 and looks like a before-and-after photo from an infomercial: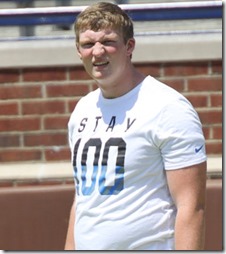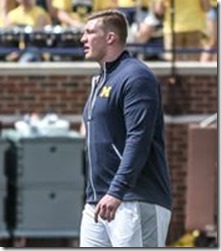 He says he's been in the weight room a lot. He appears to have taken the Swenson lesson to heart:
Colleges talk about how on your film they don't want to see you good one year and just a little bit better the next and just kind of plateauing," Honigford said. "That was a pretty big deal to me, so I made sure that didn't happen."
One dollar says Michigan was the coaching staff hammering this information home most fervently.
This is the kind of kid Frey turns into Taylor Lewan or Mike Schofield or Jason Spriggs, and Honigford has the upside of any of those NFL gentlemen. His coach was still talking up his future potential even after he'd shot up 40 pounds:
"I think they're getting a hell of a ballplayer," Wallick said. "Obviously, with that length - 6-6, 280 - that much bend and athleticism. He's got a lot of room to grow, a great frame to build on. They're not going to get anyone that's going to work harder in the weight room and on his footwork than he is."
He'd repeat that more or less verbatim to anyone who asked.
National scouts didn't have a take too far off from that—at least the ones who said anything. ESPN's evaluation touches on a lot of things you want to hear about an OL still on the way up:
Very good height … lean build … should be able to add the needed size … adequate initial quickness and shows good patience and balance in set, though at times can lunge and get top heavy. … good knee bend with enough lateral mobility to mirror rushers when gets hands on. … needs to add more mass to help him anchor against power. …good quickness and can come off with pad level, roll hips at contact …good balance and body control when asked to pull and work to second level and can locate and get a piece of targets. …promising upside. … don't see an early contributor.
Other evaluations are in a similar vein, down to the fact that they were almost certainly not revisited after Honigford's senior season. MSR Ohio:
…very athletic for his size. … Long and can, eventually, add 30 or more pounds to his frame and not miss a beat. Good bender. Excellent feet in pass pro from his left tackle position. Although mostly in a two point stance, Joel drive blocks well for his size. [ed: 240 at this juncture] Needs to get better, but he has a good "get-off."
Scout:
…height and frame are legitimate. He's a good athlete with good overall coordination, balance and flexibility. …on the raw side as far as pass protection. … room to fill out and get stronger … probably a right tackle, possibly even an interior guy at the next level.
Touch The Banner:
Overall, Honigford's maybe not as nasty or athletic as Taylor Lewan, but I would put him a notch or two below. I think he's someone who could play either tackle position, or he could be a pulling guard with some work. I like him as a blind-side pass protector, and he has good run-blocking skills.
Rivals did actually catch him as a senior and got a little overheated about him:
…solid top to bottom and has long, powerful arms …far bigger and stronger than any defender on the field but he also moved better than most as well. When he got out in front on screen plays or when he was asked to pull it was a sight to see. He runs very well, can change direction like a slot receiver, and absolutely punished people when he got his hands on them. Honigford's head coach said he could probably be a Division I tight end because of his natural athleticism and hands.
I'd still put my money on Eddie McDoom in a shuttle competition.
The main catch, other than weight-related uncertainty about what the finished product looks like, is Honigford's competition level. Dude is from Amish country and played in one of the lowest divisions of Ohio high school football:
"It's pretty surreal. … I guess a kid coming from where I do, such a small town, population of a little over 2,000 people, no one was expected to do what I am doing. My school, personally, has never had a Division I football player come out."
That's less of a big deal with OL, who are almost always absurdly overpowering in high school and await a severe reality check upon arriving in the realm of Rashan Gary and friends. It does make an already high amplitude guessing game a little less reliable.
On the other side of the ledger, Honigford racked up an impressive suite of offers for a relatively camp-averse kid out of Amish country. Most of those seem legit: he was thought to be favoring Oregon, Oklahoma had him out for a visit, Auburn made his top four. It's always tough to discern "offer" from OFFER but the list here belies his modest rankings even when surveyed with a jaundiced eye. Lorenz noted that…
One great indicator that Honigford is a top-level prospect is the fact that he plays in a tiny town and still got the nearly 30 offers that he did. That's not common.
…and Ohio State sites had several articles mentioning Honigford as a guy who usually would have been in their class:
…intriguing prospect and in most other years, he would have probably landed an offer already. It seems the staff is highest on him out of all of the other names on the board, as he is a guy who is really just starting to scratch the surface when it comes to his potential. … If I were a betting man, and had to pick a player to sign with OSU today, I would go with Honigford.
This is obviously a good news/bad news kind of thing since Honigford was pre-empted by an out of nowhere commit from big-timer Wyatt Davis. (FWIW, OSU did pick up an OL late when a spot opened up; Honigford had already signaled that the ship had sailed.)
Also in Honigford's corner are the ol' intangibles. He's a 3.9 student who took a lot of AP stuff and now plans to be a mechanical engineer. He was a three sport athlete in high school, which should mean yet unexplored upside when he focuses on one. He's a farm kid with Opinions About Barns.
Despite this post's general optimism about Honigford's future he is still the least likely member of Michigan's recruiting class to see the field early. Runyan's description of the three tackles who didn't enroll early is telling:
"The first thing that really jumps out (about) them is their size. Chuck – huge dude. Andrew – huge dude. And Joel's pretty big, too."
Meanwhile Hall had a spring practice that Honigford did not. Don't expect Honigford to hit the field running. In a couple years he could easily be the top tackle in this class.
Etc.: They call him Big Nasty. He was also his high school's kicker(!), going 30/40 on extra points. So… not a good kicker.
Why Mike Schofield? Schofield was an athletic tight end to slap weight on when Rich Rod and Greg Frey scooped him up. He entered at 6'6", 270-ish. That's more or less where Honigford finds himself. He also had a bit of a scouting gap between the end of serious evaluations at the end of his rising senior summer and the closer-to-finished product he'll enter college as. Schofield wasn't quite the talent Taylor Lewan was and mostly played RT as a result, but he was a third round pick and is still a starter with the Broncos.
Lewan is the other obvious comparison since he's the other "tall man needs weight" OT success story under Frey.
Guru Reliability: Low. Barely any camps, poor competition level, radically different weight through the evaluation period, OL.
Variance: High-minus. Could easily get overwhelmed but he's on the right track physically and should have the mental aspects down. OL.
Ceiling: High. Could easily develop into an NFL level tackle despite the rankings. Evaluations are a bit cautious about his lateral mobility.
General Excitement Level: High-minus. Hey, it's our (almost by default) Sleeper of the Year. Honigford gets the nod over his competitors by virtue of his ideal fit with Greg Frey and engineering inclinations at a spot where intelligence is very important.
Projection: Redshirt. Will compete for a starting tackle job next year as Cole departs; like Hall he's going to be fighting against his classmates, Runyan, and maybe Bredeson for two spots. I'd say he's got as good a chance as either of the yet-to-be profiled gents despite the rankings gap.