Goalkeeper: Przemysław Tytoń (Poland)
The young Pole only featured in this Tournament because his countries first choice,
Wojciech Szczęsny received a red card in the opening game against Greece. The young replacement had an immediate impact, saving the spot kick which
Szczęsny conceded just moments earlier.
Tytoń became an overnight hero in Poland and in the next two games, especially in his side's encounter with Russia, he made some incredible saves to keep his side in with a chance of getting through the group stage. His coach,
Franciszek Smuda, was so impressed that, for Poland's third game, he stuck with
Tytoń even though
Szczęsny's suspension was over. Although, this emerging shot stopper may not have as much experience as other keepers who played in the tournament, in my view he made the best impression and this is why he takes the No1 spot for my team of the tournament. HIs heroics have earned him much attention from top teams across Europe and PSV will do well to hold onto him before the Transfer Window is up.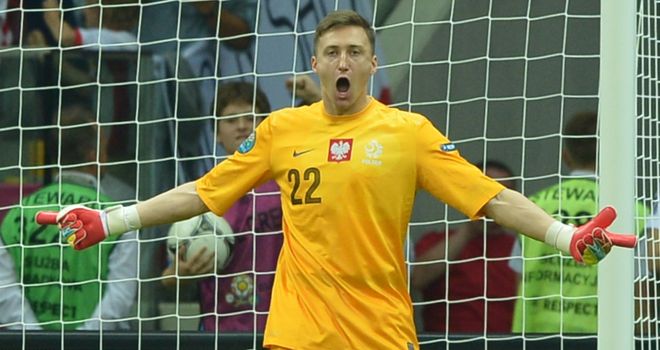 Courtesy of Sky Sports
Left Back: Jordi Alba (Spain)
Jordi Alba took Euro 2012 by storm and capped his brilliant tournament off by scoring a great goal in the Final. His role in the Spanish setup suited his style of play, because the majority of the time he was bombing forward rather than having to stay back and defend. He played all of Spain's 570 minutes of Euro 2012 and grabbed a vital assist in his side's victory against France. Simply put, he was defensively solid and explosive going forward giving all the teams he faced the extremely difficult task of containing him. He has recently signed for Barcelona for around €13m.
Centre Back: Leonardo Bonucci (Italy)
The robust Italian defender was, in my view, the secret to Italy's success in these championships. He gave a number of outstanding performances which led Italy to the Final. At times, the Italian penalty area was being besieged, most notably in the semi-final against Germany. Bonucci made sure he got to every ball first, putting boot to ball or just heading it away. It is clear to all that this man has a major role to play in Italian football in the coming years.
Centre Back: Bruno Alves (Portugal)
Despite missing the spot-kick which resulted in Portugal losing the penalty shootout to Spain in the Semi-finals, Alves had a great tournament. He was consistently solid in defence throughout and, despite not being captain, seemed to be the real leader in this Portuguese side. His passion and commitment shone through in Euro 2012.
Bruno Alves (left) celebrates with Pepe
Right Back: Philipp Lahm (Germany)
Lahm is a player who truly leads by example, giving his utmost best for his country in these championships. He scored a brilliant goal against Greece, but will however feel that he let his country down in the Semi-Finals when a defensive error allowed Balotelli onside to score his second and ultimately knock Germany out. However, his usual brilliance and work ethic make him one of the best right backs in the world, and certainly the best in Europe.
Left Midfield: Andres Iniesta (Spain)
The midfield maestro has been named UEFA Player of the Tournament, and there is no wonder why. Iniesta is the key ingredient to the Spanish "tiki-taca" football as it is known. The ball control he possesses is second to none. One simply runs out of superlatives when talking about Iniesta, but perhaps the most suitable thing to say is that without him Spain would not have won these Championships in the manner in which they did.
Central Midfield: Cesc Fabregas (Spain)
Although this young Spaniard did not actually play in the centre of the midfield, this is where he is best suited in a 4-4-2 formation. He dazzled and delighted all tournament with his eye for the defence-splitting pass and the wonderful footwork he possesses. Although he had to fight to keep his place throughout the tournament his obvious quality shone through and Vicente Del Bosque played him the furthest up the pitch for the final, in the strange 4-6-0 formation that Spain play.
Central Midfield: Andrea Pirlo (Italy)
The leader of the Azzuri in every aspect. He controlled every game that he played in this tournament (all bar the final) with his pinpoint accuracy passing, opening up defences and creating chances for his team mates. He can be very proud of his achievements this season having also won the Serie A for Juventus. A brilliant player, and in my view, the best player of the tournament.
Right Midfield: Cristiano Ronaldo (Portugal)
Throughout this tournament, Portugal were branded as a 'one-man show' with Ronaldo being that man. Although this is a stupid and untrue statement to make, Ronaldo is certainly the best player that the Portuguese possess. He failed to shine at the beginning of the tournament but it was well worth waiting for as he wrecked havoc over Czech Republic in the quarter finals. He is undoubtedly one of the most skilful players in the world with possibly the best all-round ability ever.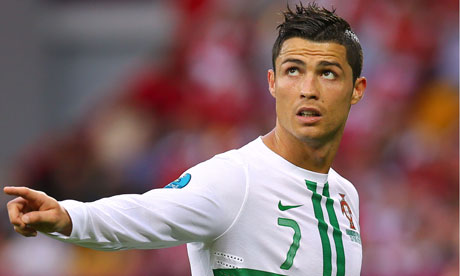 Striker: Zlatan Ibrahimovic (Sweden)
A player whom you could not help feeling sorry for this tournament. He is undoubtedly the best goal poacher in Europe, but he could not enjoy the entirety of this tournament because of the country he represents. Sweden simply lack quality and although they have some decent and notable individuals including Ibrahimovic (Larsson and Mellberg as well), they failed to gel as a team in these championships. Zlatan's highlight of the tournament will have been his stunning scissor kick against France.
Striker: Mario Balotelli (Italy)
I must admit I hesitated in including Super Mario in this team, because throughout the competition he has been very hit and miss. However, his brilliant performance against Germany sealed the deal. His presence and skill frighten even the best defences in the world and in some matches he was unstoppable. He also seemed far more motivated and hungry playing for Italy than he usually does playing for Manchester City. If only he worked this hard in the Premier League, then he would certainly be playing 90 minutes week in, week out.