Sometimes the anticipation is as good as the thing that you are waiting for. While that probably won't be the case with the launch of DraftKings at Casino Queen Sportsbook Illinois, the anticipation is pretty exciting, too.
The reason for that is because there is a "Pre-Launch" Offer up for grabs. If you register for an account ahead of the DraftKings at Casino Queen Sportsbook launch date, you will get a $100 free bet upon registration.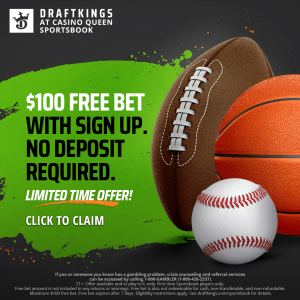 Time is of the essence for this offer. DraftKings at Casino Queen Sportsbook isn't exactly sure when they are going to launch after getting a vested interest in the casino in East St. Louis, Illinois, but now is the best possible time to sign up. And they have really sweetened the pot to do so.
Click Here Now And Register!
Why? Because Governor J.B. Pritzker has temporarily the in-person registration requirement in Illinois. This has made it remarkably easy to get signed up and registered for sports betting accounts in the state. Previously, and perhaps in the future, it was stipulated that you had to either sign-up in-person or at least validate your account in-person at the casino before you could get access to bet.
With that requirement temporarily lifted, you can sign up for a sports betting account from anywhere in the state. You can do it from home. You can do it in the car waiting to pick your son or daughter up from their summer job. You can do it on the can. You can do it in a van. You can do it literally anywhere in the state of Illinois and get registered and validated right then and there.
The $100 free bet can be used in any capacity that you want. You can bet on the Cubs or White Sox. You can bet on the Blackhawks if the DraftKings at Casino Queen Sportsbook launches while they are still in the NHL Playoffs. You can bet on a team that isn't even in Illinois. You can bet on soccer or UFC or some other overseas or domestic competition. It doesn't matter. All that matters is that you are basically getting $100 for free for signing up right now.
All you have to do is register. You don't even have to make a deposit, at least not right away. You're going to want to make a deposit and to also sign up and register through us here at ATS because you can get up to $1,000 in promotions and bonuses by signing up through us, but you'll have to wait until they launch. This offer simply requires you to create an account to get that $100 free bet.
You'll be ready to go when DraftKings at Casino Queen Sportsbook is ready to go. And you'll be able to do so with an excellent pre-launch offer for a $100 free bet upon registration.
This is the easiest decision you'll ever make. Register now!
The post Illinois Sports Betting Offer Free $100 Bet To All Who Pre-Register At DraftKings appeared first on Against The Spread Betting Information, News, Sportsbook Reviews - ATS.io.