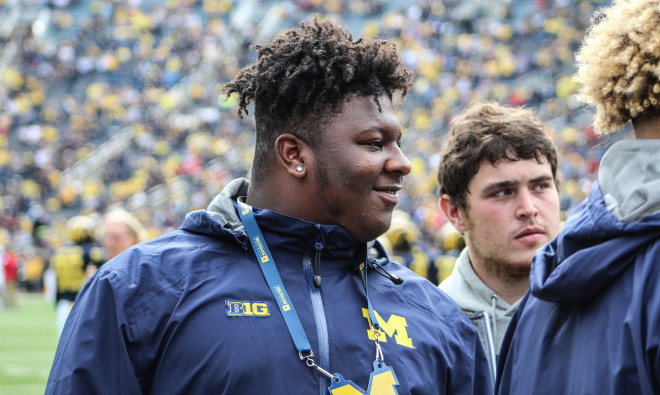 Cesar Ruiz
It's time for the yearly recruiting awards. You can look back on past awards here (LINK).

Best Overall Recruit:
C Cesar Ruiz
An offensive lineman isn't a sexy pick for the best overall recruit, but Ruiz is the country's #1 center and I gave him a TTB Rating of 99. He has the size and the experience at the position to play fairly early in his career, as well as develop into a very good player down the road. I expect him to at least be in the running for a Rimington Trophy by the end of his career.

Best Offensive Recruit:
C Cesar Ruiz
Centers play offense.

Best Defensive Recruit:
DT Aubrey Solomon
Maybe this isn't a very sexy choice, either, because nose tackles generally aren't superstars. But Solomon is 6'3", 295 lbs. and extremely strong, and he plays with good leverage. Defensive line coach Greg Mattison has taken less talented players and turned them into college stars, so Solomon should be in line for some great things.
Hit the jump for the rest of the superlatives.

Recruit Most Likely to Make an Early Impact:
WR Donovan Peoples-Jones
Michigan lost its top two wideouts to graduation, and the starting slot guy is indefinitely suspended for (allegedly) doing some dumb things in East Lansing. Some players established themselves as potential successors (Drake Harris, Kekoa Crawford, Eddie McDoom), but Peoples-Jones is an early enrollee and one of the top few receivers in this recruiting cycle. He will almost certainly not redshirt unless he gets injured, and he might even earn a starting gig.

Fastest Recruit:
CB Ambry Thomas
I know Peoples-Jones has a verified 4.42 forty time, but Thomas's 4.43 is close behind. I think Thomas moves faster on the football field, and there's even a clip of him chasing down Peoples-Jones from behind when Cass Tech played King. Running back O'Maury Samuels ran a 4.45, so Michigan is bringing in some serious speed in this class.

Strongest Recruit:
DT Aubrey Solomon
Solomon claims a 355 lb. bench and a 515 lb. squat. Those are impressive lifting numbers, but he also bullies people around on the football field with his strength.

Best Under-the-Radar Recruit:
OT Andrew Stueber
This seems a little like cheating because Stueber is the highest rated 3-star in Michigan's class, but I've really liked Stueber ever since I saw some senior clips come out. He's a big, athletic kid who has a good chance of starting at offensive tackle in his first two or three seasons.

Most Overrated Recruit:
S Jaylen Kelly-Powell
I keep waiting for Kelly-Powell to pop on film, but I haven't seen it. I also didn't see it at the Under Armour All-American Game. He has decent skills, but he doesn't make a ton of plays, isn't an elite athlete, and doesn't have great size. Ranked at #266 in the 247 Composite, I just think he's more of a 3-star than a 4-star guy.

Recruit Most Likely to Redshirt:
OT Joel Honigford
Don't get me wrong - I really like Honigford. He's a very good athlete and he finishes his blocks. I was on the verge of picking him for Best Under-the-Radar Recruit, and I might regret that decision down the road. But Honigford, who is listed at 6'6" and 278 lbs., is a little bit slender and needs to spend some time in the weight room.

Personal Favorite Recruit:
C Cesar Ruiz
I'm going with Ruiz here, but not because I gave him the highest TTB Rating. In watching him over the past couple years, he seems like a very personable kid and his commitment video was pretty cool, too. In case you didn't see it or want a refresher, here it is.