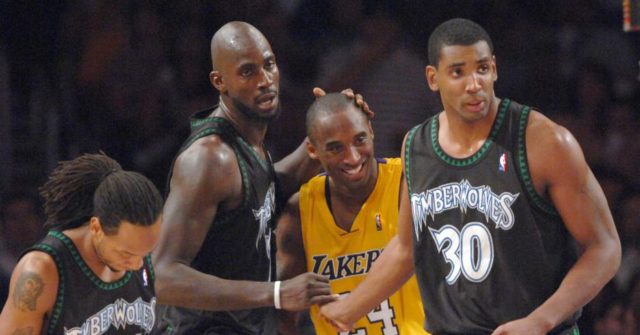 April 8 (UPI) — New Basketball Hall of Fame inductee Kevin Garnett says he's "not entertaining" the idea of having his jersey retired by the Minnesota Timberwolves due to an ongoing rift with team owner Glen Taylor.
Garnett, who was among nine players selected Saturday for the Hall of Fame, spent 14 of his 21 seasons playing for the Timberwolves.
He also had talks with former Timberwolves President Flip Saunders about eventually becoming a minority owner in the franchise.
"I've watched Kevin grow on and off the court and will forever be grateful for his contributions to the Timberwolves organization.
To be elected in his first year of eligibility validates the impact he had on basketball in Minnesota, the NBA, and around the globe.
He was the first player drafted into the modern league straight from high school — beginning a trend that followed with other prep stars like Kobe Bryant in 1997 and LeBron James in 2003.
READ MORE (Breitbart)
Kevin Garnett Lets Loose on 'Snake' Timberwolves Owner

Heavy.com

Kevin Garnett Calls Minnesota Timberwolves Owner Glen Taylor 'a Snake,' Says He 'Won't Forgive' Him for Broken ...

Newsweek

Basketball: Garnett on Wolves owner - 'I don't do business with snakes'

straits times (press release)

Kevin Garnett 'not entertaining' idea of T-Wolves retiring his jersey

CGTN

Garnett on Wolves owner: 'I don't do business with snakes'

Tempo

KG says he 'won't forgive' T-Wolves owner

TSN

Kevin Garnett 'should've' gotten to Celtics sooner

WEEI (blog)

Kevin Garnett: blames Glen Taylor for & # 39; snake & # 39; Due to the fact that the Timberwolves jersey is not removed

Up News Info (press release) (blog)

Kevin Garnett Calls Minnesota Timberwolves Owner Glen Taylor A 'Snake Motherf***er'

The Daily Caller