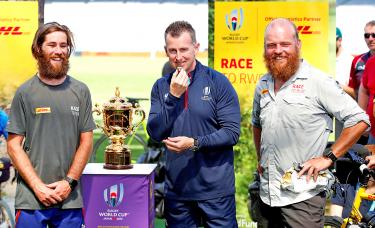 Intrepid cyclists Ron Rutland and James Owens yesterday delivered the Whistle to be used in the opening match of the Rugby World Cup after traveling more than 20,000km in 231 days from London.
The pair, who began their trip at Twickenham Stadium in February, handed the whistle to Welsh referee Nigel Owens, who is to be taking charge of today's clash between hosts Japan and Russia.
The journey, which spanned 27 countries, aimed to raise awareness and money for charity ChildFund, which is working in partnership with World Rugby, which aims to empower underprivileged children across Asia through the game.
They delivered the whistle safe and sound to Nigel Owens in Tokyo Stadium, which is to host the opening match.
"These guys have made it a very tough act to follow actually," tournament director Alan Gilpin said jokingly.
Nigel Owens was also the referee for the final of the 2015 Rugby World Cup in England.
READ MORE (Taipei Times)
Duo cycle 20000km to hand over Rugby World Cup whistle

Daily Nation

Race to Rugby World Cup cyclists arrive at Tokyo Stadium after epic 20000km journey

sportanddev.org (press release)

Cyclists deliver Rugby World Cup whistle after 20000km journey

CNA

Cyclists deliver World Cup whistle in Tokyo after 12000 mile journey

Yahoo News UK

Rugby: Whistle for RWC opener gets over the line after epic journey

The Mainichi

Twickenham-to-Tokyo cyclists hand over Rugby World Cup whistle after 20000km ride

Breitbart

RWC whistle's 20 000km journey

SARugbymag

Cyclists deliver World Cup whistle, 20000km later

Free Malaysia Today

Cyclists deliver RWC whistle after 20 000-km journey

SuperSport