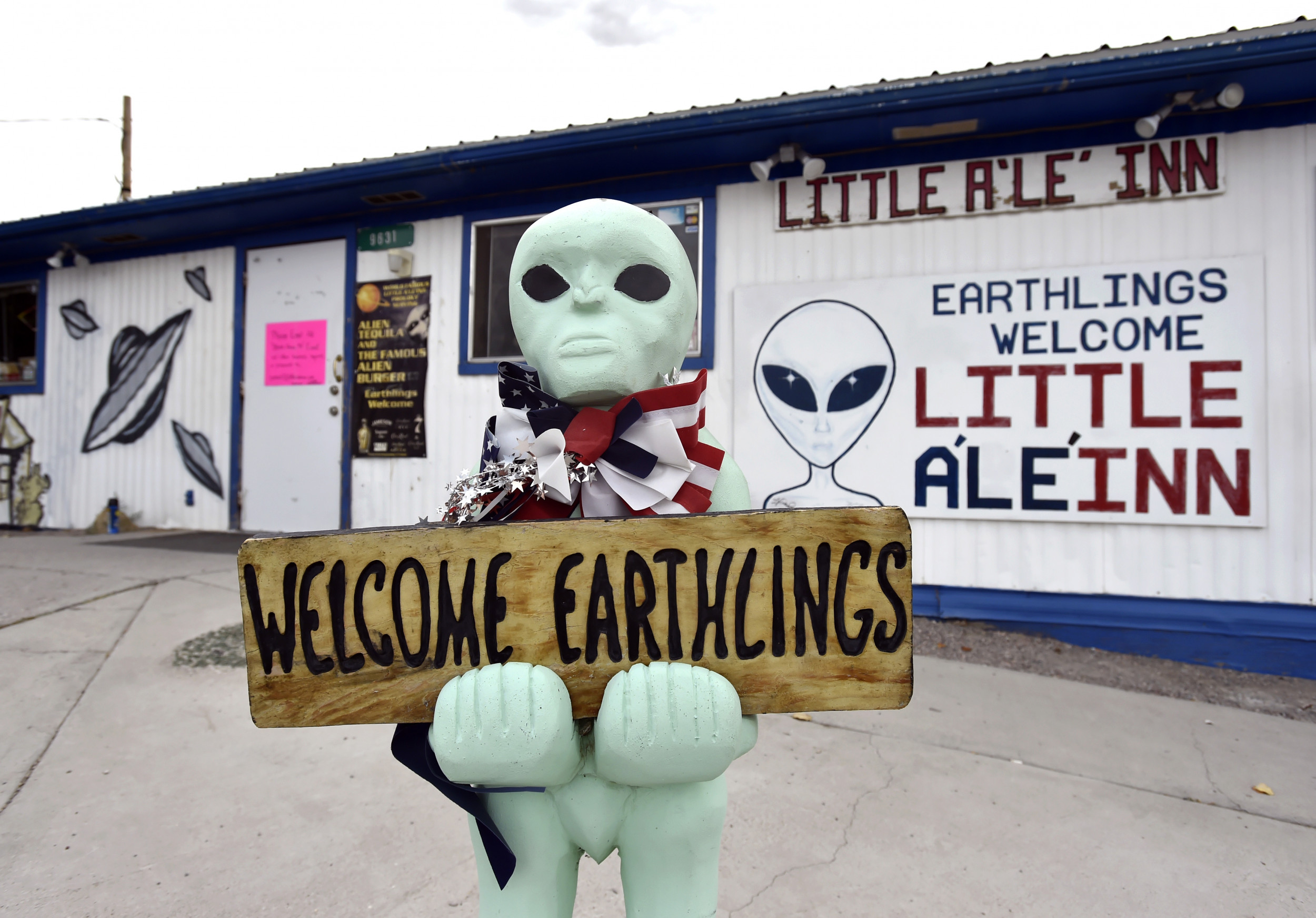 The hashtag #Area51 began trending on Thursday afternoon with tens of thousands of Americans mocking the #StormArea51 fans who have begun setting up camp in the Nevada Desert ahead of "Alienstock."
Crowds started setting up tents offsite this week, just off Route 375 in Rachel, Nevada in preparation for two #StormArea51-related events, "Alienstock," taking place in Lincoln County, and "Area 51 Basecamp," based in Hiko.
An alien-like statue displays a sign welcoming guests to the Little A'le' Inn restaurant and gift shop on July 22, 2019 in Rachel, Nevada.
"We came out here camping, to ride the machines, because it sounded like a cool event," Ken Faulhaver, a 64-year-old camper from Las Vegas, told the paper.
When news began emerging of fans arriving at the location on Thursday, social media users quickly took to Twitter to ridicule the event and its attendees.
Here is how I imagine the guy live streaming it will be," Twitter user @LazyGenGamers wrote, alongside a photoshopped image of a UFO shooting a blue beam onto what appears to be army troops.
READ MORE (Newsweek)
Area 51 Alienstock memes blasting off like a Naruto run

CNET

10 Best Tweets about Storm Area 51

Talk Radio 1210 WPHT (blog)

The Internet Is Ready for the Area 51 Raid With Hilarious Memes

Comicbook.com

Students share thoughts on Area 51 Raid

The Daily Eastern News