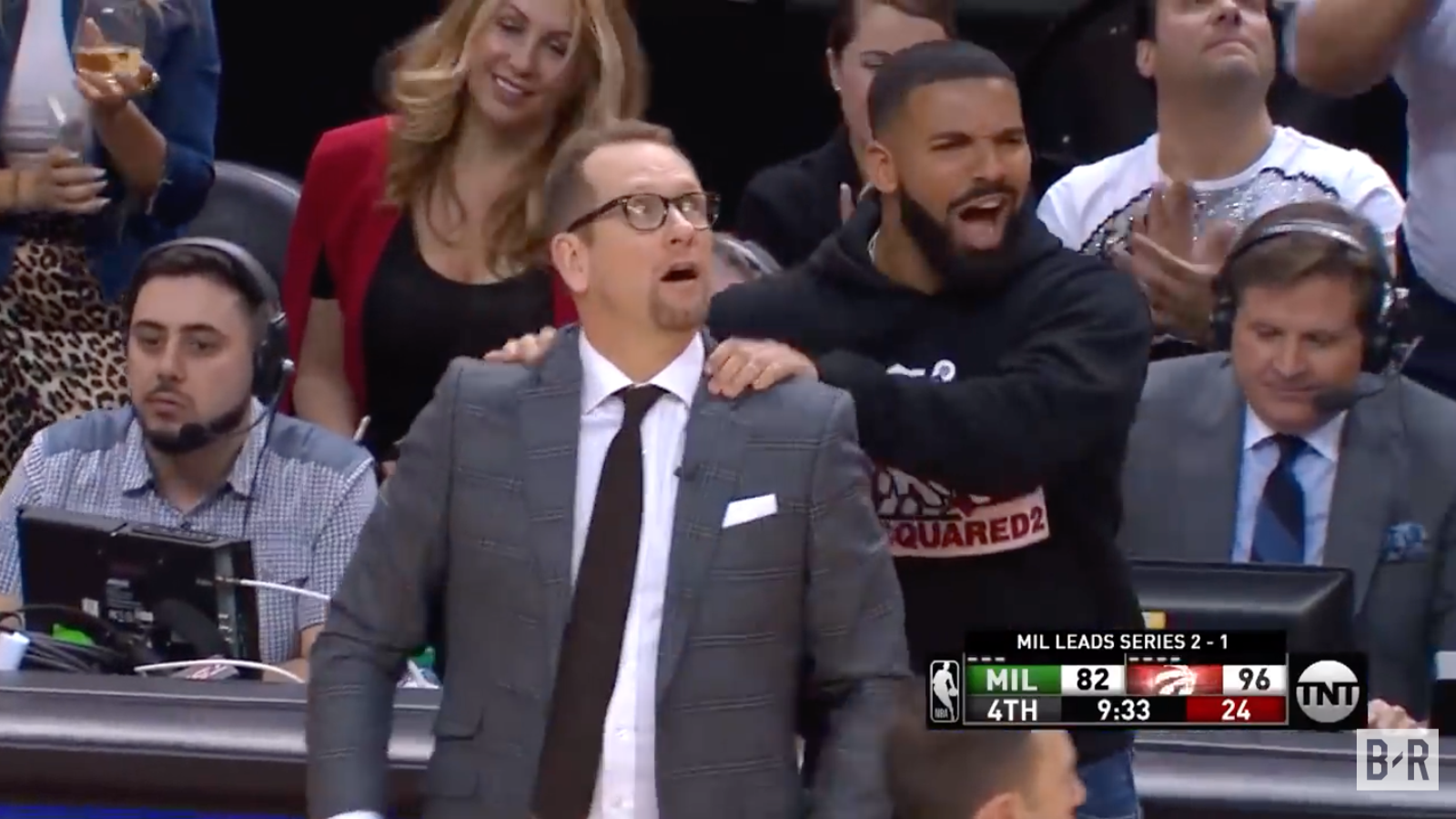 Screenshot: Bleacher Report Video (YouTube)While Drake might have free reign over the Billboard charts or your summertime Spotify playlist, it would appear his sovereignty has its limitations, as evidenced by the NBA calling Pusha T's favorite rapper into the principal's office.
As the global ambassador of the Toronto Raptors, the Grammy Award-winning artist parades up and down the sidelines, taunts players and referees from his courtside seat and does ridiculous shit like this to send basketball purists fuming:
The NBA spoke to the Toronto Raptors during the Eastern Conference finals about Drake's activity and presence on the sideline, a league spokesman told ESPN.
While the Golden State Warriors, who the Raptors will face in the NBA Finals starting Thursday night, are mixed on "DrakeGate"—Warriors coach Steve Kerr called Drake's antics "exciting" and "fun" while guard Klay Thompson has barred his music —the league office obviously has the final say.
"We appreciate how big a fan he is, and I know the Raptors do," NBA Commissioner Adam Silver said in an interview with Chris Haynes of Yahoo Sports.
"He has the official designation 'ambassador' [...] and he's a global star, so it's a huge deal that he's so engaged with the team and loves the NBA so much.
READ MORE (The Root)
Drake's Toronto Raptors Non-Ownership Role & Fandom Explained

Heavy.com

NBA contacted Raptors about Drake's sideline behavior: Report

Fox Business

The NBA Spoke to Drake About His Courtside Antics

SLAM Online

Good Day NWA: NBA Wants Drake on his Best Behavior

KNWA

NBA commissioner says Drake went over the line in touching coach during game

Kamloops Matters

VIDEO: NBA calls Raptors about Drake's courtside antics

Westerly News

NBA Commissioner Adam Silver says he talked to Drake about sideline antics

Fox News

"When the ball is in play, sit the FCK down": Twitter's take on Drake's courtside behaviour

Toronto Life

NBA calls Raptors about Drake's antics on Scotiabank Arena sidelines

CityNews Toronto