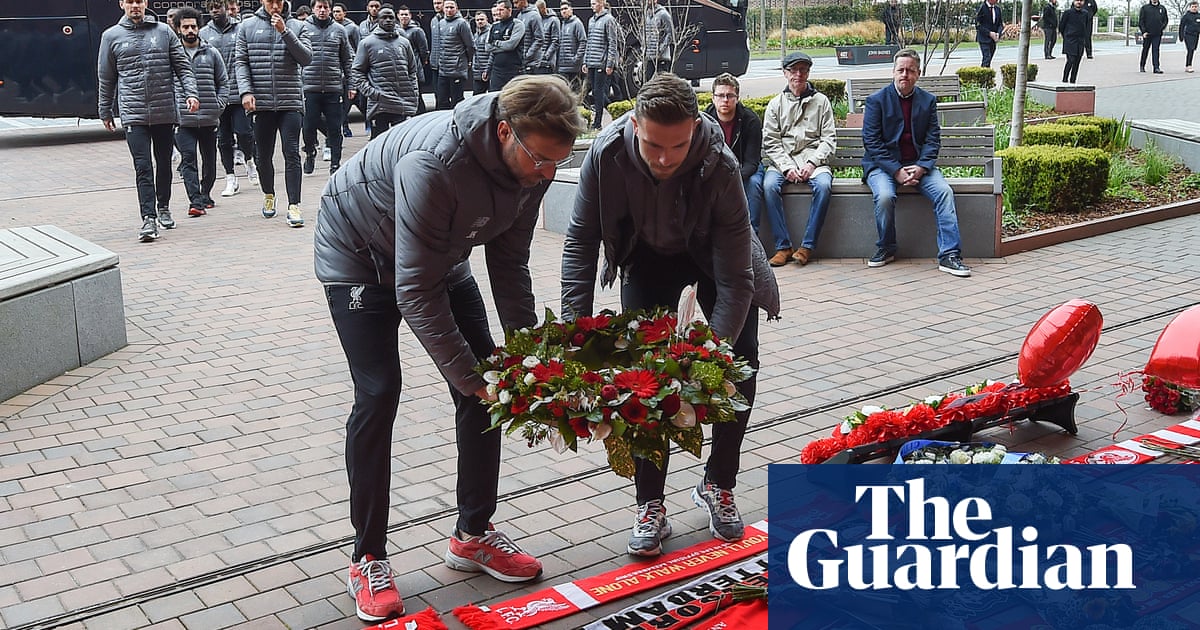 The pictures of all 96 were displayed on a banner across the front of the St George's Hall, which proclaimed "Never Forgotten." A lantern for each was laid on the steps and people paid respects throughout the day, laying wreaths and Liverpool football club scarves.
Photograph: Christopher Furlong/Getty Images Hundreds of people, including relatives of those who died, survivors of the terrible crush on the Leppings Lane terrace, Liverpool politicians, friends and supporters, attended a memorial service at the Anglican cathedral.
Mersey ferries sounded their horns, the town hall bells rang and the minute's silence was held at 3.06pm, the time the semi-final was stopped when South Yorkshire Police officers realised that people were trapped in critical trouble in the Leppings Lane "pens".
On 3 April at Preston crown court, a jury could not reach a verdict on the charge against the Hillsborough match commander, the former South Yorkshire police Ch Supt David Duckenfield, of causing the deaths by gross negligence manslaughter.
Photograph: Eleanor Barlow/PA Jenni Hicks, whose two daughters, Sarah, 19, and Vicki, 15, were killed at Hillsborough, said: "Today was about remembering the 96 people who lost their lives , how much they were loved, how precious they were to their families, and how much they are still missed.
Steve Kelly, whose brother Mike, then 38, was killed, paid tribute after the cathedral service to the people of Liverpool: "This city has always supported us; it's such a beautiful, special place, we really know the meaning of community," he said.
READ MORE (The Guardian)
Liverpool falls silentto mark Hillsborough disaster

Gulf Times

Liverpool remembers Hillsborough disaster 30 years on

Yahoo News Canada (blog)

Video: Hillsborough tributes across the city on 30th anniversary

Liverpool FC

Liverpool marks 30 years since Hillsborough disaster

Yahoo News

Ninety-six bells sound for Hillsborough victims 30 years since tragedy

Sky News

Liverpool squad pays respects at Hillsborough memorial

Sportstar

Liverpool players pay respects to Hillsborough victims 30 years on

Irish Examiner

April 15, 2019 - Twitter

Twitter

Hillsborough: Liverpool marks 30 years since disaster

BBC News

Hillsborough: Liverpool to mark 30 years since disaster

BBC News