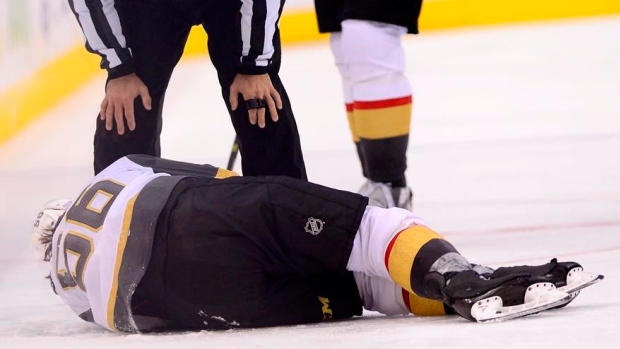 Vegas Golden Knights forward Erik Haula has been ruled month-to-month after being stretchered off the ice with a lower-body injury in Toronto last week.
Haula was stretchered off the ice early in the third period of last Tuesday's 3-1 loss to Maple Leafs after taking a clean hit from Patrick Marleau as he backhanded the puck into the Maple Leafs' end.
Marleau finished the check and, as Haula hit the boards near centre ice, the Vegas forward's foot seemed to catch in the ice and his right leg buckled as he fell backwards.
He clutched his knee in plain after hitting the ice.
The 27-year-old had been serving as the team's second line in place of injured forward Paul Stastny before the injury in Toronto.
Golden Knights head coach Gerard Gallant said Stastny who was ruled out for two-to-three months in early October is "not close."
READ MORE (TSN)
Golden Knights' Erik Haula 'month-to-month' with injury

Las Vegas Review-Journal

Knights Nuggets: Some not-so-great news on the Erik Haula front

Knights on Ice

Erik Haula on IR

KDWN

Golden Knights place Erik Haula on injured reserve

Knights on Ice

Golden Knights place Erik Haula on IR

Las Vegas Review-Journal

Golden Knights' Erik Haula heads to IR

Yardbarker

Erik Haula Computer Projections vs Fantasy Owner Expectations

Scout

Golden Knights' Haula joins Stastny on injured reserve

Las Vegas Sun