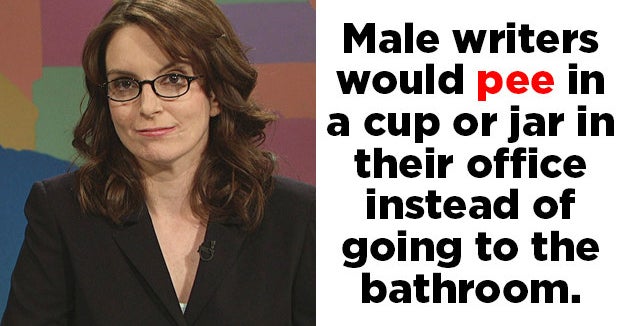 When the show shoots in the hallway outside the studio, you can almost always see Abe Lincoln, chorus girls, and a llama in the background — a gag conceived by Seth Meyers in the early 2000s.
Lisa Kudrow, Kathy Griffin, Stephen Colbert, Steve Carell, and Jim Carrey all auditioned for — and were rejected by — SNL .
Parade magazine estimated that Cast members earned up to $24,000 per show in 2017, although the amount varies based on seniority and writing credits.
When Chevy Chase returned to host SNL after having left the cast a year prior, he got into a fistfight with Bill Murray, who called him "medium talent."
At least seven celebrity couples — including Scarlett Johansson and Colin Jost, Emma Stone and Dave McCary, and, yes, Ariana Grande and Pete Davidson — have met through SNL .
And finally, Lorne Michaels's assistant occasionally asks cast members to fill in empty seats at the creator's table so it appears full at the after-party.
READ MORE (BuzzFeed)
SNL 'Precap': 5 Sketches That Oughta Be Included in Liev Schreiber's Episode

TVLine

5 Things We Want to See From Lil Wayne On 'SNL'

Billboard

Here's what's on TV this weekend: 'Sally4Ever' premieres, etc.

Washington Post

Watch Saturday Night Live with Liev Schreiber: Season 44, episode 5 live stream

FanSided

Who is Hosting Saturday Night Live Tonight: November 10, 2018

The Interrobang

Watch Saturday Night Live Season 44, Episode 5

Hidden Remote

How Much Money Does the 'Saturday Night Live' Cast Make Per Episode?

The Cheat Sheet

Is 'SNL' on Tonight? Watch Liev Schreiber Host 'Saturday Night Live'

Newsweek

Saturday Night Live: Expectations for Liev Schreiber – Lil Wayne show

CarterMatt