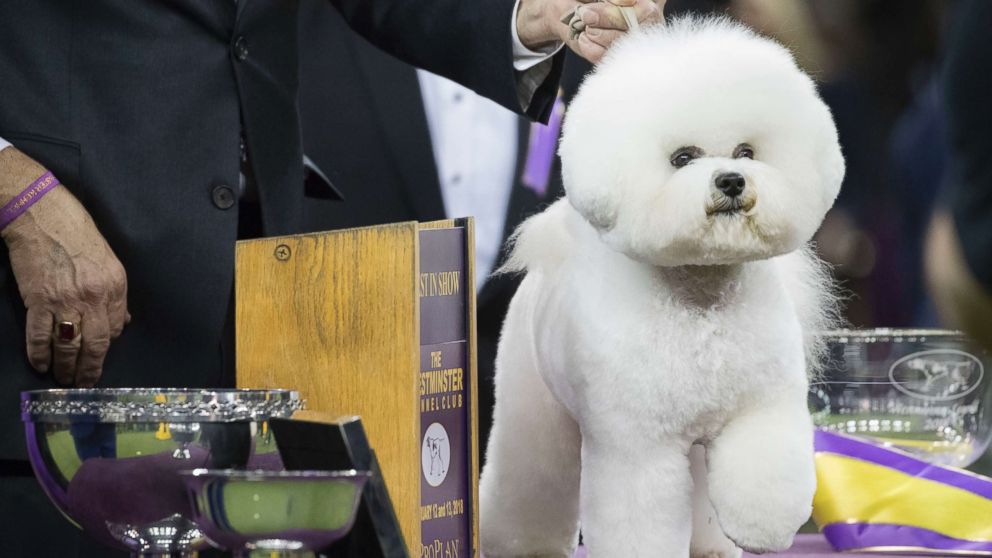 The bichon frise, named Flynn, beat out nearly 3,000 four-legged competitors to take home the top title.
The next stop for Flynn, only the second bichon frise in history to win at Westminster, is retirement, McFadden said.
Flynn, a Bichon Frise, along with handler Bill McFadden (R) and judge Betty-Anne Stenmark (L) pose for pictures after winning the Best In Show at the 2018 Westminster Kennel Club Dog Show at Madison Square Garden, in New York City, Feb. 13, 2018.
Flynn, 5, came out on top over Ty the giant schnauzer, Biggie the pug, Bean the Sussex spaniel, Lucy the borzoi, Slick the border collie and Winston the Norfolk terrier in the final round, according to ESPN.
The two-day Westminster Kennel Club Dog Show drew challengers from 50 states and 16 other countries, including Canada , Mexico, Japan, Russia, Australia and China, the Westminster Kennel Club said in a statement.
Flynn stood out as the "perfect example of his breed," according to Gail Miller Bisher, communications director for the Westminster Kennel Club.
McFadden explained what goes into creating a winning look for Flynn, whose given name is GCHP CH Belle Creek's All I Care About Is Love.
READ MORE (ABC News)
Win Like Flynn: A Bichon Frise Is This Year's Top Dog At Westminster Show

NPR

A Westminster wow: Bichon frise becomes America's top dog

CNBC

Tiny, fluffy and fierce: Meet Flynn, the Best in Show winner at the 2018 ...

CBC.ca

Flynn the bichon frise fetches top prize at Westminster Kennel Club Dog Show

AOL

Canadian Westminster Dog Show judge: 'You don't realize the enormity of the event'

CTV News

Bichon frise bows as Westminster Kennel Club's best in show

New York Daily News

Bichon Frise Named Best In Show At Westminster Kennel Club Dog Show

HuffPost

Bichon frise wins 'Best in Show' at Westminster

WLS-TV

Flynn, a bichon frise, is this year's top dog at Westminster

MarketWatch