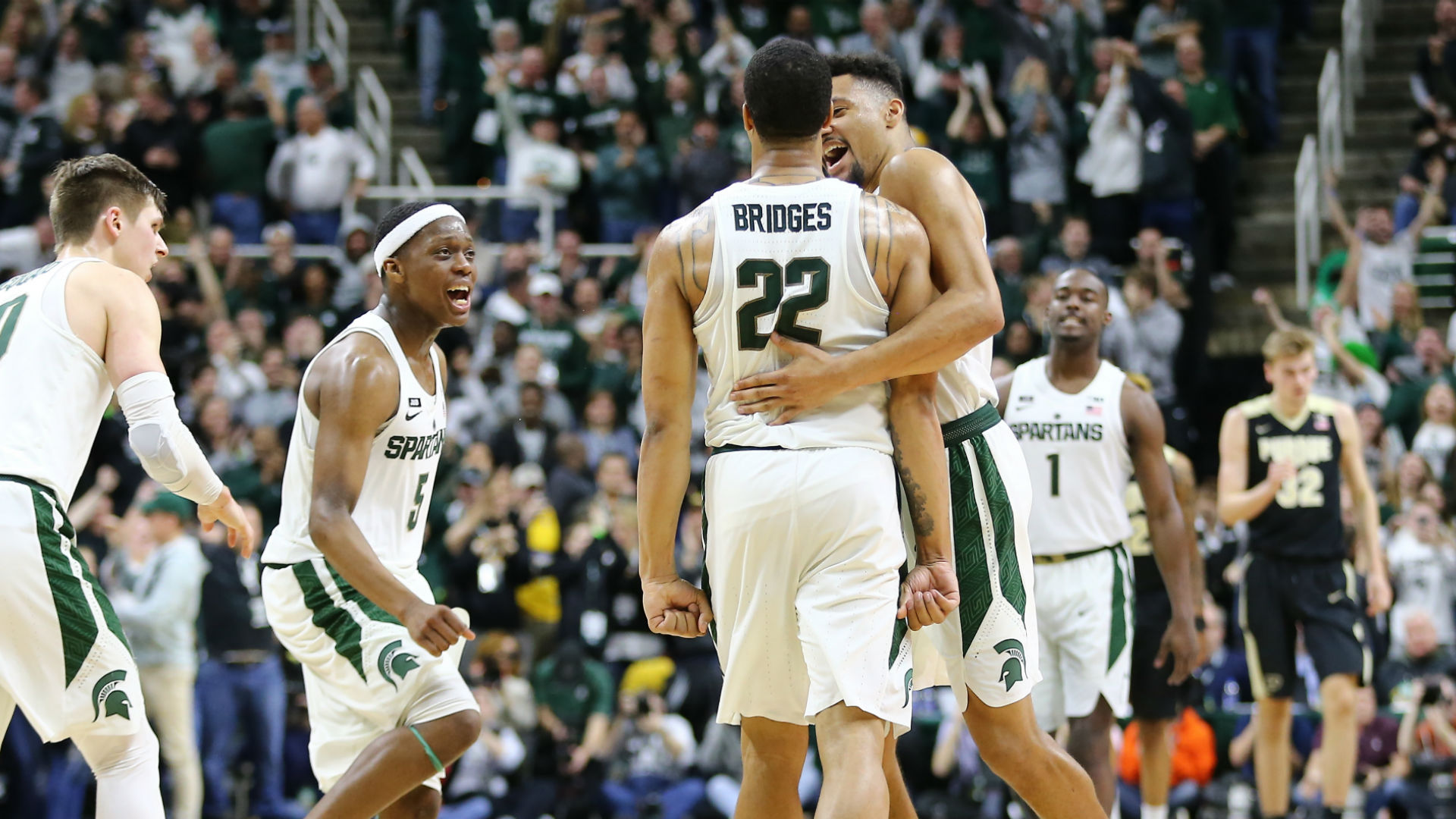 EAST LANSING, Mich. — Miles Bridges beelined toward Tom Izzo while cheers swirled throughout the Breslin Center with 2.8 seconds left in a Big Ten instant classic between No.
Bridges had drained a 3-pointer at the top of the key over Purdue's Dakota Mathias that gave the Spartans a 68-65 victory moments earlier.
An ESPN "Outside the Lines" investigation brought into question how Izzo and football coach Mark Dantonio handled sexual assault allegations, and that's where all those emotions collide.
Keady joked with Izzo before the game that his second toughest loss was a matchup between the schools in 1989-90, when the Spartans clinched a Big Ten regular-season championship 72-70 win at the Breslin Center on March 11, 1990.
In that regard, it's fitting Steve Smith, the star player of that team, addressed the crowd at halftime with the Spartans trailing by five points.
Nick Ward, Gavin Schilling, Kenny Goins and Xavier Tillman took turns on Haas while limiting Purdue's 3-point shooting.
Bridges then dribbled to the top of the key, pulled up and hit a shot that showed what kind of team Michigan State could be for the rest of the season.
READ MORE (Sporting News)
The "must-see" photos from Michigan State's big win over Purdue

MLive.com

What Tom Izzo said after Michigan State's 68-65 win over Purdue

Landof10.com

No. 14 Ohio State drops Iowa 82-64, takes Big Ten lead

Canton Repository

Miles `Bridges' gap on Purdue

Quad-Cities Online

Bridges game-winner lifts Michigan State over Purdue

FanRag Sports (blog)

Bridges' 3-pointer lifts MSU past Purdue

The Herald Bulletin

MSU's game plan: Take aim at Purdue shooters

The Detroit News

Top 25: Bridges lifts Michigan St. in Big Ten showdown

The Register-Guard

Michigan State vs. Purdue: 5 things we learned in the Spartans' thrilling win ...

NCAA.com