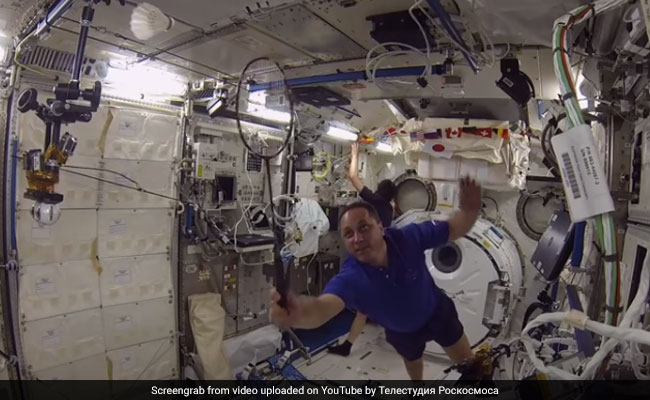 While Olympians from world over are gearing up for the Winter Games in South Korea, players from America, Russia and Japan came together for a really important and one-of-its-kind Badminton game.But at a different arena altogether.
The contenders - all Astronauts at the International Space Station - were NASA's Joseph Akaba, JAXA's Norishige Kanai and Russian cosmonauts Alexander Misurkin and Anton Shkaplerov who came together for the first ever space badminton tournament.
The ISS crew played a doubles badminton game as part of a project to showcase their life in zero gravity, reported Russia Today .
The interstellar tournament saw the astronauts taking on their opponents while handling the challenges of zero gravity.
Current ISS commander, Russian Astronaut Alexander Misurkin said the outer space badminton game was "tantamount to placing a flag on Mars"
The video of the match, played on January 1, was released on Tuesday by the Russian space agency "Roscosmos" on their YouTube page.The teams didn't keep score and everyone was a winner in the tournament.
Russian astronaut Anton Shkaplerov, one of the badminton players, in an earlier video demonstrated how to fly a vacuum cleaner in space.
READ MORE (NDTV)
NASA flight director speaks at University of Toledo

Toledo Blade

NASA Testing Implant That Could Slow Down Muscle Deterioation

Ubergizmo

Timberline High students speak with astronauts aboard the International Space ...

6 On Your Side

Watch Boise students chat with space station astronauts

Idaho EdNews

Watch: Astronauts play first space badminton tournament

News Heads

Watch: Astronauts played the first ever sport in space – badminton

Scroll.in

Shuttlecocks fly 400km above earth

The Australian

Russian cosmonauts and American astronauts played the first ever sporting ...

Brinkwire (press release)

Russian Cargo Ship Preps for Launch While Crew Studies Life Science

Space Fellowship