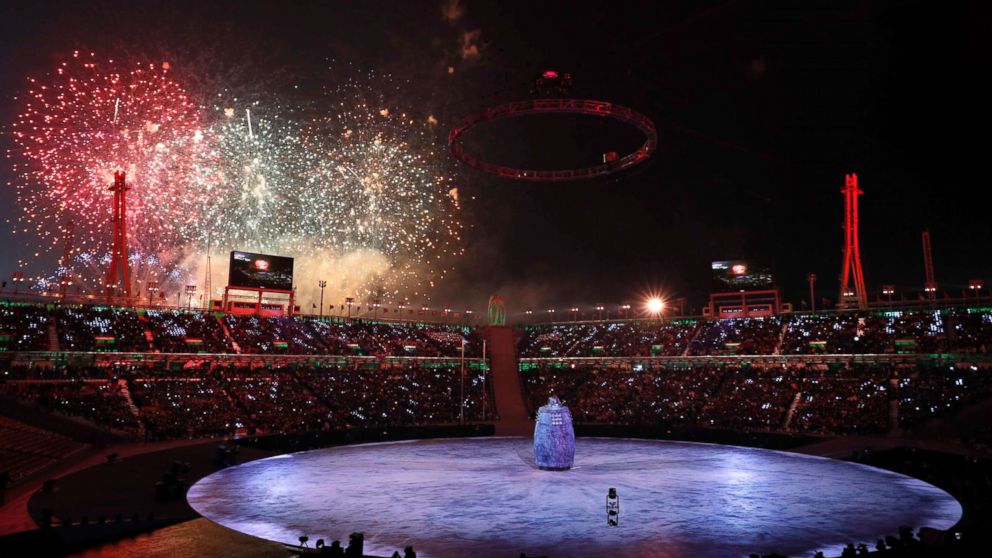 The 23rd Olympic Winter Games officially kicked off in Pyeongchang, South Korea, today with a dazzling spectacle featuring the parade of participating nations and a whimsical storyline.
Spectators at the 35,000-seat temporary venue were provided with several items to fend off the region's bitter cold and high winds, including a raincoat, a blanket and knitted hats, as well as hand, feet and seat warmers.
The five children -- Haenaroe, Ara, Puri, Bichae and Nuri -- traveled through time to the past and future, learning about South Korea's history and culture.
Members of the North Korean delegation wave flags as they wait for the Opening ceremonies to begin for the 2018 Winter Olympics in Pyeongchang, South Korea, Feb. 9, 2018.
The Rainbow Choir, comprised of 75 children from multicultural families, sang South Korea's national anthem as the host country's flag was hoisted into the air.
Erin Hamlin, the first U.S. athlete to win an Olympic medal in singles luge, was Team USA's flag bearer at the opening ceremony.
Fireworks light up the night sky as the Opening Ceremonies for the 2018 Winter Olympics begin in Pyeongchang, South Korea, Feb. 9, 2018.
READ MORE (ABC News)
Historic moment as Olympics begin on divided Korean peninsula

CBS News

Opening Ceremonies at Pyeongchang Olympics: A unified Korea, big US gloves and ...

Washington Post

North and South Korea March Together as 2018 Winter Olympics Begin

TIME

Olympics Kick Off With Unified Korean Team Offering Hope for Peace

New York Times

North Korea, US set for icy encounter at Olympics as North delegation arrives

Reuters

Mike Pence avoids handshake with N. Korea delegate ahead of Olympics opening ...

Yahoo Sports

Winter Olympics Opening Ceremony LIVE: Updates as the Pyeongchang Games begin

CBSSports.com

Will North Koreans try to defect at the Olympics?

CBS News

Olympics: Nations battle it out, in games and global arena

Politico