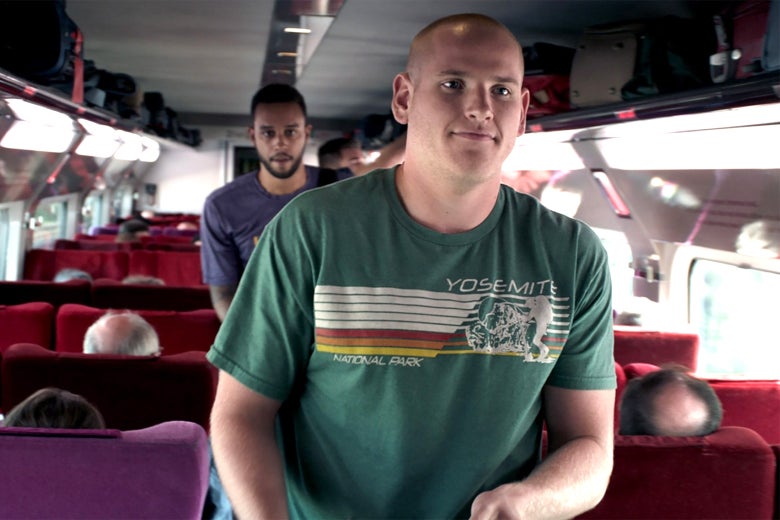 The most thrilling moment in Clint Eastwood's The 15:17 to Paris isn't when its three heroes—Spencer Stone, Alek Skarlatos, and Anthony Sadler—foil a potential terrorist attack aboard a train hurtling through the European countryside.
Although it builds up to a re-enactment of the day in August of 2015 when Stone and his friends subdued a man carrying an assault rifle and nearly 300 rounds of ammunition, the vast majority of the film takes place before the attack, going all the way back to the trio's first meeting in grade school.
Then he flunks out of SERE training and winds up in a part of the military that a fellow washout dryly calls "day care for adults." He's no one's idea of a hero-to-be, and yet he speaks of feeling "catapulted towards a greater purpose," a phase the movie likes enough to repeat multiple times.
The 15:17 wants to emphasize the suddenness of the train attack, rather than going the conventional route and drawing out the moments before it to heighten the suspense, but that means the movie's raison d'etre is over in a matter of minutes, and even a handful of flash-forwards to the event can't alleviate the sense that much of what comes before is merely padding.
They traipse through Rome and Venice and detour to Amsterdam, with Sadler snapping selfies all the way—virtually the only memorable trait the movie can find to give him—making friends with a young Californian woman along the way who leaves the picture as abruptly as she entered into it.
In the ample downtime The 15:17 to Paris gives one's mind to wander, I found myself thinking about Eastwood's twin 2006 releases, Flags of Our Fathers and Letters From Iwo Jima , which told the story of the same military engagement from opposite sides of the battle.
That impulse to interrogate what heroism means seems to have gone out of Eastwood altogether, replaced by morally vacant recapitulations of the myth of a single man rising to the challenge while lesser beings try to hold him back.
READ MORE (Slate Magazine)
Trudeau pitches Canada's tech jobs to San Francisco market

SFGate

The 5:17 to a Clint Eastwood disaster

The Australian

Eastwood makes real heroes the stars in 'The 15:17 to Paris'

WTOP

'The 15:17 To Paris' Review: Clint Eastwood's Gamble Casting Real-Life Heroes ...

Deadline

Stars of Clint Eastwood's 'The 15:17 to Paris' on the authenticity of playing ...

New York Daily News

The 15:17 To Paris' Film Uses Real Life Heroes To Play Themselves

KPBS

Trudeau Touting Canada's Tech Industry In Visit To San FranciscoCBS San Francisco Bay Area
No Clint, it didn't make my day... The 15.17 to Paris is one film to try and ...

Daily Mail

Clint Eastwood directs three real-life heroes

The Boston Globe