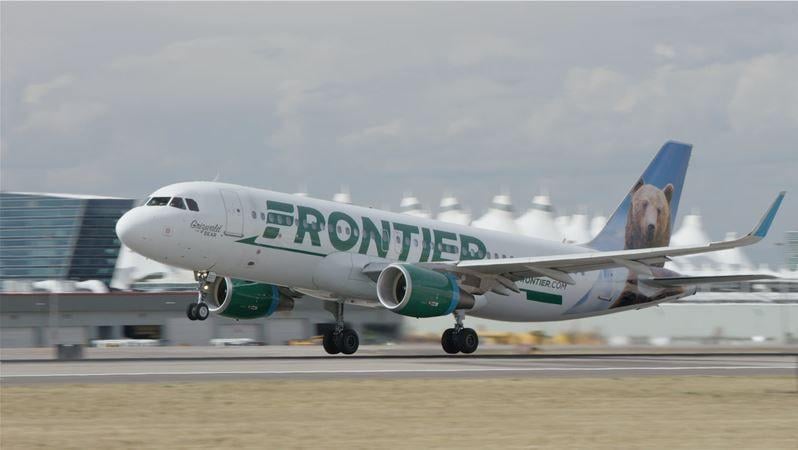 Denver-based Frontier Airlines announced Thursday it is adding flights to more destinations than previously indicated at the state's busiest airport.
The low-cost carrier will launch Nonstop flights three times a week on Sunday, Wednesday and Friday to Trenton, N.J., starting April 8.
Last fall the carrier said it will begin serving the Charleston region Feb. 20 with three flights per week on Tuesday, Thursday and Sunday to the Mile High City and Philadelphia.
"The idea that we are actually expanding service before our first flight is an unusual event," said Scott Fisher, the airline's senior director of ancillary revenue and loyalty.
"We are committed to making flying affordable for everyone, and to be adding new service here before our first flights have even departed speaks to the early support of the community and our partners here at the Charleston airport," Fisher said.
"It is a vote of confidence that we sincerely appreciate, and the addition of these two new cities will help to ensure an eighth consecutive year of record passenger activity at Charleston International."
In January, Las Vegas-based Allegiant announced it will begin seasonal, nonstop service in April between Pittsburgh, Cincinnati and Indianapolis on certain days of the week.
READ MORE (Charleston Post Courier)
San Antonio airport gets nonstop Frontier Airlines route to North Carolina's ...

mySanAntonio.com

Frontier Airlines to begin $39 flights from Birmingham in April

AL.com

Frontier Airlines announces major expansion at RDU

News & Observer

Frontier Airlines announces 6 new flights from RDU

WRAL.com

Frontier to bring seasonal flights to Denver, Trenton, Long Island to MYR

WMBF

Charleston airport to announce new air service

Charleston Post Courier

Frontier adds nonstop flights to Austin, Raleigh-Durham

Buffalo News

Flights for $39? Frontier adds nonstop service from Savannah to these 2 cities

Island Packet

Frontier adding Milwaukee flights to Austin and Raleigh-Durham

Milwaukee Journal Sentinel