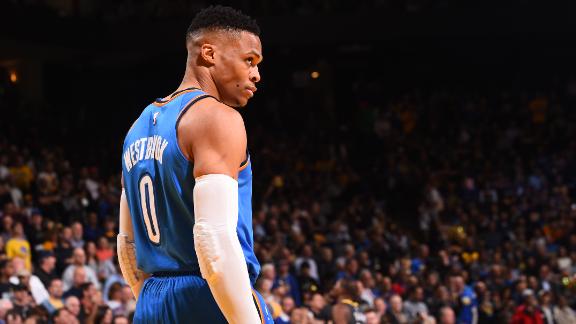 OAKLAND, Calif. -- Draymond Green tossed the ball toward referee Marat Kogut after a call he was unhappy with, and with a second technical foul, his night was done early in the fourth Quarter.
After shootaround Tuesday morning in downtown San Francisco, Westbrook even made a reporter answer his own question when he dared pose that query again.
He finished with 34 points, 9 rebounds and 9 assists, and as in the first meeting with the Warriors, ended the game watching the final buzzer with a towel around his neck on the bench.
Westbrook set the tone from the jump, dropping 21 points on 9-of-11 shooting plus four assists in the first quarter, punctuating his start with a hammer about midway through where he strutted and stared into the crowd, relishing any jeer or heckle thrown his way.
George was dynamic, turning his own defense into offense, producing a number of signature plays but none better than in the third quarter when he stole a pass, then crossed Kevin Durant to put him off balance before canning a straightaway 3-pointer.
The Thunder walked into Oracle Arena on Tuesday, a house of horrors for them in years past, facing the possibility of a five-game losing streak and instead stamped a second blowout win over the Warriors this season.
In the third quarter, Westbrook spent almost an entire timeout vibing to the music playing in the arena, bobbing his head and shuffling his feet.
READ MORE (ABC News)
Thunder Doesn't Flinch, Routs Warriors Despite Adversity – OKC 125, GSW 105

OKCThunder.com

Warriors, for once, are reeling

Yahoo Sports

Westbrook, George dominate, lead Thunder to rout of Durant, Warriors

FOXSports.com

Thunder make statement in dominant win against Warriors at Oracle

KRON4.com

Carmelo Anthony's night cut short due to sprained right ankle

ESPN

George, Westbrook help Thunder throttle Warriors, push through adversity

NewsOK.com

Russell Westbrook gets phantom call against Warriors

Sporting News

Russell Westbrook takes it to the Warriors again

San Francisco Examiner

Warriors are running on empty, with no relief in sight

San Francisco Chronicle