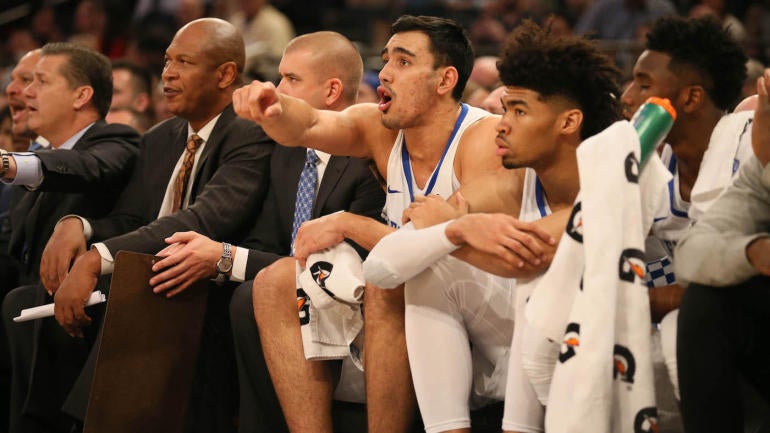 On Tuesday, Kentucky handed down an indefinite suspension to little-used role player Tai Wynyard for a team rules violation.
Details surrounding the suspension were few and far between until the Courier-Journal reported Tuesday evening that, according to messages sent by sorority and fraternity members at Kentucky, the 6-foot-10 New Zealand native showed up to at least one party alongside an Armed Student who was being used as protection.
The Group Me message circulated by sorority members in January stated: "there is a (person) showing up to parties with the basketball player Tai Wynyard.
(The person) showed up last night to our rush party and ... had a gun ... said he was 'protecting' Wynyard.
Wynyard hasn't played in the Wildcats' last 11 games due to a back injury and was expected to miss the remainder of the season.
Still, he was curiously missing from the UK bench when they faced Vanderbilt last week; the reason given to the Courier-Journal for his absence from a Kentucky spokesperson was because Wynyard "had some academic obligations that he was attending to prior to our game."
According to the Courier-Journal, pictures of Wynyard and the unnamed armed student circulated around Greek life at Kentucky and the incident was discussed among fraternity and sorority presidents.
READ MORE (CBSSports.com)
Report: Suspended Kentucky Player Went To A Party With Armed Student Bodyguard

Deadspin

Armed student 'protecting' UK basketball player Tai Wynyard, fraternities and ...

The Courier-Journal

Armed student partied with suspended University of Kentucky basketballer Tai ...

Stuff.co.nz

Kentucky sophomore reportedly being protected by armed student at parties

Yahoo Sports

Kentucky Suspends Forward Wynyard For Violating Team Rules

CBS Detroit

Tai Wynyard suspended from Kentucky basketball team until further notice

The Courier-Journal

Report: Suspended Kentucky forward Tai Wynyard attended party with armed ...

SECcountry.com

Kentucky sophomore forward Tai Wynyard suspended

247Sports

Kentucky Needs To Try Explaining Why One Of Its Basketball Players Needs an ...

The Big Lead