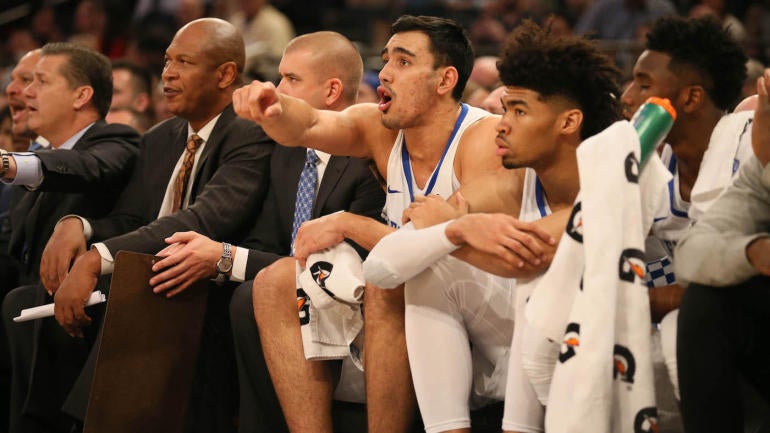 The regular-season league title is essentially out of reach; Auburn has only one loss in the SEC and Tennessee, which swept UK for the first time in 19 years, is two games up in the standings.
With a conference crown now the stuff of imagination for Kentucky, the 2017-18 campaign will mark the fourth time in John Calipari's nine seasons in Lexington that UK will fail to finish atop the SEC.
The trouble isn't just with the loss or the SEC title being a pipe dream -- it's with how Kentucky lost on Tuesday and what awaits on the schedule.
In terms of expectations vs. reality, shooting guard Hamidou Diallo is on the short list of the most disappointing players in the sport this season.
Kentucky fans thought their 2017-18 season hinged on whether or not he opted to stay at UK vs. keeping his name in the draft.
It will make for an intriguing game no matter the opponent come NCAA Tournament time, but that doesn't eliminate the fact that Kentucky's a frustrating team to watch and seems set on remaining that way.
The Wildcats are not yet in danger of repeating the 2012-13 team's infamous spiral to the NIT, but without any major injuries now (which did happen in 2012-13), in some ways this season could wind up as disappointing as that one.
READ MORE (CBSSports.com)
Lamonte Turner lifts Tennessee to first regular-season sweep against Kentucky ...

Knoxville News Sentinel

Tennessee beats Kentucky twice in one season for the first time since 1999

NCAA.com

No. 15 Tennessee edges No. 24 Kentucky 61-59

mySanAntonio.com

Vols, not Cats, come up clutch down the stretch in Rupp

Lexington Herald Leader

3 things about Tennessee basketball's historical 61-59 win at Kentucky

SECcountry.com

No. 24 UK basketball folds down the stretch in loss to No. 14 Tennessee Volunteers

The Courier-Journal

Last-minute shot lifts No. 15 Tennessee over Kentucky, 61-59

WBIR-TV

WATCH: Tennessee downs Kentucky thanks to clutch Lamonte Turner 3, ensuing dunk

NCAA.com

FINAL: No. 15 Tennessee 61, No. 24 Kentucky 59: Recap, analysis, box score

SECcountry.com