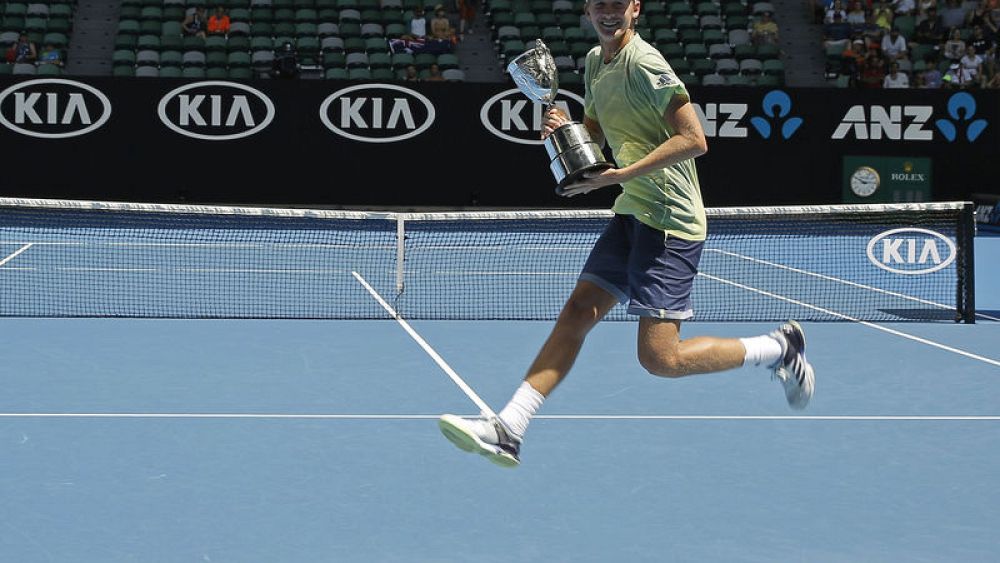 MELBOURNE (Reuters) – Sebastian Korda marked the 20th anniversary of his dad Petr's memorable Australian Open triumph by winning the junior singles tile against Taiwan's Tseng Chun-hsin on Saturday.
And in keeping with family tradition, the Czech celebrated with the same scissor-kicking routine his dad, and coach, performed after beating Chilean Marcelo Rios in 1998.
Korda's sister Jessica is a golfer and won her first professional title, the Women's Australian Open, in Melbourne in 2012.
While his dad was back home watching on television rather than in Melbourne, Korda said his victory made up for missing his 50th birthday last week.
Korda, who is also a two handicap golfer, admitted his dad's victory is regular viewing at home.
READ MORE (euronews)
Nelly, Jessica Korda watch brother keep family tradition with Australian Open win

Golfweek

Sebastian Korda Takes a Trip in His Father's Shoes but Finally Stands Apart

New York Times

Sebastian Korda follows in father's footsteps at Aussie Open

New York Daily News

Petr Korda's Son Wins Junior Australian Open

beIN SPORTS USA

Korda, Liang win Australian Open junior titles

WTOP

Sebastian Korda wins Australian Open boys' singles title

SkySports

The Latest: Women's final gets under way at Australia Open

New York Daily News

Two decades on, Korda junior kicks on

The Sydney Morning Herald

Son Sebastian Korda wins US title almost 20 years after father

Radio Prague