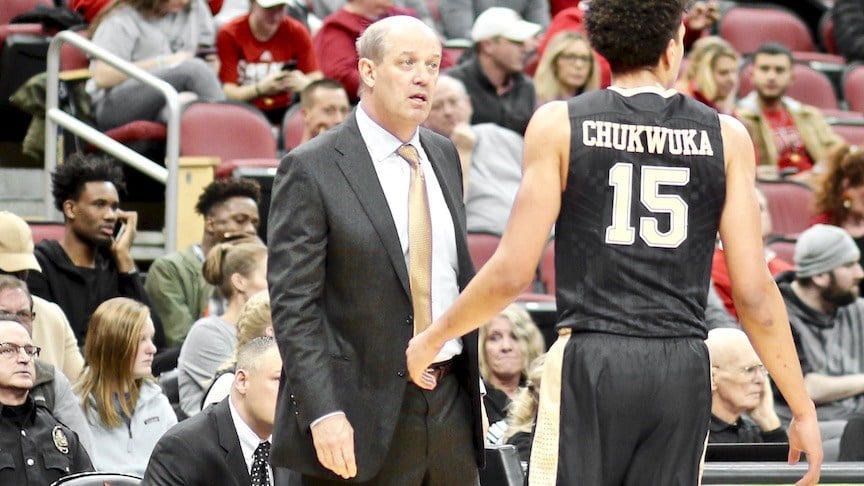 Kevin Stallings made headlines by screaming "At least we don't pay our players $100,000" to a heckling Louisville fan during a Cardinals win Tuesday night.
LOUISVILLE, Ky. (WDRB) – There's one thing you can say about Pittsburgh coach Kevin Stallings: He speaks his mind.
Louisville is accused in a Federal indictment of conspiring with adidas, an agent and a financial advisor to funnel $100,000 from the shoe company to recruit Brian Bowen in exchange for his attending Louisville and signing with adidas and the agent and advisor after his college career.
Sports Illustrated asked to share a copy of my video of Stallings' postgame statement.
The Cardinals encountered fans wearing FBI shirts and holding signs at Purdue.
READ MORE (WDRB)
VIDEO: Kevin Stallings defends 'at least we don't pay our players $100000 ...

NBCSports.com

Kevin Stallings apparently yells during game: 'At least we didn't pay our guys ...

Pittsburgh Post-Gazette

Kevin Stallings to heckling Louisville fan: 'At least we didn't pay our guys ...

Yahoo Sports

Pitt's Kevin Stallings plays '100 grand' card in response to hecklers at ...

Sporting News

Pitt overpowered, outmatched in 77-51 defeat to Louisville

Pittsburgh Post-Gazette

Kevin Stallings tells L'ville fans, 'At least we didn't pay our guys'

ESPN

Louisville opens ACC play with 77-51 romp over Pittsburgh

Richmond.com

Tuesday's Three Things to Know: Kansas, the SEC's weird and the Big Ten's back

NBCSports.com

Pittsburgh Coach Kevin Stallings Taunts Louisville Fans by Referencing Scandal

Sports Illustrated