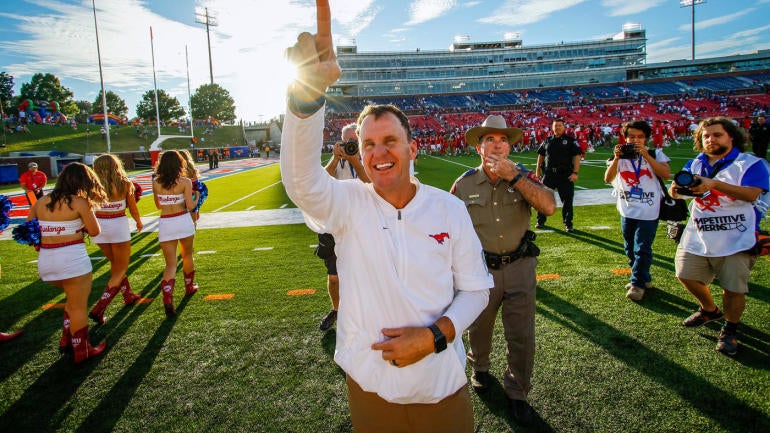 SMU coach Chad Morris has emerged as the top target of a program that let go of Bret Bielema on Nov. 24 -- shortly after closing out a 4-8 (1-7 SEC) season -- and a deal will be done in the next 24 hours.
Sources tell CBS Sports that influential people in the college football world and within the SEC who consulted with Arkansas -- a program that didn't have an athletic director until Hunter Yurachek was hired on Monday -- almost universally recommended Morris for the job due to his integrity, Texas ties and ability to consistently produce top-tier offenses.
The combination of Morris' high-octane spread offense and ability to recruit Texas -- a state Arkansas relies on heavily -- makes him a perfect fit for a program after both traits gradually disappeared under Bielema.
Venables has produced top 10 defenses nationally in each of the last four seasons, and the two close friends worked together at Clemson from 2012-14.
He is currently a college football writer for CBS Sports, while also hosting on ESPNU on SiriusXM Radio channel 84, the... Full Bio
READ MORE (CBSSports.com)
Chad Morris likely to be hired as Arkansas' next head coach, according to reports

SB Nation

Florida State officially announces Willie Taggart as head coach

NBCSports.com

Report: Arkansas gaining traction with Chad Morris for head coaching job ...

Team Speed Kills

Report: Arkansas set to hire SMU head coach Chad Morris

SECcountry.com

Reports: Arkansas set to hire Chad Morris as coach, not Clemson DC Brent Venables

DieHards

Top choices for coaching hire remain in play for Arkansas

SECcountry.com

Arkansas hiring SMU's Chad Morris as head coach, report says

Sporting News

Arkansas closing in on deal with SMU's Morris

Arkansas Online

Who is Chad Morris? 5 things to know about the Arkansas coach

SECcountry.com