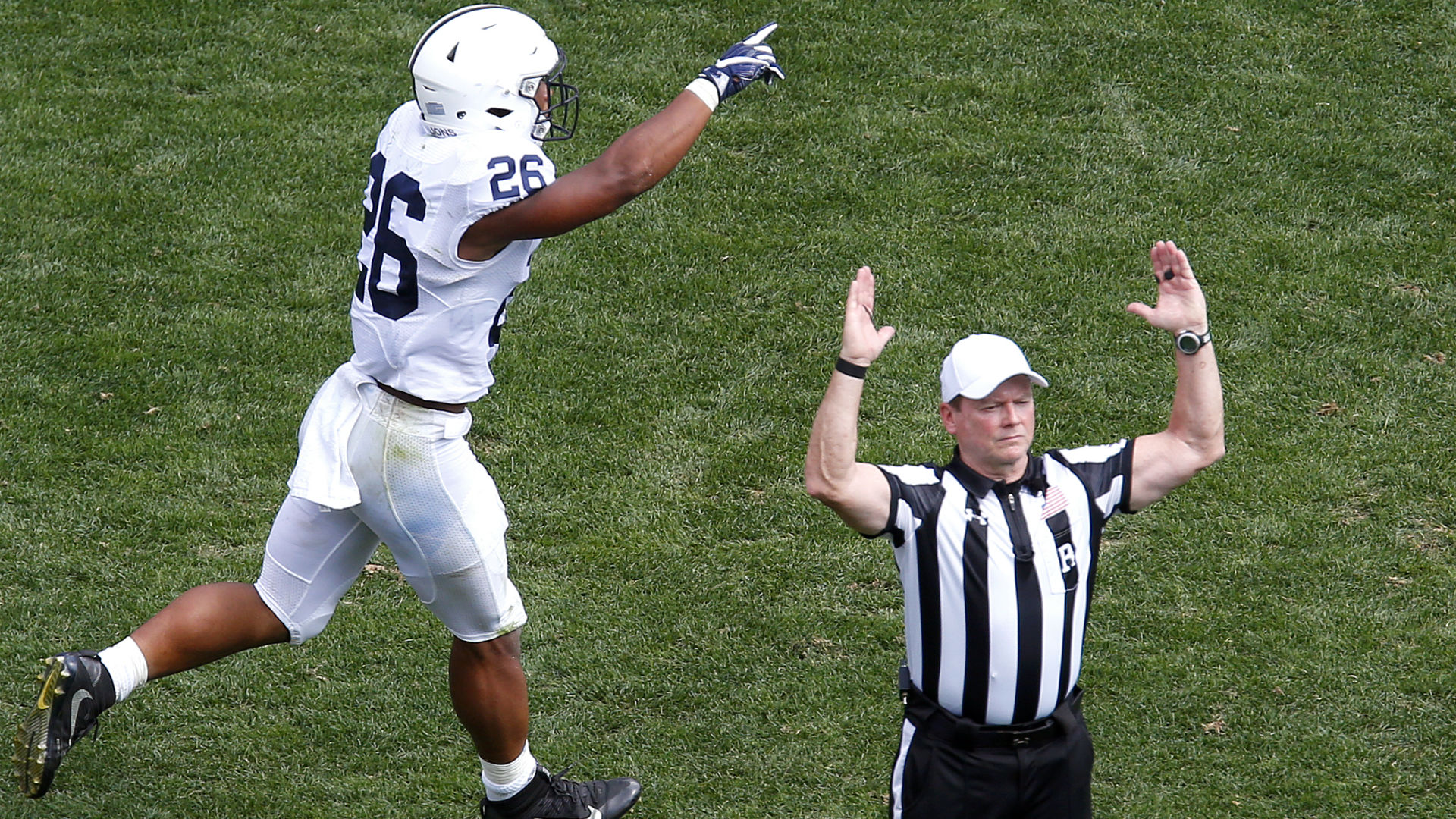 Penn State survived an upset bid from Iowa Saturday, scoring on its final drive to secure a 21-19 win in a game which started as a defensive stalemate.
The 5-11 230-pound back was making defenders miss all night with his Reggie Bush-like quickness while finishing plays like Ron Dayne.
Luke Falk, QB Washington State — The senior completed 37-of-48 passes for 478 yards and five touchdowns in a blowout win over Nevada.
Da'Ron Payne, DT, Alabama — The projected first-round pick helped the Crimson Tide shut out Vanderbilt in Nashville, holding the Commodores to just 78 total yards.
Christian Kirk, WR, Texas A&M — The junior finally broke out thanks in part to a 81-yard TD pass from Kellen Mond in a win over Arkansas.
READ MORE (Sporting News)
Penn State 21, Iowa 19: Notes from the postgame

Allentown Morning Call

No. 4 Penn State Beats Iowa 21-19 With TD on Final Play

U.S. News & World Report

Dienhart: Penn State rides its Superman Saquon to a heart-stopping win

Big Ten Network

No. 4 Penn State edges Iowa 21-19 with TD on final play

USA TODAY

Trace McSorley, Juwan Johnson connect; Penn State stuns Iowa on final play

Philly.com

A 7-yard buzzer beater changes Penn State football's season with win over Iowa

The Daily Collegian Online

Penn State scores on game's final play to beat Iowa, 21-19

Pittsburgh Post-Gazette

Not a good enough job from Iowa football vs. Penn State

The Gazette: Eastern Iowa Breaking News and Headlines

The Heisman Five: Penn State's Saquon Barkley Hurdles Into the Lead

Sports Illustrated