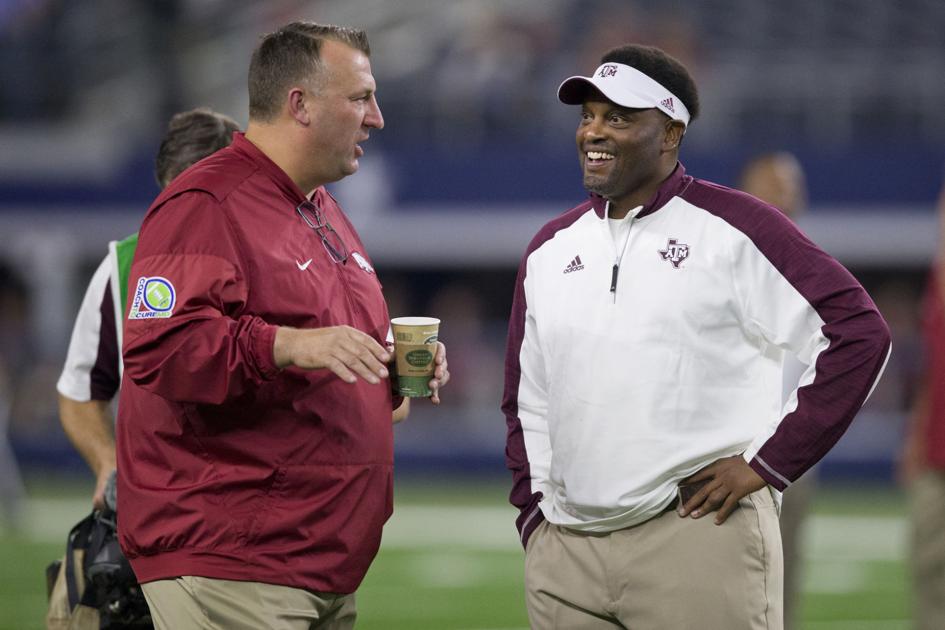 The Aggies rallied for a 28-21 overtime victory, and coaching buddy Bret Bielema walked to midfield and told Sumlin just to shake his hand and not say a thing or he might punch him.
This week's coacheshotseat.com ranks Sumlin fourth and Bielema fifth in the nation, raising the stakes for Saturday's Southwest Classic at AT&T Stadium with both coaches in dire need of opening Southeastern Conference play with a victory.
Bielema seemingly had turned the corner in Fayetteville, Arkansas, where the Razorbacks ended 2015 by winning six of their last seven, beating Auburn in four overtimes and Ole Miss in one OT, along with a 45-23 victory over Kansas State in the Liberty Bowl.
A&M Board of Regent Tony Buzbee took to social media right after the loss to say Sumlin should be fired, and many agreed after A&M suffered the second-largest meltdown in NCAA FBS history.
READ MORE (Bryan-College Station Eagle)
Brown: Offensive line key for Aggies today against Razorbacks

Bryan-College Station Eagle

Gameday Live: College football

Chron.com

The forgettable 5: Bret's fret mounts as Hogs' skid vs. Aggies adds up

Arkansas Online

Aggies Blitz: 5 Things to watch vs. Arkansas

Chron.com

Texas A&M vs. Arkansas live stream, live score updates; college football 2017

AL.com

Live: Pregame Show From AT&T Stadium

Arkansas Razorbacks

Why do Texas A&M and Arkansas play at Jerry World every year?

SB Nation

College football: Bret Bielema, Arkansas face must-win situation vs. Texas A&M ...

Madison.com

Pregame Blitz: Texas A&M vs. Arkansas

Bryan-College Station Eagle