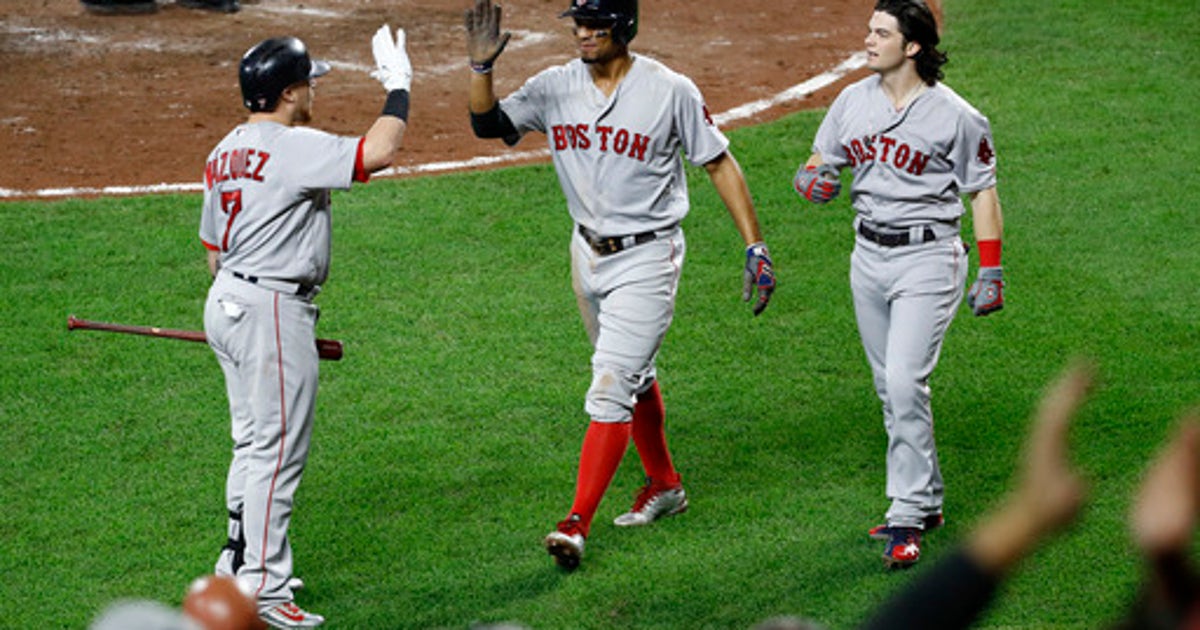 BALTIMORE (AP) Roaring from behind and then finally winning in extra innings, the Boston Red Sox did more than merely maintain their lead in the AL East.
Andrew Benintendi Hit a two-run single in the 11th inning, Mookie Betts had four RBIs and Boston beat the Baltimore Orioles 10-8 Monday night for their ninth win in 12 games.
Xander Bogaerts homered and scored three runs for the Red Sox, who remained three games ahead of the second-place Yankees in the AL East and reduced to four their magic number for clinching a playoff berth.
After three walks – one intentional – off Miguel Castro (3-2) loaded the bases in the 11th, Benintendi hit a grounder past diving second baseman Jonathan Schoop to give Boston its major-league leading 14th extra-inning win against three defeats.
Red Sox second baseman Dustin Pedroia left in the fourth inning after being struck in the face by a foul ball he chopped off the plate.
READ MORE (FOXSports.com)
Red Sox notebook: Christian Vazquez' hot bat earns DH appearance

Boston Herald

Baseball Capsules

USA TODAY

Benintendi caps comeback

Albany Times Union

Boston secures 14th win in extras this year

Seacoastonline.com

Stellar record in extra innings has Red Sox in position to win AL East

Eagle-Tribune

Red Sox may have used Fitbit, not Apple Watch, to steal signs

CNET

Red Sox may have used a Fitbit, not an Apple Watch, to snag Yankees signs

TechCrunch

RED SOX NOTEBOOK: Nu ez working his way back

The Patriot Ledger

Red Sox cheated with Fitbit, not Apple Watch, source claims

SlashGear