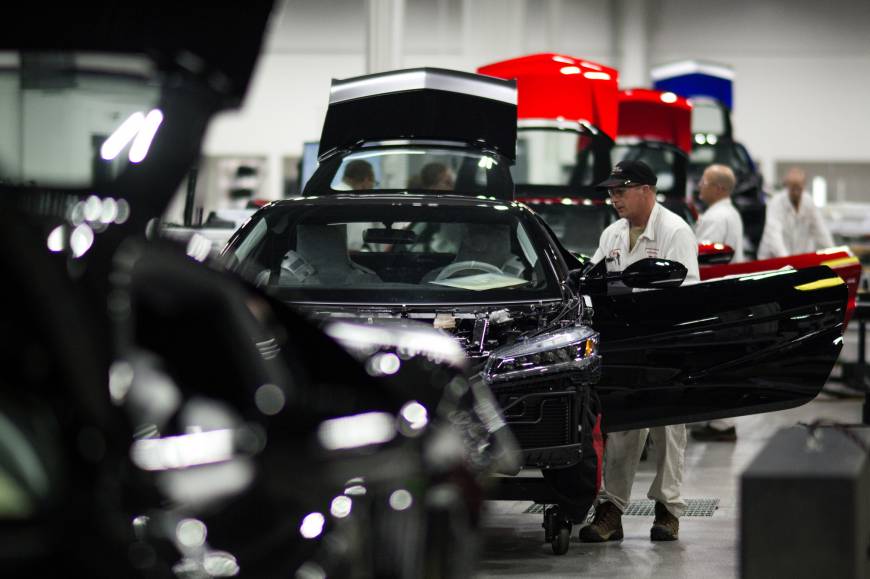 CHICAGO – Honda Motor Co. is investing $267 million and adding 300 jobs at two Ohio factories as it begins mass production of the redesigned Accord flagship sedan for 2018.
Honda already announced a combined $149 million investment to begin building a new 10-speed automatic transmission for the Accord at factories in Tallapoosa, Georgia, and Russells Point, Ohio.
The investments help take the Accord in a sportier direction, with a lower and wider stance and more interior room.
It's a repeat of the playbook Honda followed with the Civic compact redesign for the 2016 model year, which enabled the carmaker to withstand that segment's slump better than the likes of the Toyota Corolla or Nissan Sentra.
In Marysville's all-new welding shop, the world's first high-volume laser brazing system joins the top and side of the car together so precisely that designers could eliminate an 1.5-cm-wide black plastic strip that covered up the gap in prior models, said Steve Rodriguez, the engineering project leader for Accord.
READ MORE (The Japan Times)
New Accord means more investment, jobs for Honda

Columbus Business First

Honda rolls latest model off assembly line, adds 300 jobs

Springfield News Sun

Honda to hire 300 workers, invest $267 million for new Accord

The Columbus Dispatch

Honda invests $267 mln, to add 300 jobs for new Accord model

New Straits Times Online

2018 Honda Accord Enters Production

Motor Trend

2018 Honda Accord – production begins at Ohio plant

Paul Tan's Automotive News

Honda Begins Next-Gen Accord Production

Ward's Auto

Honda spends $267m to crank up new Accord production in US

Nikkei Asian Review

Honda Invests $267M, Adds 300 Jobs For Accord Production

The Courier