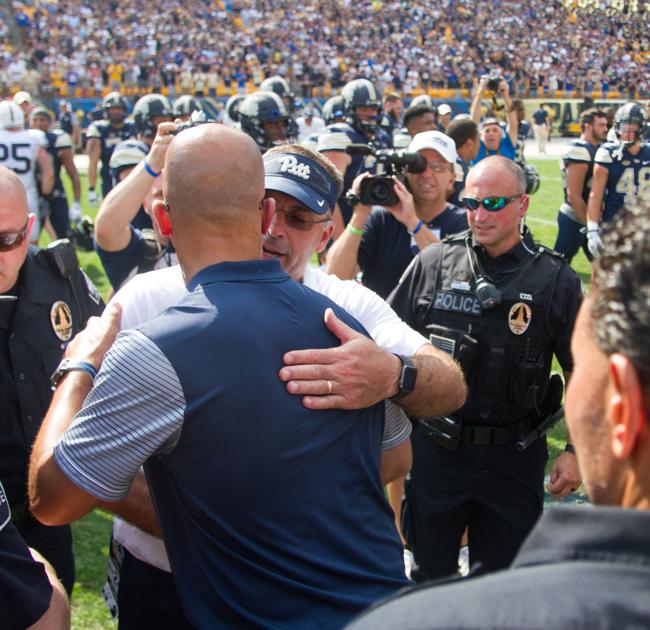 Pitt Coach Pat Narduzzi made some noise when the program announced it wouldn't make any players available to the media this week, ahead of the Penn State-Pitt game this Saturday.
However, the third-year coach told reporters at his weekly press conference that muting his players sends a message to his locker room that this isn't just another game.
This year's Keystone Classic will be just the second one since 2000, and with only two more matchups left in the current series, some doubt there actually is a rivalry between the two Pennsylvania schools.
There's one play Narduzzi is certainly preparing for when his team faces Penn State this week — Saquon Barkley wheel routes.
It seems Narduzzi is keen on taking that play away from the Heisman trophy candidate running back as he mentioned "wheel route" 11 different times in reference to Barkley.
READ MORE (The Daily Collegian Online)
Penn State-Pitt Game Notes

GoPSUsports.com

Eric J. Barron and Patrick Gallagher: With Penn State and Pitt, the state of ...

Pittsburgh Post-Gazette

Pitt coach Pat Narduzzi puts Panthers players on mute as Penn State looms

Timesonline.com

PSU deserves big spread vs. Pitt

Williamsport Sun-Gazette

Panthers comfortable in underdog role vs. Nittany Lions

Reading Eagle

Penn State primer for Pittsburgh: The Lions' are heavy favorites, a crowded WR ...

PennLive.com

Pitt's Narduzzi: Game vs. No. 6 Penn State 'not just another week'

Philly.com

Narduzzi wants players to tune out noise, focus on preparation for Penn State

Tribune-Review

Pitt notebook: Narduzzi, staff shoulder blame for YSU's wheel-route success

Tribune-Review