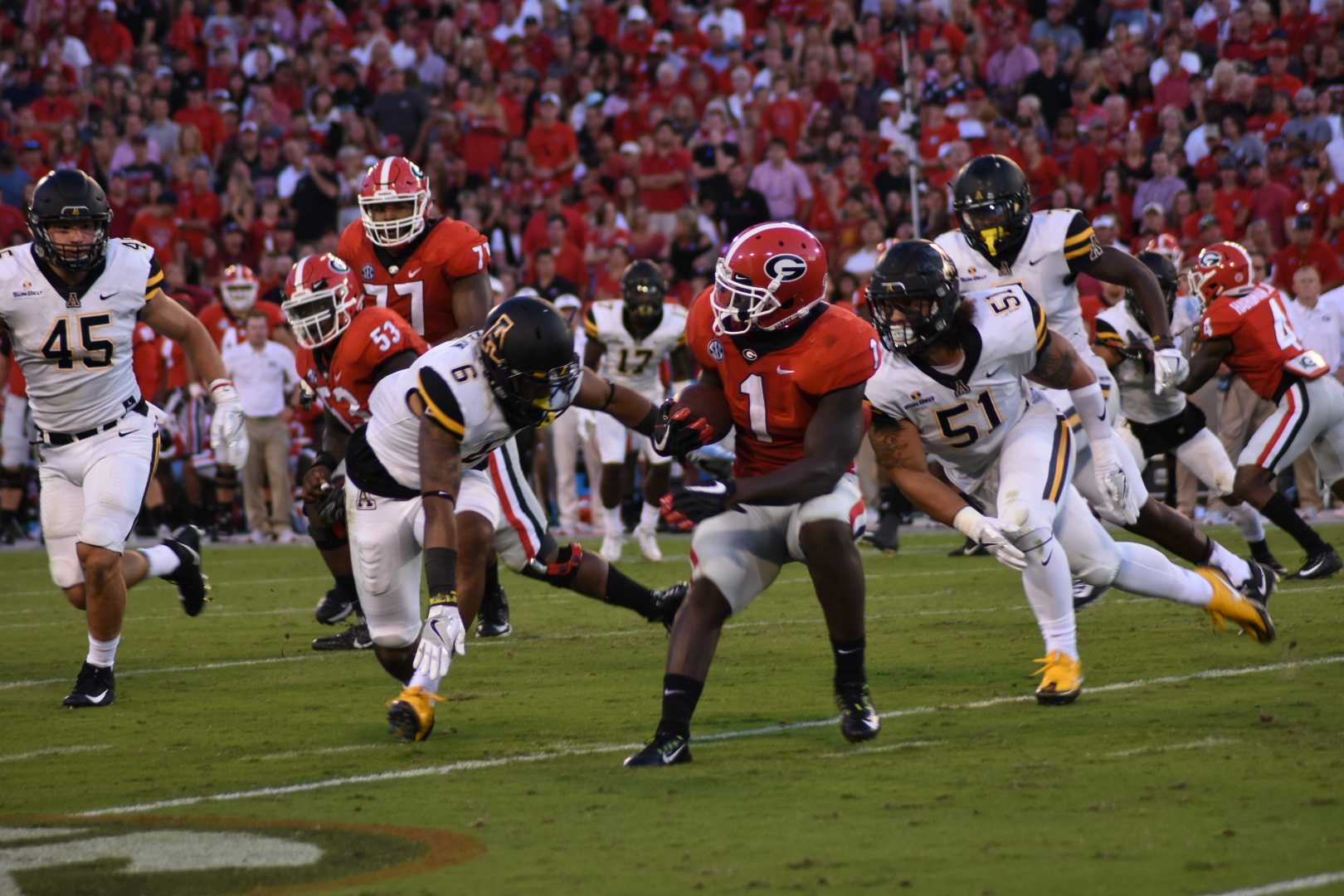 Penalties, missed play calls and inconsistency on both sides of the ball after a strong defensive first quarter put the Mountaineers (0-1) in a 21-0 deficit at halftime.
It looked as though it would be a similar defensive battle to App State's opening game at Tennessee last season that went to overtime when both teams exchanged three-and-out drives.
With 6:30 remaining in the first quarter still tied 0-0, Georgia sophomore quarterback Jacob Eason went down with a knee injury after a late hit by App State junior nose-tackle Myquon Stout.
Georgia found offensive momentum, but the Mountaineers' defense held senior running back duo Chubb and Sony Michel to only 14-yards on their first 11 rushing attempts.
The Mountaineers will now head back to Boone as they prepare to face Savannah State in their home opener at Kidd Brewer Stadium on Sept. 9 at 3:30 p.m.
Jake Fromm replaces Jacob Eason, leads Georgia past App State, 31-10

Chattanooga Times Free Press

Rapid Reaction: App State vs. #15 Georgia

The Appalachian Online

UGA reacts to Eason's injury, Jake Fromm walks away as hero

WXIA-TV

UGA recruiting notebook: Prospects and commits fill sideline at home opener ...

Online Athens

App State overwhelmed by No. 15 Georgia

Winston-Salem Journal

Georgia QB Jake Fromm steps in for Eason, handles first game with aplomb

Saturday Down South

Duo of Nick Chubb and Sony Michel wear down Appalachian State defense in 31-10 ...

Red and Black

3 things to know about Georgia's victory vs. Appalachian State

Atlanta Journal Constitution

Georgia Bulldogs ride Jake Fromm to win over over Appalachian State Mountaineers

Newsline