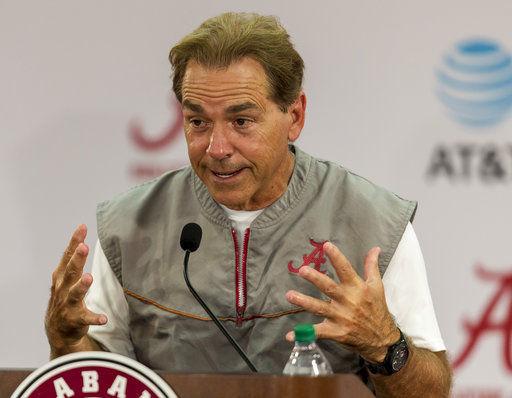 TUSCALOOSA — Even more than a decade removed, Marcus Spears remembers the "epic battles" between Nick Saban and Jimbo Fisher with much the same whimsy he experienced them in person.
As a standout defensive lineman during Saban's tenure at LSU who would go on to a 9-year NFL career and is now a ESPN/SEC Network college football analyst, Spears can't help but laugh when recalling one particular back-and-forth between Saban and his then-LSU offensive coordinator.
"We are killing the offense, … and they can't (move the ball) like no yards, we're getting to the quarterback," Spears recalled during SEC Media Days.
We get confused, we don't know where to line up, so Saban had one of his conniptions and it was a lot of words I can't say being spewed, but basically, the gist of it was: 'When I put something in and script it, you better damn well run it or we're going to have a big problem out here on the football field.'"
Fisher honors his former mentor in the best way a coach can — by incorporating many of Saban's particular principles and philosophies into re-establishing Florida State as a power player that can compete with Alabama on the biggest stage in college football.
READ MORE (Times Daily)
Dave George: Jimbo Fisher leads Noles into epic opener vs. Alabama

Palm Beach Post

Crimson Tide's game against Seminoles called 'Greatest Opener of All Time'

Alabama NewsCenter

FSU Football Fan Rooting Guide, TV Listings: Week 1

Tomahawk Nation

Friends to foes: Jimbo Fisher, Nick Saban square off in marquee matchup

SaintPetersBlog (blog)

College football's new motto: Go big early, or stay home late

Tampabay.com

Florida State linebacker Matthew Thomas has lofty aspirations for final season

Orlando Sentinel

Your college football TV guide for this weekend

Virginian-Pilot

In the Process, Saban and Jimbo trust

Tampabay.com

Nick Saban, Jimbo Fisher, together again in a competitive arena

NewsOK.com