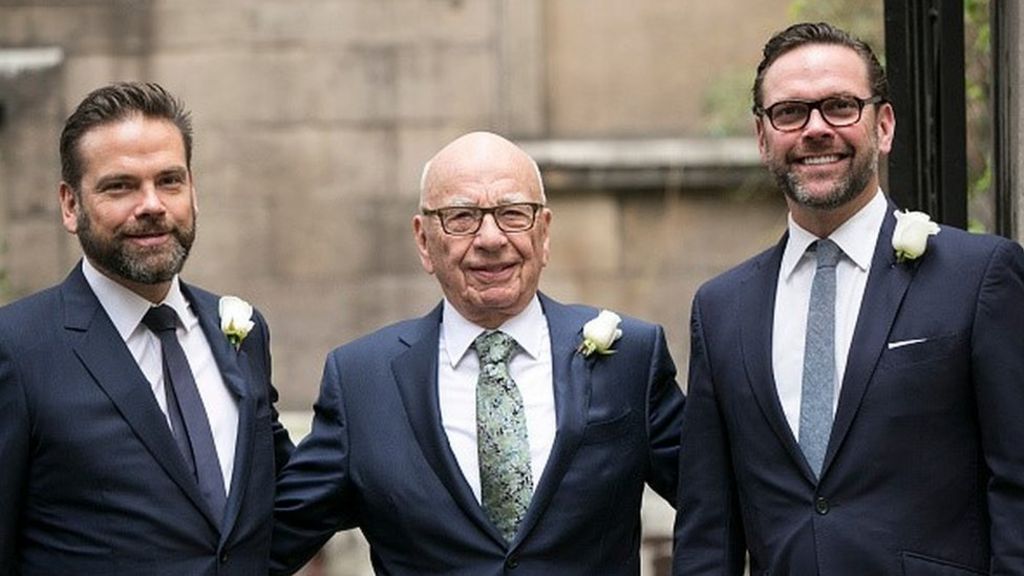 Image copyrightGetty ImagesImage caption Rupert Murdoch with sons Lachlan (l) and James (r) Sky is to stop broadcasting Fox News in the UK after low audience figures, the media firm has said.
Culture secretary Karen Bradley has previously said she may refer the bid to competition regulators.
"Fox News is focused on the US market and designed for a US audience and, accordingly, it averages only a few thousand viewers across the day in the UK.
"We have concluded that it is not in our commercial interest to continue providing Fox News in the UK," she added.
Critics of the merger, which gives 21st Century Fox access to Sky's 22 million customers in Europe, say Rupert Murdoch will have too much control of the UK media.
READ MORE (BBC News)
Murdoch pulls Fox News from Sky platform as UK mulls takeover deal

Yahoo Finance

Fox News pulled off the air in Britain

CNNMoney

Fox News Goes Dark In UK: Is It About Ratings, Or The Sky Deal?

Deadline

Sky Drops Fox News in UK

Hollywood Reporter

21st Century Fox Pulls UK Fox News Feed From Sky

Variety

Sky stops broadcasting rightwing US channel Fox News in UK

The Guardian

Sky to stop broadcasting right-wing Fox News in UK

Irish Times

21st Century Fox will stop broadcasting Fox News in the UK

MarketWatch

Fox News Will No Longer Air in the UK Due to Low Viewership

TheWrap