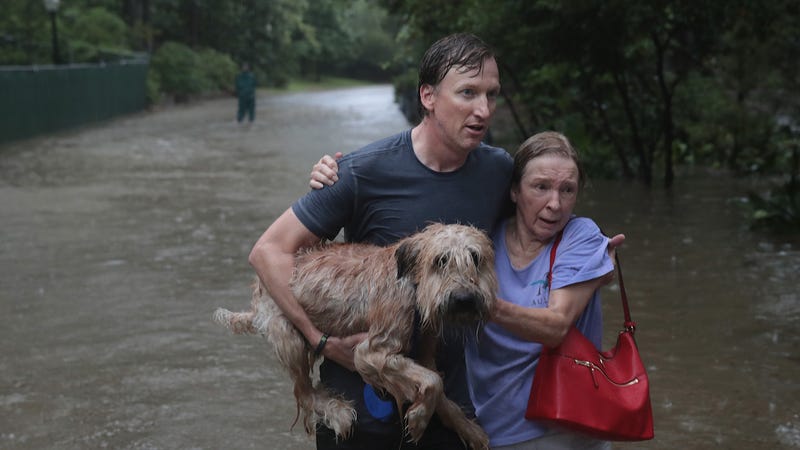 US-CERT, the US government's chief agency responsible for detecting and minimizing cyber threats, issued an advisory on Monday warning about the proliferation of online scams aimed at those donating to ease the suffering of those afflicted by Tropical Storm Harvey.
Many of those victims will rely not only on federal and state assistance, but the charitable acts of their fellow citizens, some of whom, eager to open their wallets, will become prey to online scams heartlessly siphoning funds away from those who've lost nearly everything.
Specifically, US-CERT warns that phishing attacks will likely be pervasive both during and after the disaster, and users are advised to be cautious of any emails and hyperlinks referencing the storm, "even if it appears to originate from a trusted source." ( BuzzFeed has singled out one "emergency number" widely circulating that actually directed callers to an insurance company.)
There's always the American Red Cross (1-800-RED-CROSS), though the organization's reputation was significantly tarnished due to its reported failure to provide relief of any quantifiable sort in Haiti after the devastating earthquake in 2010—for which it raised a half billion dollars that appeared to just vanish.
Better still, many people in the Charity world suggest that putting money directly in the hands of local and state organizations is the most efficient way to help those in need.
READ MORE (Gizmodo)
Better Business Bureau Warns of Hurricane Harvey Scams

NECN

Local businesses, organizations donate to Hurricane Harvey relief efforts

KTVB

Research the charity before making hurricane donations

9NEWS.com

Celebrities encourage their peers to donate

KVOA Tucson News

Here's how to make sure your hurricane relief donation really helps hurricane ...

KOMO News

Swimming in Houston

New York Times

Watch Out for These Charity Scams After Hurricane Harvey

Money Magazine

Kevin Hart Just Publicly Asked Beyoncé, Jay-Z and More to Send Money to Houston

KQED

People in the news: Kevin Hart and Ed Skrein

Akron Beacon Journal