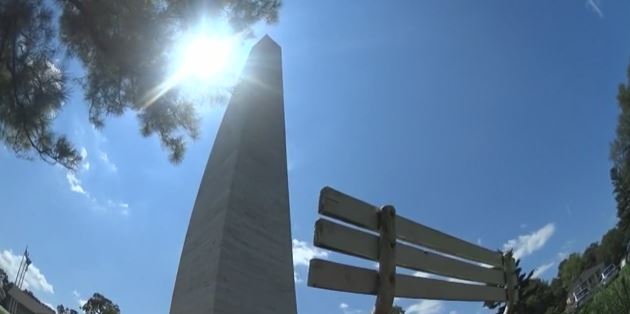 Hopkinsville, Ky. (WHAS11) -- On a clear day, you can see the white obelisk for miles, it towers over this section of Christian County, Kentucky marking the birthplace of Jefferson Davis.
For Eclipse Day, camp sites are set, vendors arriving and park rangers are preparing for crowds.
In the vender area south of the monument, 24-year Army Veteran Garry Merritt prepared his booth.
Mr. Merrit, an African American who grew up in Hopkinsville, is anxious to sell his Dem Kentucky Boy's BBQ to those taking in Eclipse Day at the Jefferson Davis State Historic Site.
As for the Confederate monument debate tearing at the fabric of our nation, he sides with those wanting to leave these types of markers in place.
READ MORE (WHAS 11.com)
Hopkinsville bound? Smartphone frustration may await you

The Courier-Journal

Eclipseville "Santa" promises to deliver sun on eclipse day

WHAS 11.com

Hoptown kicks off eclipse weekend and officials address plan

WBKO

KYTC warns eclipse chasers not to try camping at welcome center

WPSD Local 6

Stores already restocking shelves in Hopkinsville eclipse zone

WHAS 11.com

A chance to share our little town with rest of the world

Hopkinsville Kentucky New Era

Are all you guys here for the eclipse on Monday?

Hopkinsville Kentucky New Era

Welcome to Eclipseville, USA!

Hopkinsville Kentucky New Era

Hopkinsville: Where hospitality may be even more stellar than eclipse

WKMG Orlando