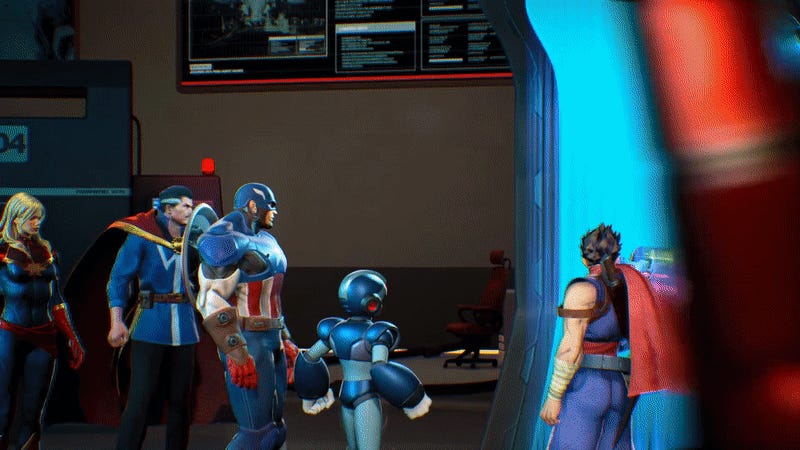 The latest trailer for Marvel vs. Capcom: Infinite gives us an even better look at the cinematic story mode coming to the game, and unsurprisingly, it's still completely bonkers , from the sight of Rocket Raccoon asking Mega Man if he takes AA batteries, to Spider-Man and Ghost Rider teaming up with Darkstalkers ' Morrigan to fight a giant, four-legged version of the venom symbiote.
That's even before you get into the main premise of the story — as infodumped by Mega Man 's Dr. Light, via hologram, in Avengers Tower, which is a hell of sentence to have to type — which sees Ultron chasing down the Infinity Stones to harness enough cosmic power to smash the Marvel and Capcom universes together and rule over what's left.
And yet , Tony and Steve still bicker with each other about how to save not one universe, but two,to the point they come to blows.
If that wasn't enough, the Hulk does a fastball special with Ryu from Street Fighter to send him him foot-first into the side of a giant monster:
Every once and a while, we get the chance to peek into an alternate timeline and see how things could have played out if a single decision had gone a different way.
READ MORE (Gizmodo Australia)
Capcom Fixed Chun-Li In Marvel vs. Capcom: Infinite

Kotaku

Marvel Vs. Capcom: Infinite Character Roster Revealed

Gameranx (blog)

Chun-Li Gets a Makeover in Marvel vs Capcom Infinite

Geek

Marvel vs Capcom Infinite gets a new cinematic trailer

Critical Hit

Marvel Vs. Capcom: Infinite Online And Offline Game Modes Detailed

GameSpot

Chun-Li's Weird Face Has Been Fixed In New Marvel Vs. Capcom: Infinite Trailer

GameSpot

Capcom Releases A New Story Trailer For 'Marvel Vs. Capcom: Infinite'

Bleeding Cool News

It's Civil War III in Marvel vs. Capcom: Infinite Story Trailer

CBR (blog)

'Marvel vs. Capcom: Infinite' (ALL) Confirms Modes and Characters - Screens ...

WorthPlaying.com