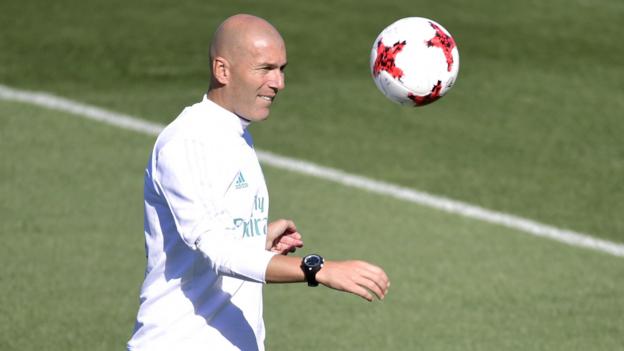 Zinedine Zidane's Real Madrid beat Manchester United in the Uefa Super Cup this month Date/kick-off time: Sunday, 13 August - 21:00 BST How to follow: Live text commentary on the BBC Sport website Real Madrid boss Zinedine Zidane has agreed a new three-year deal with the European and Spanish champions.
In 18 months in charge, the former Real midfielder has won the Champions League twice and La Liga once.
Speaking on the eve of their Spanish Super Cup first leg at Barcelona, he said: "My story with Real Madrid is deeper than contracts and signatures.
The 45-year-old former France international, who managed Real's B team before replacing Rafael Benitez in January 2016, added: "You can sign for 10, 20 years.
Real visit Barca on Sunday with the game kicking off at 21:00 BST, with the second leg on Wednesday at the Bernabeu (22:00 BST).
READ MORE (BBC News)
Life without Neymar - Barcelona take on Real Madrid in the Spanish Super Cup

euronews

Barca can cope without Neymar against Madrid - Valverde

euronews

Barcelona seek Super Cup tonic to Neymar hangover

Yahoo Sports

Zidane vows to extend Real Madrid contract

Arab News

Barcelona v Real Madrid: Supercopa talking points

Warrington Guardian

Zidane says new Real contract no guarantee of job security

euronews

Barcelona v Real Madrid: Can the Supercopa set the tone for LaLiga?

Yahoo Sports

Madrid coach Zidane confirms new contract

Xinhua

Barcelona prepare to meet Real Madrid

Free Press Journal