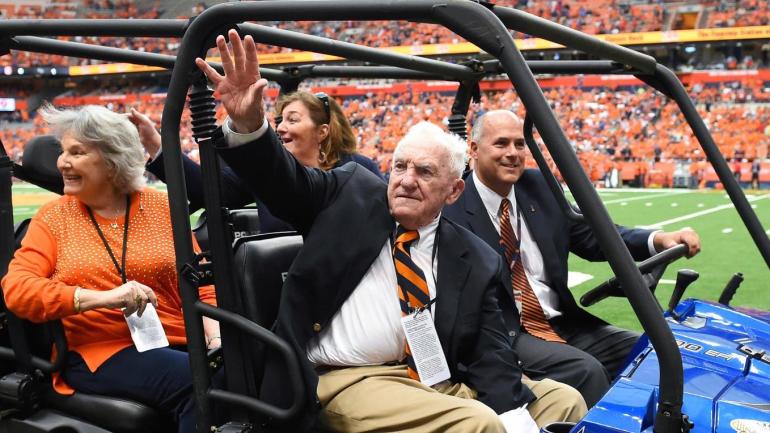 Richard F. "Dick" MacPherson, who helped rebuild the Syracuse football program for 10 seasons from 1981-90, died Tuesday in Syracuse at the age of 86 due to natural causes.
He led the Orange to five bowl games in his 10 seasons and a 66-46-4 record during his 10-year tenure.
His best season with the program came in 1987, when he led Syracuse to an 11-0 regular season record, produced a quarterback in Don McPherson who finished second in Heisman Trophy voting and tied Auburn 16-16 in the Sugar Bowl to finish the season ranked fourth in both major polls with an 11-0-1 record.
After his stint in the NFL , he worked as a radio analyst for Syracuse football games.
Barrett Sallee has been a member of the sports media in various aspects since 2001.
READ MORE (CBSSports.com)
Former Syracuse, Patriots coach Dick MacPherson dies at 86

Concord Monitor

College Football Hall of Fame coach Dick MacPherson passes away

NBCSports.com

Legal issue will likely cost Colorado State a starting safety for all of 2017

NBCSports.com

FARINELLA: MacPherson proved there was room for hugging in football

The Sun Chronicle

Former SU football coach Dick MacPherson passes away at 86

CNYcentral.com

Old Town native, College Football Hall of Fame coach Dick MacPherson dies at 86

Bangor Daily News

Dick MacPherson won over Syracuse with winning football, kindness, down-home charm

Syracuse.com

College football: Beloved former Syracuse football coach MacPherson dies at age 86

WatertownDailyTimes.com

SU alums remember "Coach Mac"

CNYcentral.com