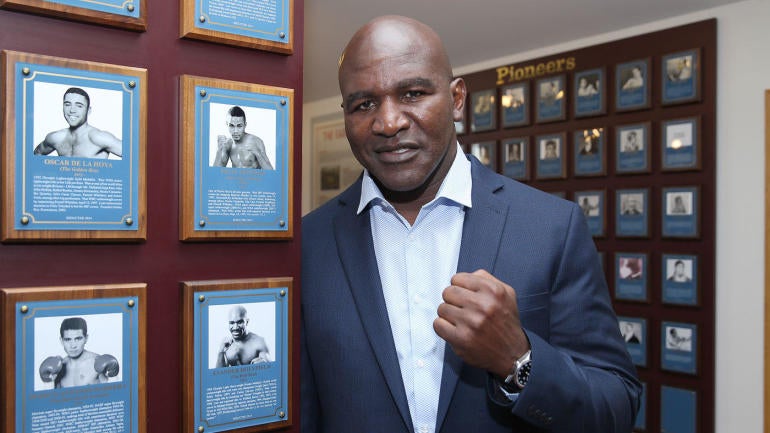 If there was a pair of enduring traits boxing fans will remember most about Evander Holyfield throughout his 27-year pro career, it was his positive attitude and unwillingness to quit under any circumstances.
From the grace he showed in his handling of a wrongful disqualification at the 1984 Olympics to his comeback from a serious heart condition to recapture the heavyweight championship, Holyfield was celebrated Sunday during his induction to the International Boxing Hall of Fame in Canastota, New York.
Holyfield, 56, headlined a 2017 class that also featured Marco Antonio Barrera, the late Johnny Tapia and current Showtime boxing analysts Steve Farhood and Barry Tompkins.
Four years later, unable to get heavyweight champion Mike Tyson in the ring, Holyfield knocked out his successor, James "Buster" Douglas, to win the title.
Holyfield would go on to a memorable heavyweight trilogy with Riddick Bowe in the 1990s before a pair of title fights against a post-prison Tyson that would go on to define his career.
READ MORE (CBSSports.com)
Evander Holyfield gives his thoughts on joining Boxing Hall of Fame

Fox News

Holyfield Says "My Mom Wouldn't Let Me Quit"

CBS DFW

New Hall of Famer Evander Holyfield was a Mama's Boy and is Glad of It

The Sweet Science

Barrera, Tapia, And Holyfield Inducted Into IBHOF

SecondsOut

2017 IBHOF Induction quick report

Fight News

Holyfield: 'The only thing in my life I did right all the time was boxing'

MyAJC (blog)

Evander Holyfield: Qawi Was By Far The Toughest Fight, By Far

BoxingScene.com

Photos: Wilder, Holyfield, Barrera, Bowe, Porter at Hall of Fame

BoxingScene.com

Holyfield: MMA isn't taking over, boxing is not as publicized

Fox Business