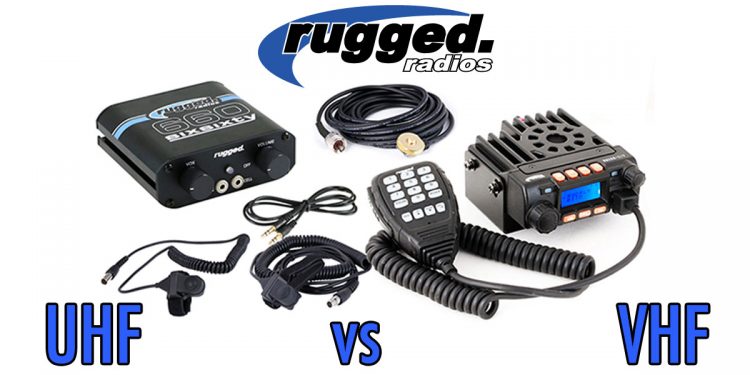 Our general rule of thumb is that you will get about 1/2 of a mile (depending on terrain/obstructions) per watt of power. 60 watts = 30 miles, 25 watts = 12.5 miles. When obstacles are introduced into the equation, the range can vary, but the rule of thumb is a good reference for general usage. There are two major wavelengths used for radio communications: VHF (Very High Frequency) and UHF (Ultra High Frequency). Each wavelength has its own pros and cons. We're going to discuss those pros and cons so you understand what is best for your needs.
The main difference between these two radio bands is the frequency. VHF's frequency range is 30 MHz to 300 MHz and UHF's frequency range is 300 MHz to 3000MHz. With some simple math, you can see that UHF's frequency is about 10x the frequency of VHF. The longer wavelengths of VHF allow it to travel farther and not as easily be deflected by objects. For this reason, VHF is used in desert racing (and preferred in most offroad vehicles) because the signal has the ability to fly farther than UHF when there are minimal obstructions.
If you are in an area with lots of small obstacles, then UHF will be better as the higher frequency can penetrate the objects more easily. This also means the quality of the audio will be good, even if the target is not in line-of-sight. The limited range, however, makes it less useful in off-road racing.
Both frequency ranges have their benefits, but it depends on where you ride and who you're trying to talk to. Most radios in CA, OR, UT, NV, AZ are primarily using VHF. One other benefit of UHF is that most basic walkie-talkies use UHF. It is not uncommon that people are already using those radios (which don't work very well because they are very low power) and they'd like to have a radio that is compatible with those as well.
If you have any questions about Rugged Radio products or would like to purchase a radio kit, please do not hesitate to contact us. We can be reached by phone at 1.480.966.3040 or via email at [email protected]
Related Images:
[See image gallery at www.vividracing.com]