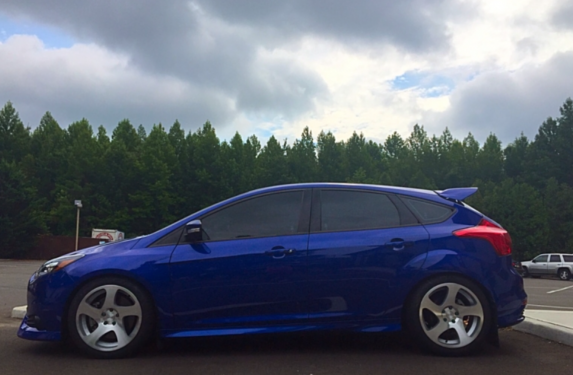 What Ford has done with the Focus ST and RS is nothing short of impressive. With extremely torquey engines, great chassis dynamics, brake-based torque vectoring, and good brakes, they created on one best modern hot hatches. They couldn't go extremely aggressive with the suspension because the car needs to appeal to a wide range of possible buyers, but us enthusiasts always want more. Just because the factory suspension is good, doesn't mean it can't be better.
Shopping for Coilovers can be stressful. There are tons of different models out there from different companies. For this reason, we created a list of our favorite Focus ST coilovers to make it easier for you to decide. It should be noted that this list is in no particular order.
#1 H&R Street Performance
51661
H&R Street Performance Coilovers Ford Focus ST 2.0L Turbo 14-18
$1,580.00

$1,295.60
If you've been in the automotive industry, then you've probably heard of H&R. They produce all sorts of products, but they are really well known for their suspension systems. Their Street Performance coilovers for the Focus are custom valves to work perfectly with the spring rates. This results in great ride quality and even better handling. The front can be lowered from 1.2" all the way down to 2.5" and the rear can be lowered from 1" down to 2.3". This is great for fine-tuning the look of your ST/RS and fine-tuning the balance of the car.
Coming in around $1,580 they are on the expensive side, but you get what you pay for. If you want top-notch coilovers from a well-established brand, then these are the coilovers for you.
#2 Godspeed Project Mono Max
MMX2690
Godspeed Project Mono Max 40-Way Adjustable Coilovers Ford Focus ST 11-17
$900.00

$840.00
Third on our list is the MonoMAX coilovers from Godspeed. These coilovers feature a single-adjustable design with 40 levels of adjustment. They also feature adjustable spring rates and adjustable ride height which is impressive for coilovers at this price. With 8k front and 5k rear spring rates, these are on the stiff side. This can be great for track use but may get a little obnoxious on the street.
These are the cheapest coilovers on our list coming in around $900. If you want some cheap coilovers that are decent on the street and decent on the track, then these are the perfect coilovers for you. If you want something high quality, the H&R coilovers above may be a better option.
#3 R-SR Sports-i
| | | | | |
| --- | --- | --- | --- | --- |
| XBIFO200M | | RS-R Sports-i Coilovers Ford Focus ST 13-15 | $1,799.00 | |
Last, but certainly, not least are the RS-R Sports-i coilovers. These feature 36-way adjustable dampers front and rear which will allow you to really dial in how your Focus ST/RS handles. This perfect if you plan on going to track days where proper suspension tuning can make the difference between your car understeering or oversteering. Right out of the box the RS-R coilovers will lower your Focus by 25mm up front and 40mm in the rear. These coilovers, however, can be adjusting from +5mm to -45mm up front and -15mm to -55mm in the rear.
These RS-R coilovers come in around $1,800 which is definitely on the expensive side. If you want the ability to fine-tune your car's handling then the price makes it worth it. If you just want some nice coilovers for street driving then these might not be the best option for you.
Summary
There are lots of other coilovers that we didn't mention on this list. All of these coilovers are well built, with some being higher quality than others. If you have any questions about these coilovers, please do not hesitate to contact us. We can be reached by phone at 1.480.966.3040 or via email at [email protected]
Related Images:
[See image gallery at www.vividracing.com]