Black Friday and Cyber Monday are rapidly approaching. While most people will be out shopping for new electronics, us enthusiasts are trying to find the best deals on the parts we want. If you've been wanting to get some parts for your Audi, but don't want to pay full price, then this sale is perfect for you.
To start it off, everything over $99 will ship for free. This is great because most parts are over $99 and depending on the part shipping can be pretty expensive. This deal excludes some categories, but there will be details during checkout.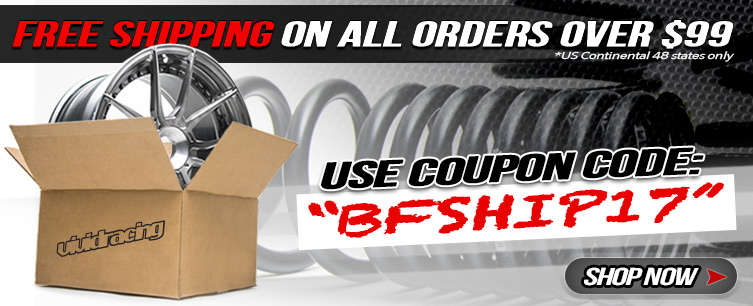 We're also offering tons of brand specific deals. Pretty much everything from intake and Exhaust Systems to wheels and suspension. If there's a part you're interested in that isn't listed here don't be afraid to give us a call and ask.
One the easiest ways to unlock the hidden performance of your Audi is with an ECU tune. This will not only unlock hidden horsepower and torque, but it will also improve drivability by improving throttle response. Vivid Racing's tuning division, VR Tuned, has developed tunes for also sorts of Audi/VW applications. Most of these tunes increase power by 5-10% which makes a massive difference in the driving experience. For our Black Friday sale, we're offering 20% off all VR Tuned ECU flashes. You can shop for a VR Tuned ECU flash here.
Many new Audi vehicles use an exhaust system with an integrated valve to keep the car quite a part throttle. Armytrix is very well known for their exhaust systems as well as their wide body kits. Armytrix has a whole bunch of valved and non-valved exhaust systems for different kinds of Audi vehicles ranging from A4 to R8. We're offering $200 off full Armytrix Exhaust Systems with coupon code BFARMY. You can shop for Audi specific Armytrix exhaust systems here. If Armytrix isn't your style we will also be offering REMUS exhaust systems for 10% off. You can shop for REMUS exhaust systems here.
Air suspension is extremely popular in the Audi/VW world. AirREX specializes in creating air suspension systems for all sorts of cars including Audi applications. We will be offering up to $500 off AirREX suspension systems. If you've been wanting to bag your Audi then this is the perfect opportunity to do so. You can shop for AirREX suspension systems here.
What build is complete without a set of proper wheels? HRE is another popular brand in the Audi/VW world and for good reason. Their wheels are really strong and they're offered at a pretty good price. We are offering the HRE FF01 and FF15 for 20% off and you can shop for HRE wheels here.
Once again, if you don't see the parts you're looking for, give us a call to see what we can do for you at 1-480-966-3040.
Related Images:
[See image gallery at www.vividracing.com]