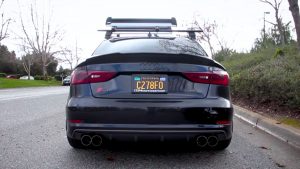 The Signature Dinan Free Flow exhaust system is now Available for Audi S3 Owners!
Over the past few years Dinan has expanded its product line dramatically. The company is world renowned for performance BMW products and now they have opened production for other makes and models of vehicles. Their Free Flow Exhaust line has always provided a nice increase and sound and performance on BMW vehicles, now this same technology is being incorporated into the Audi line of vehicles.
The 2015-2017 Audi S3 uses a 2.0L Turbo Engine which is modified from the factory to produce 292 horsepower. For better exhaust flow and an increased engine noise, Dinan has produced a bolt-on free flow exhaust system for this new model. This exhaust system replaces the factory link pipes, as well as the full muffler and exhaust tips. Allowing for increased power and a great sound. Video and pictures are listed below for your viewing pleasure.
For any additional information on this product, please contact a Performance Specialist either by phone 1.480.966.3040 or by email [email protected] We will be able to provide you with the most current lead times, product information and pricing for all of your modification needs.
Part Number: D660-0064
MSRP: $1,449
**Available with polished tips and matte black tips***
To view all of our available Dinan products, click this link
Download the installation guide HERE
The 'S' models in the Audi lineup are marketed as more aggressive and sporty variants to their more mundane 'A' line-up. While in most regards this promise is fulfilled, Audi seems determined to keep a very muted and uneventful exhaust note throughout the entire vehicle spectrum short of the R8. Why leave that enjoyment to only the super car crowd? Dinan answers that question by bestowing an exhaust system on the S3 that gives the car some character in the form of a deep, aggressive exhaust note when you get on it. However, we also didn't want want to totally alienate what a lot of folks like about Audi in a very subdued exhaust so when just cruising around town the exhaust offers a slightly more bassy tone but otherwise pleasantly unobtrusive.
Like all Dinan exhausts the S3 kit is engineered to improve exhaust flow by reducing back pressure via enlarged piping and as direct flow design as possible. This methodology elicits slightly more power as a result to go along with the intoxicating sound. The commitment to quality is not isolated solely on flow but also in fitment as the system is built to exacting specifications to ensure perfect fit using the factory hangers. The exhaust is made from 100% 16 gauge 304 stainless steel and will resist corrosion for years to come.
While sound is paramount, the visual appearance of the installed system doesn't disappoint either. The design features quad 90mm (3.5″) polished stainless steel and laser Engraved Exhaust Tips for a tasteful, high-performance look. Dinan's thin walled tips are uniquely elegant and reserved yet sporty and give the appearance of tips much larger than rolled edge ones that have become commonplace. Not only will your S3 sound great and stand out from the crowd but it will also differ significantly than the rest as well.
Benefits and Features:
Max Gains: +4 HP @ 5100 RPM, +5 FT-LB @ 5100 RPM
Quad 90mm (3.5″) polished stainless steel and laser engraved exhaust tips
100% 304 stainless steel construction
Larger 2.75″ tubing (stock is 2.5″).
Enjoyably louder, sportier sound
Easy bolt-on installation with included mounting hardware
Factory computer-controlled exhaust valves are eliminated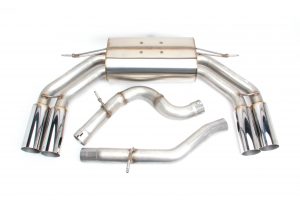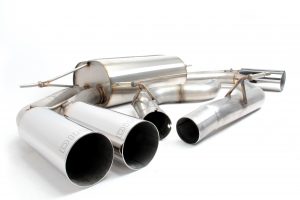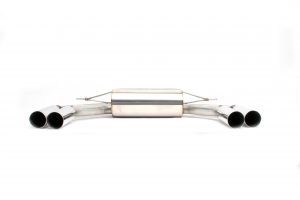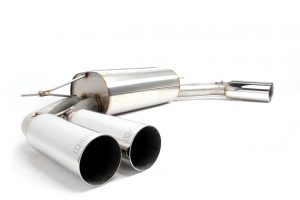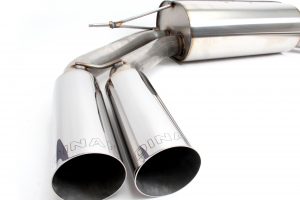 Related Images:
[See image gallery at www.vividracing.com]