My first question was – why the Brave New Films banner? Didn't these women join together and launch this press conference? Why was BNF brought in ~ unless they sponsored the Press Conference. Hmmm, seems as though they did put on the press conference. Why? Why BNF? Well….. Digging further, could it be because one of Brave New Films donors is the Open Society Foundation run by no other than George Soros? And could it ALSO be possible that one of the accusers has ties going back awhile with Hillary (even though she is said to of claimed never having met her)?
Photos don't lie. (found this here)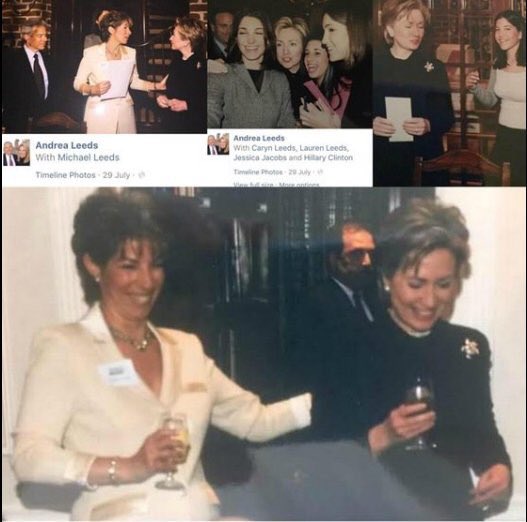 Also found this article in the NY Post from a year ago, detailing a man who said he was on the same flight in first class and said he saw nothing inappropriate and in fact it was Miss Leeds who was flirting with Trump, who was not taking the bait. She was part of the movement to paint him as a sexual deviant a year ago. Now she is giving it another go.
I am NOT dismissing sexual assault, misconduct, harassment and rape. Goddess knows I have experienced all of the previous and I know MOST women do not lie about these very embarrassing, often terrifying experiences. However, given the timing of this and the information I have found, this one has enough stink to make me pause and consider the authenticity of these women. That being said, if Trump has engaged in power-over with women sexually, he needs to come clean about it and deal with the consequences as are the others.
Here is the video. Watch for body language. I watched most of the footage of the women and did not see any signs of trauma or emotional distress. And of interest – saying "i was naked under my robe" – um, as I sit here and type, I am naked under my leggings and tunic. Does that mean if my neighbor comes over I should cover up with more clothes?
The post Trump Accusers Press Conference (What "they" Are Not Telling You) appeared first on LOVE IN ACTION NOW.