My first side effect from radiation isn't really that bad. But it is annoying. The treatment Radiation Treatment Conflicts with my favorite foods. For now. It's only temporary.
Radiation Treatment conflicts with my favorite foods. For now. is article #17 in the series: Do not waste your cancer. Click button to view titles for entire series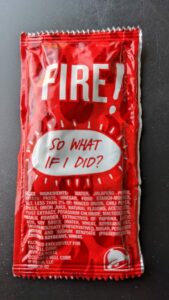 Sometimes that kind of news can get to me. "They" say some people eat to live. Others live to eat. I'm one of the latter. There are some foods that are just so good. Two of the top ones are sushi and various kinds of spicy food. For a large part of my life, I couldn't taste anything unless it was very spicy.
That problem all of a sudden went away. I was at a Cuban restaurant with my wife. Her food was coming towards the table. And I could smell it! And taste it. It was awesome. Suddenly, food went from something with texture and temperature to something with odors and flavors. To this day, pizza remains fairly high on my list of favorite foods to eat because it has so many different things on it. And I get to choose whatever I want, especially if I make my own.
Radiation treatment conflicts with my favorite foods. For now.
As amazing as that was though, today's topic is about losing some foods.
My first side effect from radiation was the "d" word. No – not that one – I'm still married. The diarrhea d-word. It can be caused by spicy foods. Oops. I guess the two Mexican Pizzas with 10 fire sauce isn't going to be on the menu for a while.
I do make them healthier. Approved by one of my two dieticians at the hospital. I switch the refried beans for black beans in the veggie Mexican Pizza. I also add fresh tomatoes, avocado, and if I'm really hungry, more black beans. Then 5 fire sauce or each one. Yum! (Pun not intended, for those who got it. I didn't even notice right away.)
So I went to see the dietician in the radiation oncology department. She asked what I had to eat the last couple days.
Obviously, the spicy food was out. I can't eat Taco Bell without the fire sauce. Sorry TB, but it just doesn't work for me without it. Also out is the spinach and feta wrap at Starbucks, since I always have that with some Sriracha. At least I can sort of deal with pasta sauce without all the herbs and spices I always add to it. And no more spicy Ramen. And on and on.
Then we got to the lunch I had the day before. A lunch that I got at the hospital. Who knew that food from their café was also going to be out?
No sushi, because of the possibility of foodborne illness. Normally, I eat anything. Never had a problem. Some of my favorites include uni and ikura (salmon roe) with a raw quail egg on top. I know. There are potential problems. But I have a strong stomach and they're so good that I take the risk. Having said that, I also only eat sushi at places that are busy (so the fish isn't old) and the place is clean. But still, given all that she said don't eat raw fish, even from the hospital, because of the radiation treatment. Wait until it's over and I've recovered.
Next came the soup I had with the sushi. Cream of broccoli. What could go wrong? Apparently, plenty! Broccoli can cause gas, which can move things around in the abdomen. And then the targeting of the radiation might not be so exact. And then there's the cream. I hate milk. To drink. But a nice creamy soup is good. But not now. Better to avoid creamy soups until this is over.
So in one fell swoop, I lost all that.
Of course, there was another option. One of the recommendations is to take Imodium, or something like it. But I don't like to do medicine, with its own side effects, if there's a natural way to deal with things. And so, those foods are out. For a while.
For a while
For a while. That's the key to this. One two levels.
First, from a physical perspective, while there are no guarantees, this is most likely temporary. They say there's about a 90% chance I'll come through this with no cancer and no lasting side effects.
Second, and more importantly, there's a 100% chance I'll come through this with my citizenship in the Kingdom of God still in place. I pray I'll also come out of it being able to do the things I'm doing now, like writing and teaching. But even if I'm not, the place in Heaven is there.
So even if any effects of this cancer don't go away in this life, they're still temporary. None of this will come with me into the next life.
And that's how/why all of this gets included in a Christian site. Everything here, no matter how bad it is at the time, is temporary. In the overall scheme of eternity, this life is almost nothing. Compared to forever, this life is a blip. Realizing that definitely helps get through the bad times.
OK – but doesn't God say all things will come out good?
Does the Bible really say that all things will come out good? Um – No!
We'd like it to say that. But it doesn't. It just doesn't. Here's the passage that gets misquoted so often.
More Than Conquerors
Ro 8:28 And we know that in all things God works for the good of those who love him, who have been called according to his purpose. 29 For those God foreknew he also predestined to be conformed to the likeness of his Son, that he might be the firstborn among many brothers. 30 And those he predestined, he also called; those he called, he also justified; those he justified, he also glorified.
Ro 8:31 What, then, shall we say in response to this? If God is for us, who can be against us? 32 He who did not spare his own Son, but gave him up for us all—how will he not also, along with him, graciously give us all things? 33 Who will bring any charge against those whom God has chosen? It is God who justifies. 34 Who is he that condemns? Christ Jesus, who died—more than that, who was raised to life—is at the right hand of God and is also interceding for us. 35 Who shall separate us from the love of Christ? Shall trouble or hardship or persecution or famine or nakedness or danger or sword? 36 As it is written:
"For your sake we face death all day long;
we are considered as sheep to be slaughtered." 37 No, in all these things we are more than conquerors through him who loved us. 38 For I am convinced that neither death nor life, neither angels nor demons, neither the present nor the future, nor any powers, 39 neither height nor depth, nor anything else in all creation, will be able to separate us from the love of God that is in Christ Jesus our Lord.
Yes, there are all sorts of positive things in there. Things we should know. Things that should drive the way we live. But nowhere in there does it say God will make everything come out good.
Who is the good for?
Specifically, what it says about things potentially coming out good is:
Ro 8:28 And we know that in all things God works for the good of those who love him, who have been called according to his purpose.
That's not everything!
Let's look at that in fragments:
In all things

– OK – all things. But, don't stop there.

God works for the good

– God works for the good. But that doesn't always mean everything turns out good.

of those who love him

– there's a condition here. This verse is for those who love God. That's not everyone.
There are some further takeaways from that list.
Sometimes bad things turn out to be good for us. Wakeup calls. Or, as the Bible calls it, pruning. Getting rid of the bad stuff in us so that the good stuff can thrive. Just like with plants, bushes, and trees.
Sometimes the outcome being good isn't obvious.

We often don't feel good while being pruned. It can hurt.
Even harder to accept is when we never actually see/feel the good. Of course, the ultimate good comes in the next life.

Sometimes the good may be more for someone else.
What? The good can be for someone else? That's totally opposite of what many people seem to think this means. That can't be, can it?
Actually, yes. it is. Let's look again at one phrase in there.
of those who love him
The object of the phrase "of those who love him" is plural. In other words, there's no indication that there's a one-to-one relationship between any one person's life and everything turning out for the good for that same person. Yes, as we go through trials, testing, pruning, or just going through some of the stuff that happens in this fallen world, we do have the promise of eternal life in Heaven if we truly try to follow Jesus.
Therefore, we could say everything that happens to us will turn out for the good.
How can the good be seen?
However, we should remember about the light on the hill.
Salt and Light
Mt 5:13 "You are the salt of the earth. But if the salt loses its saltiness, how can it be made salty again? It is no longer good for anything, except to be thrown out and trampled by men.
Mt 5:14 "You are the light of the world. A city on a hill cannot be hidden. 15 Neither do people light a lamp and put it under a bowl. Instead they put it on its stand, and it gives light to everyone in the house. 16 In the same way, let your light shine before men, that they may see your good deeds and praise your Father in heaven."
Even if the only thing we do when bad stuff happens to us is to continue to follow Jesus, we are at least that light on the hill. To the extent that we do more than continue to silently live our lives dedicated to God in the midst of bad stuff, we are also salt. Or should I say, stronger/more salt?
I think that's better, because even being a silent light can and does season the lives of others. It may very well make them wonder, how that person can continue to live the way they do with what's going on in their lives?
Not everyone does what I'm doing here. We each have gifts from God. Gifts that we can use to further His kingdom here on earth. To try to get others to know Him. So there are various ways. The light on the hill is one. Writing is one. But there are so many others. Talking with friends is another.
I used to be so frustrated with Christians who want to give the appearance of having a perfect life. It's not like being a good Christian means life will be perfect! In reality, Jesus told us very much the opposite. He told us we'd have troubles in this life. Because of Him!
There's a rather lengthy section in John's Gospel about this. I include the entire passage for the full context. It's a scenario where, as the NIV title says, grief will turn to joy. In our topic today, it's grief in this life that will turn to joy in the next if we follow Jesus. And it can turn into joy in this life, to the extent we allow that to happen.
The Disciples' Grief Will Turn to Joy
Jn 16:17 Some of his disciples said to one another, "What does he mean by saying, 'In a little while you will see me no more, and then after a little while you will see me,' and 'Because I am going to the Father'?" 18 They kept asking, "What does he mean by 'a little while'? We don't understand what he is saying."
Jn 16:19 Jesus saw that they wanted to ask him about this, so he said to them, "Are you asking one another what I meant when I said, 'In a little while you will see me no more, and then after a little while you will see me'? 20 I tell you the truth, you will weep and mourn while the world rejoices. You will grieve, but your grief will turn to joy. 21 A woman giving birth to a child has pain because her time has come; but when her baby is born she forgets the anguish because of her joy that a child is born into the world. 22 So with you: Now is your time of grief, but I will see you again and you will rejoice, and no one will take away your joy. 23 In that day you will no longer ask me anything. I tell you the truth, my Father will give you whatever you ask in my name. 24 Until now you have not asked for anything in my name. Ask and you will receive, and your joy will be complete.
Jn 16:25 "Though I have been speaking figuratively, a time is coming when I will no longer use this kind of language but will tell you plainly about my Father. 26 In that day you will ask in my name. I am not saying that I will ask the Father on your behalf. 27 No, the Father himself loves you because you have loved me and have believed that I came from God. 28 I came from the Father and entered the world; now I am leaving the world and going back to the Father."
Jn 16:29 Then Jesus' disciples said, "Now you are speaking clearly and without figures of speech. 30 Now we can see that you know all things and that you do not even need to have anyone ask you questions. This makes us believe that you came from God."
Jn 16:31 "You believe at last!"Jesus answered. 32 "But a time is coming, and has come, when you will be scattered, each to his own home. You will leave me all alone. Yet I am not alone, for my Father is with me.
Jn 16:33 "I have told you these things, so that in me you may have peace. In this world you will have trouble. But take heart! I have overcome the world."
Remember, if you are trying to follow Jesus, then you are a disciple. The joy Jesus spoke of above is the presence of the Holy Spirit. His original twelve disciples did not have that until after Jesus' return to Heaven. We have the Holy Spirit in us now, at baptism.
It's the Holy Spirit to give us the ability and the strength to be the light on the hill. To do the other things that allow us to be the salt by helping others to know Jesus. To know how and why we do the things we do, even in the midst of troubles.
Conclusion – Radiation treatment conflicts with my favorite foods. For now.
So, for me, as I said, the radiation treatment conflicting with my favorite foods is something that will turn out for good. And it's only temporary.
It will turn out for good.
It will turn out for good for me, because it is allowing me to be, the light on the hill, to talk to people I know, and to write to anyone around the world who reads this. It's part of the Great Commission.
It has the potential to turn out for good for other people as well. I say potential, because I can write all sorts of things, but my part ends there. That is, unless people make comments or ask questions, For whatever reason, that doesn't happen very often at all. Given the number of people who start to read stuff here, I don't know if that's because people don't finish, or just don't have anything to respond. Only God knows that.
However, once it's written and published, when someone does read it, after that it's between you and God. I pray that something in here will touch you and you'll want to know more. Or to follow God more closely. Or feel confirmation that your love of God is good already.
Having said all that, there's one more thing. Even if you're not Christian, or a friend you know isn't Christian, this whole series on Don't Waste Your Cancer may serve to just help you get through the process. I pray it does more than that. But might at least help you get through your journey with cancer, no matter what else you do with it.
---
image by me
---
The post Radiation treatment conflicts with my favorite foods. For now. appeared first on God versus religion.