Even when we know a lot about God, in our heads, we still doubt. Even when we trust God in our hearts, we still worry. It's nice to know we're not alone. Those are some of the same things David seems to express in Psalm 25. Why can't we trust what we know?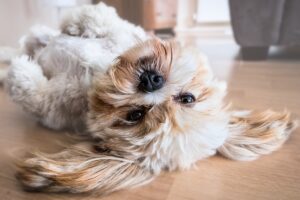 Those of you who have dogs know all about the little one in the adjacent image.
That's the definition of trust.
This is a dog that knows he's in a safe place. Totally comfortable. And totally vulnerable.
I've written many times about the relationships between me and the various dogs I've been blessed to have in my life. If you'd like to check out some of the experiences I've had, and the ways I've learned about how a truly trusting relationship should be, you can check them out at Learning from a dog. Many of them compare that person-dog relationship to the way our relationship with God should be. Very relevant for today's look at Psalm 25.
Psalm 25
If you're a regular here, you know I usually put in the Psalm at the very beginning. But this one's different. There are some things that need to be clear before we get into the question of, Why can't we trust what we know? – when it comes to our relationship with God.
Background on Psalm 25
There is a tendency among commentators to exaggerate the greatness, depth, or pathos of any portion of Scripture they are expounding. For example, some have called Psalm 25 "a sob of great sorrow" or "the deep soul exercise of the godly remnant of Israel in the time of trouble and distress."2 I think the tendency is misleading in this case. Psalm 25 is great, but it is great in its calm and quiet maturity, not as some deep or powerful cry of anguish. It is a thoughtful prayer by one who knows that the only adequate foundation for any worthwhile life is God. 1
Before we get into the text of the Psalm, I mentioned there's something else we need to know. It changes the way we view what David wrote.
Trusting to the End
Since Psalm 25 is not a highly dramatic or emotionally charged psalm but rather a quietly mature one, it presents its theme in a way most of us can easily identify with. We see it at the beginning. The entry point or door of the psalm is Shame, a word that occurs three times in the opening verses (once in verse 2 and twice in verse 3). Since the word also occurs in verse 20, near the end of the psalm, the thought of shame provides a context or background for what is said.
OK, the word shame is going to be obvious in the Psalm, once we actually see the text. However, the Biblical concept of shame, especially in this context, isn't necessarily what we think of today. It's important to know that. And to know what it really meant at that time and in this circumstance. It'll have a huge effect on what we take away from this. On our core question of, Why can't we trust what we know?
To understand what David is talking about we have to realize that the Bible uses the words shame and ashamed differently than we do. In fact, the primary biblical use is not even in most of our dictionaries. When we speak of being ashamed we usually mean being embarrassed or feeling foolish. Webster's New Collegiate Dictionary defines shame this way: a "painful emotion excited by a consciousness of guilt, disgrace or dishonor." This idea is found in the Bible, particularly in appeals to us not to be ashamed of God or of spiritual things. Jesus was speaking along these lines when he said, "If anyone is ashamed of me and my words, the Son of Man will be ashamed of him when he comes in his glory" (Luke 9:26). In a similar vein, Paul wrote, "I am not ashamed of the gospel, because it is the power of God for the salvation of everyone who believes" (Rom. 1:16). We are warned against shame because we all are often embarrassed of Jesus or the gospel, though we should actually be embarrassed to be embarrassed.
As I said, context matters. So here's how shame is used in the context of Psalm 25.
Yet this is not the chief biblical idea connected with shame, as I said. The unique biblical idea is that of being let down or disappointed or of having trusted in something that in the end proves unworthy of our trust.
Yeah – very different, isn't it? Here's some more.
There are a few places where this important meaning is unmistakable. In Romans 5:5 Paul writes about the Christian's hope, saying, as the older King James Version of the Bible has it, "hope maketh not ashamed." This means that the Christian's hope will never be seen to be illusory. It will never be exposed as being vain. Recognizing this meaning, the New International Version has altered the King James reading to say, "hope does not disappoint us." Another verse that requires this translation is Isaiah 49:23 (also Isa. 28:16, a parallel), which Paul quotes twice further on in Romans (Rom. 9:33; 10:11). The King James Version says, "They shall not be ashamed that wait for me." The New International Version rightly reads, "those who hope in me will not be disappointed" (or, in Isa. 28:16, "the one who trusts will never be dismayed"). These verses all mean that those who have staked their all on God will not be abandoned by him in the end. This is the way David uses shame in this psalm. 2
And that's how we get a title about knowing and trusting, when the key word in the Psalm is shame.
If we read the Psalm on our own, and don't consider the full context of the Bible, especially the life and writings of David, this is easy to miss. When I write each portion of this series, I read the Psalm, come up with a title and a rough idea of what I want to write, and then turn to J.M. Boyce's commentary on Psalms to see if I'm even in the ballpark.
I didn't know about this different context of shame that we just read above. However, I was pleasantly surprised to read it here. Why? Because what J.M. Boyce expressed above is what I was planning to write about. It "felt" right. It's nice to see that it is.
BTW – since I write about the commentary I'm using for this series, I feel like I should say something about it. I didn't choose it because of who wrote it. Or for any denominational leaning he might have. I did choose it because he fits in the middle between something that's very technical and something that's so "light" that it doesn't say much.
There are times when I love to get into the technical side of things – the grammar, history, detailed context, Etc. Bet hey – this is supposed to be based on the concept of journaling. Of course, if you've read much here, you can probably guess that I can't journal. It's just not in me. I have to do some amount of research to know I'm not off base. That I do get the point.
And since I'm writing this for others, like you, to read, I feel it's essential to do that. I don't want to mislead anyone. So, here we go.
Psalm 25 

Of David. 

Ps 25:1 To you, O LORD, I lift up my soul; 

Ps 25:2 in you I trust, O my God. 
Do not let me be put to shame, 
nor let my enemies triumph over me.
This is like, I give my soul to you God. And I trust it with you. But, please don't do these things to me.
OK – is that a lack of trust? Or at least some uncertainty?
Of course, we have to realize David was Old Testament/Old Covenant. So the shame and the triumph of enemies is now a long-term/eternal issue. So right away, we begin to see that shame can't possibly be what we normally think about. We know there won't be any shame in Heaven. So then what is this about? We'll see more as we go along.
Ps 25:3 No one whose hope is in you 
will ever be put to shame, 
but they will be put to shame 
who are treacherous without excuse. 
We know, just as David did, that we will all suffer the more traditional kind of shame in this life. It makes no sense to think that David could be asking to somehow avoid that. As I've said in other places, God cannot make a square circle. And in this fallen world, God isn't going to make a promise that someone isn't going to suffer shame. It's just part of life when we live under the curse from Genesis.
However, when we consider the definition of shame as being let down or disappointed, and we look at the promise of life with God for eternity, this makes sense. There will be no shame, no disappointment for those who love and live with Him in Heaven forever. On the other hand, there will be nothing but shame for those who don't love God. Further, they'll have no one to blame but themselves. No excuses.
Ps 25:4 Show me your ways, O LORD, 
teach me your paths; 

Ps 25:5 guide me in your truth and teach me, 
for you are God my Savior, 
and my hope is in you all day long. 
Very simply, those who love God want these things. We want to know how He desires that we live. And we try our best to follow what He says. Finally, there's the reality that God is our hope.
Sadly, there are many who claim to be Christian, but don't truly love God, don't really even know, let alone follow, what Jesus taught. And therefore, also don't understand what Christian hope is all about.

Ps 25:6 Remember, O LORD, your great mercy and love, 
for they are from of old. 

Ps 25:7 Remember not the sins of my youth 
and my rebellious ways; 
according to your love remember me, 
for you are good, O LORD.
Again, David seems to be asking for things He already knows God will do (or not do). Or maybe he's reminding God of things He promised to do, even though he knows God will do them because that's who God is. Or, is it that David doesn't trust what he knows? Hang in there, that question will be answered.
Ps 25:8 Good and upright is the LORD; 
therefore he instructs sinners in his ways. 

Ps 25:9 He guides the humble in what is right 
and teaches them his way. 

Ps 25:10 All the ways of the LORD are loving and faithful 
for those who keep the demands of his covenant. 

Ps 25:11 For the sake of your name, O LORD, 
forgive my iniquity, though it is great. 
Still more of the things David knows. And again, why?
Ps 25:12 Who, then, is the man that fears the LORD? 
He will instruct him in the way chosen for him. 

Ps 25:13 He will spend his days in prosperity, 
and his descendants will inherit the land. 

Ps 25:14 The LORD confides in those who fear him; 
he makes his covenant known to them. 

Ps 25:15 My eyes are ever on the LORD, 
for only he will release my feet from the snare. 

Ps 25:16 Turn to me and be gracious to me, 
for I am lonely and afflicted. 

Ps 25:17 The troubles of my heart have multiplied; 
free me from my anguish. 

Ps 25:18 Look upon my affliction and my distress 
and take away all my sins. 

Ps 25:19 See how my enemies have increased 
and how fiercely they hate me! 

Ps 25:20 Guard my life and rescue me; 
let me not be put to shame, 
for I take refuge in you. 

Ps 25:21 May integrity and uprightness protect me, 
because my hope is in you. 

Ps 25:22 Redeem Israel, O God, 
from all their troubles! 
Still more verses like the previous ones. David goes back and forth between saying things about God and asking for things about David's own issues.
Conclusion – Why can't we trust what we know?
What is Psalm 25 really about?
The short answer is that Psalm 25 is about being able to trust God because He won't let down anyone who loves Him. But there's more to the long answer. Psalm 25 is about:
no shame, in the sense of not being let down, realizing that the promise is about eternal life. God will not let us down.
Prayer, a two-way conversation with God.

God wants us to ask for things we need. He's our Father.
God is OK with us having questions and even occasional doubt.
Prayer also involves giving God the praise He deserves.
All these things that are part of prayer are what Psalm 25 is about.
For much more on prayer, I invite you to check out the series on The Lord's Prayer in the inset box below.
---
Image by Fran • @thisisfranpatel from Pixabay
---
The post Psalm 25 – Why can't we trust what we know? appeared first on God versus religion.
Footnotes
1 Boice, J. M. (2005). Psalms 1–41: An Expositional Commentary (p. 222). Baker Books.
2 Boice, J. M. (2005). Psalms 1–41: An Expositional Commentary (pp. 223–224). Baker Books.