Do we trust God? Lots of people probably answer yes. But how much do we really trust God? Enough that our life is guided by Him? Or is God merely along for the ride while we go wherever we want? And while we do whatever we want? That's my question after reading Psalm 21.
Psalm 21 

For the director of music. A psalm of David. 

Ps 21:1 O LORD, the king rejoices in your strength. 
How great is his joy in the victories you give! 

Ps 21:2 You have granted him the desire of his heart 
and have not withheld the request of his lips.

Selah 

Ps 21:3 You welcomed him with rich blessings 
and placed a crown of pure gold on his head. 

Ps 21:4 He asked you for life, and you gave it to him—
length of days, for ever and ever. 

Ps 21:5 Through the victories you gave, his glory is great; 
you have bestowed on him splendor and majesty. 

Ps 21:6 Surely you have granted him eternal blessings 
and made him glad with the joy of your presence. 

Ps 21:7 For the king trusts in the LORD; 
through the unfailing Love of the Most High 
he will not be shaken. 

Ps 21:8 Your hand will lay hold on all your enemies; 
your right hand will seize your foes. 

Ps 21:9 At the time of your appearing 
you will make them like a fiery furnace. 
In his wrath the LORD will swallow them up, 
and his fire will consume them. 

Ps 21:10 You will destroy their descendants from the earth, 
their posterity from mankind. 

Ps 21:11 Though they plot evil against you 
and devise wicked schemes, they cannot succeed; 

Ps 21:12 for you will make them turn their backs 
when you aim at them with drawn bow. 

Ps 21:13 Be exalted, O LORD, in your strength; 
we will sing and praise your might. 
Some background on Psalm 21
There is something to be learned by the mere existence of this psalm, even before we begin to study it in detail, and that is the importance for us of giving thanks. Generally we do not find it particularly hard to pray when we are in trouble. Even unbelievers will pray in times of sickness, danger, financial loss, or other hardship. "O God, what am I going to do?" they will say. We do the same, though with a greater knowledge of who God is and what he has promised to do for his children. It is much harder to pray after God intervenes to help, rescue, or save us, as he often does. The fact that Psalms 20 and 21 were written together and are carefully linked shows that the Jews of this far-off day realized the importance and necessity of being thankful always.
Jesus did too. He also recognized how we easily neglect thanking God after he intervenes for us. We remember that on one occasion, when Jesus was traveling to Jerusalem along the border between Samaria and Galilee, he was met by ten lepers. They asked him to have pity on them, which he did. He told them to show themselves to the priests, which they would be required to do eventually in order to receive formal certification that they had been cleansed of this normally fatal disease, and as they went on their way they were healed. All were delighted, of course. It was a literal reprieve from death. But only one was thankful. He was a Samaritan. He returned to Jesus, fell at his feet, and thanked him profusely.
Jesus then asked those who were standing by, "Were not all ten cleansed? Where are the other nine? Was no one found to return and give praise to God except this foreigner?" (Luke 17:11–19).1
That's all good stuff in the background.
However, after reading it, my thoughts were on a different portion of the Psalm. Actually, between the pair of Psalms – 20 and 21. The previous Psalm was something for the people to sing on behalf of their King. This one gives thanks.
As with Psalm 20, a question arises today. This was written for Jewish people. With a Jewish King. A King who loved God.
But we aren't those people. And we don't have leaders who truly follow God. At least not in their positions as leaders. The amount of corruption, jealousy, hatred, gossip, abuse, Etc. that takes place in our government is unbelievable. Especially when we look at the number of people in our federal government who claim to be Christians.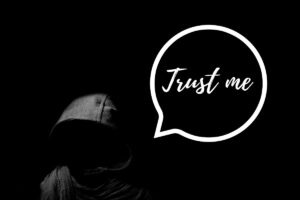 And so the question is, who do we trust?
Do we really trust God? Or do we trust whoever that figure is in the shadows of the adjacent image? Someone w we can't see. And therefore don't know.
Or maybe it's someone we do see and do know, but only from the outside. And it's that person who's hiding their true inner self.
That person could even be our inner self, that we try to hide from everyone, including ourselves.
Why does it matter if we trust God?
As I mentioned in the Psalm 20 entry, this one's hard to get the point if we don't know what's going on.
Check out these two verses:
Ps 21:1 O LORD, the king rejoices in your strength.
How great is his joy in the victories you give!
Ps 21:2 You have granted him the desire of his heart
and have not withheld the request of his lips.
You can see, this is about thanksgiving.
Yes, we should be thankful.
Sometimes, we pray, ask for something, and essentially thank God in advance for answering our prayer. Even though it hasn't been answered yet.
Why? I'd say some of it is because we think our request, our case, our need, whatever, is so aligned with God's will that we assume He's going to answer it the way we want. And when we want.
Is it really God we trust?
But there's that issue of who do we trust? Even if we say our trust is in God, is it really? Is it God, the way God defines Himself in the Bible? Or is it a "god" that we made in our image instead? Or do we think we're so "righteous", in our terms of what that means, that God just has to grant our request?
It's one thing for David to write these two Psalms, with people who love God, people who follow their King, and the King truly loves God and follows Him. It's quite another to remove any one of those things, let alone potentially all of them, and think the rest of the scenario still applies.
The bottom line, I think the thankfulness part needs to come first. When we are thankful to God for what He has done for us, then we can better align the desires of our heart with the desires of God. Then, our requests will be granted.
I know, it sounds like circular logic. It sounds like I'm saying to just be good little soldiers and do whatever God wants.
But the thing is, we have a lot of freedom within our lives, freedom to do all sorts of good things, and be within God's wishes for our lives. And if we're honest, and really trust God, we will want to align our desires to His because it's the best possible life we could have. And it's all because He loves us.
It's hard to understand. Harder to believe. Unless we choose to love God and accept His gift of the Holy Spirit. Then we can begin to understand, believe, and trust things like the passage below.
God's Love and Ours
1Jn 4:7 Dear friends, let us love one another, for love comes from God. Everyone who loves has been born of God and knows God. 8 Whoever does not love does not know God, because God is love. 9 This is how God showed his love among us: He sent his one and only Son into the world that we might live through him. 10 This is love: not that we loved God, but that he loved us and sent his Son as an atoning sacrifice for our sins. 11 Dear friends, since God so loved us, we also ought to love one another. 12 No one has ever seen God; but if we love one another, God lives in us and his love is made complete in us.
1Jn 4:13 We know that we live in him and he in us, because he has given us of his Spirit. 14 And we have seen and testify that the Father has sent his Son to be the Savior of the world. 15 If anyone acknowledges that Jesus is the Son of God, God lives in him and he in God. 16 And so we know and rely on the love God has for us.
God is love. Whoever lives in love lives in God, and God in him. 17 In this way, love is made complete among us so that we will have confidence on the day of judgment, because in this world we are like him. 18 There is no fear in love. But perfect love drives out fear, because fear has to do with punishment. The one who fears is not made perfect in love.
1Jn 4:19 We love because he first loved us. 20 If anyone says, "I love God," yet hates his brother, he is a liar. For anyone who does not love his brother, whom he has seen, cannot love God, whom he has not seen. 21 And he has given us this command: Whoever loves God must also love his brother.
After this, we have the Holy Spirit, we can also believe and trust what Jesus said below.
The Shepherd and His Flock
Jn 10:1 "I tell you the truth, the man who does not enter the Sheep pen by the gate, but climbs in by some other way, is a thief and a robber. 2 The man who enters by the gate is the shepherd of his sheep. 3 The watchman opens the gate for him, and the sheep listen to his voice. He calls his own sheep by name and leads them out. 4 When he has brought out all his own, he goes on ahead of them, and his sheep follow him because they know his voice. 5 But they will never follow a stranger; in fact, they will run away from him because they do not recognize a stranger's voice." 6 Jesus used this figure of speech, but they did not understand what he was telling them.
Jn 10:7 Therefore Jesus said again, "I tell you the truth, I am the gate for the sheep. 8 All who ever came before me were thieves and robbers, but the sheep did not listen to them. 9 I am the gate; whoever enters through me will be saved. He will come in and go out, and find pasture. 10 The thief comes only to steal and kill and destroy; I have come that they may have life, and have it to the full.
Jn 10:11 "I am the good shepherd. The good shepherd lays down his life for the sheep. 12 The hired hand is not the shepherd who owns the sheep. So when he sees the wolf coming, he abandons the sheep and runs away. Then the wolf attacks the flock and scatters it. 13 The man runs away because he is a hired hand and cares nothing for the sheep.
Jn 10:14 "I am the good shepherd; I know my sheep and my sheep know me— 15 just as the Father knows me and I know the Father—and I lay down my life for the sheep. 16 I have other sheep that are not of this sheep pen. I must bring them also. They too will listen to my voice, and there shall be one flock and one shepherd. 17 The reason my Father loves me is that I lay down my life—only to take it up again. 18 No one takes it from me, but I lay it down of my own accord. I have authority to lay it down and authority to take it up again. This command I received from my Father."
Conclusion – Psalm 21 – How much do we really trust God?
After we realize God loves us first, and in a way that we can't begin to truly understand, then we can begin to love Him. And believe Him. And trust Him.
But just as His love came first, our thankfulness for His love should also come first. And we should always remember that. And be thankful for it.
As we grow in our faith, our desires will begin to get closer to what God planned for us before He created us.
Then we get a better and better understanding of something Jesus said in the passage above:
10 The thief comes only to steal and kill and destroy; I have come that they may have life, and have it to the full.
To put that in terms from this topic, the thief is the person in the image at the top. Jesus is the one who saved us from our sins. And the one who, through the Holy Spirit, will help us live life to the full.
So that's my take on what struck me these last two days on Psalms 20 and 21.
---
Image by Gerd Altmann from Pixabay
---
The post Psalm 21 – How much do we really trust God? appeared first on God versus religion.
Footnotes
1 Boice, J. M. (2005). Psalms 1–41: An Expositional Commentary (pp. 184–185). Baker Books.