Can we honestly believe that God is good even when He says, wait longer? Psalm 12 looked at God telling us to, in today's terms, hang in there. Now, God's saying wait longer. Really? And on top of it, we're still supposed to say, God is good? Yes! Absolutely! 'Cause He is.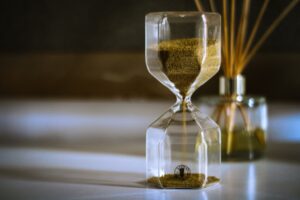 This one reminds me of the last three-plus years with prostate cancer.
Get diagnosed. Put on active surveillance. Wait.
Have surgery. Wait to see if it was successful.
It wasn't. Cancer cells remain.
Back n active surveillance. Wait some more.
Now, I'll probably be told in two days that it's time to start radiation.
Seven weeks. Six times a week.
When that's done, more tests to see if it was successful.
And even if the first test is negative, it's a five-year wait to be declared "cancer free".
God is good even when He says wait longer?
After all that, is it surprising if someone asks if God is good even when He says wait longer?
But that's my story. It's what I thought of when I read Psalm 13 this morning.
Now, let's take a look at David's story.
Psalm 13
For the director of music. A psalm of David.
     Ps 13:1 How long, O LORD? Will you forget me forever? 
             How long will you hide your face from me? 

     Ps 13:2 How long must I wrestle with my thoughts 
             and every day have sorrow in my heart? 
             How long will my enemy triumph over me? 

     Ps 13:3 Look on me and answer, O LORD my God. 
             Give light to my eyes, or I will sleep in death; 

     Ps 13:4 my enemy will say, "I have overcome him," 
             and my foes will rejoice when I fall. 

     Ps 13:5 But I trust in your unfailing love; 
             my heart rejoices in your salvation. 

     Ps 13:6 I will sing to the LORD, 
             for he has been good to me.
Some background on Psalm 13
You may have noticed in your study of the psalms that certain places in the Psalter reveal increasing intensity and even apparent desperation. We find this movement as we pass from Psalm 12 to Psalm 13.
In Psalm 12 David feels himself to be alone, in the sense that godly or faithful persons seem to have disappeared. Instead of upright persons, he is surrounded by "people of the lie." This is bad enough, of course. If we feel alone in any trying situation, we feel desperate. But when we read Psalm 13, we find that David feels Abandoned now not only by godly or faithful men, but even by God himself! Can anything be worse than that? It is hard to think so.
When Jonah was trying to get away from God, he thought that being abandoned by God would be desirable. But when he was thrown into the sea, was swallowed by the great fish, and finally did sense himself to be abandoned by God, he found that he did not like the feeling at all. He compared his state of abandonment to Sheol or hell and cried out in distress, asking God to save him (cf. Jonah 2). 1
That first paragraph, stronger and stronger feelings of being abandoned by God, is one that resonates with many of us.
If you've read a few things from Don't waste your cancer then you know that feeling of being abandoned by God is not something I've experienced (so far) in my cancer journey.
For me, that's extremely surprising.
I say that because of the adjacent inset box.
No, feeling like God has abandoned us isn't something new.
And no, it's not uncommon for people who don't suffer from anxiety and/or depression.
However – it's also not uncommon for people who don't have such issues.
To show that point of view, I include additional commentary from my source for the background f each Psalm.
Before beginning to explore Psalm 13 in detail, I have two observations to make about feeling abandoned by God.
The first is this. As a result of counseling people over more than two decades of my ministry, I am convinced that a feeling of abandonment is far more common than it appears to be. Many people feel abandoned—by others, first, but ultimately also by God, which makes this a spiritual problem and not only a psychological one. Moreover, I find that counselors confirm this. A psychiatrist friend says that she deals with it frequently in her practice, particularly when someone feels depressed. She says, "The amount of despair and false guilt result in a feeling of a deep chasm between the person and God." The person feels that no one cares about him or her, and since no person cares, God must not care either. God seems to have left such persons to themselves.
Here is the second observation. Although this is a common problem, I have not been able to find much helpful literature about it, particularly by Christians. Even D. Martyn Lloyd-Jones in Spiritual Depression: Its Causes and Cure does not specifically deal with feelings of abandonment.
Why do you suppose this is? I think it is because we have been taught that Christians are not to experience such things, that we are only to have "life more abundantly" or to "live victoriously." In the last chapter I quoted the dying French atheist Voltaire, who said, "I am abandoned by God and man." We are not surprised to hear an unbeliever say that. But if any of us should admit to such feelings, many of our friends would look askance at us, shake their heads, and wonder whether we are Christians. Isn't that true? Isn't that the chief reason why you do not talk to other Christians about this or about many other problems?
How good then to find that David does talk about it! David is a giant in Scripture, a person "after [God's] own heart" (1 Sam. 13:14). Yet described here is a time when David felt that God had left him entirely. And he doesn't cover up his feelings. To use Howard Cosell's famous phrase, David "tells it like it is." He feels abandoned by God and says so. Well, if he says so, we can say so too. Even more importantly, we can learn from him and can experience the same good movement from despair to settled trust in God that this psalm shows. 2
Conclusion – God is good even when He says wait longer
So, what's my point? I guess there are at least three points.
God's promise is eternal
Ultimately, God's promise to those who love Him and truly follow Jesus is that we will spend eternity with Him. An eternity without any of the problems in this life. And, an eternity that makes this life not even a fraction of a drop in the largest bucket we can imagine. And that's good.
God doesn't ignore us in the big things
In Old Testament times, people didn't have the Holy Spirit except in certain circumstances. As true believers, He's available to us all the time. Yes – all the time. It's not God that turns away from us. It's us who turn away from God.
In that case, when God says wait, end even wait for a long time, He's not turning away from us. In fact, it's a time when we should draw closer and closer to God. Do we? Not always. But we blame Him for the distanced attitude, when in reality it's us.
God doesn't ignore us in the little things
God doesn't ignore us in the little things either. And I say that even though, for me, sometimes the "little" things are the ones that get me down. The ones that aren't that big in the overall scheme of things, but happen so fast that the moments of anxiety come and go leading to depression before I know what happened. And then it's just hard to turn to God.
One last thought
I want to close with one final thought. I can't tell you how long I felt like God was out to get me. Blaming Him for things that were most likely my own doing from poor choices. I was, in that way, like Jonah. I wanted to be left alone by God. To have Him just give me a break. From Him.
After many years, I'm glad He didn't. Who knows where I'd be without Him. Not here, that's for sure.
But I can say, when we want to be left alone by God, or when we feel like He's ignoring us, those are the times when we really need to go to Him. Realizing, like David did in those last verses:
Ps 13:5 But I trust in your unfailing love;
my heart rejoices in your salvation.
Ps 13:6 I will sing to the LORD,
for he has been good to me.
Yes – I can say that. And write it. Now, if I could only do it more often. And quicker.
---
Image by Rocco Stoppoloni from Pixabay
---
The post Psalm 13 – God Is Good Even When He Says Wait Longer? appeared first on God versus religion.
1 Boice, J. M. (2005). Psalms 1–41: An Expositional Commentary (pp. 105–106). Baker Books.
2 Boice, J. M. (2005). Psalms 1–41: An Expositional Commentary (pp. 106–107). Baker Books.