Estimated Read Time: 14-20 minutes
God tried to work immediately with human beings and started with Adam's Family. It came close, but in the end, it didn't work.
So God waited… and waited… and waited… and finally, God found someone who seemed fit for the task. Spoiler alert: his name was Noah.
I know we're still in that 'fictitious' territory where you can easily dismiss this, saying that this isn't really history. I understand that, and you're free to think how you want. But human history goes back a long time, and since we don't really have archaeological evidence of exactly what people did that long ago, we have to bridge the gaps somewhere.
But keep in mind that we're still in the 'symbolic' age here. You can interpret that however you want. Eventually, it will progress to the 'image' age, and finally, to the 'substantial' age (we'll discuss what these mean sometime), where you will definitely start recognizing some things. We just have to get through everything first.
_____
Noah's Family
After many years, from among Seth's descendants, God found someone who was faithful enough. His name was Noah. Once again, the formula is the same: lay the
Foundation
for the new Adam.
The Foundation of Faith
Central Figure
This was Noah himself. Noah was apparently a righteous man in the sight of God. (p. 199) Therefore, he chose him to make the offering.
Object
The object for the offering was the ark. Noah reportedly took 120 years building the ark, taking all kinds of derision and mockery in the process (this number is probably not meant to be taken literally).
Why an ark, though? Noah needed to make an indemnity condition for the restoration of the cosmos (lost to Satan through the Fall), so the object for the condition symbolized the new cosmos.
How does the Ark symbolize the cosmos? It was "built with three decks, symbolizing the cosmos which had been created through the three stages of the growing period." (p. 200) Noah's family symbolized humanity, and the animals brought into the ark symbolized the natural world.
Time Period
So after Noah built the ark and his family and animals went safely in it, God judged the world with 40 days of the flood.
Why did he do this? He wanted to eliminate sinful humanity and raise up a family relating only to him. He was able to do this because Noah successfully laid the foundation of faith.
Why the number 40, though? Apparently, the number 40 is the characteristic of "dispensations for the separation of Satan, necessary for restoring the foundation of faith." (p. 201) You'll see this number appear again and again throughout providential history.
So Noah did his job. What next?
The Foundation of Substance
Noah had sons named Shem and Ham, who were supposed to be in the positions of Cain and Abel, respectively. Ham was supposed to be the central figure in the substantial offering. Because Noah made the symbolic offering and succeeded, Ham had to be inseparably one in heart with Noah.
So it's a little different this time. The foundation of substance isn't the elder serving the younger here, but it still had its intentions to remove the fallen nature. Besides, just like Adam was supposed to be one in heart with God, Ham had to be one in heart with Noah.
So what happened?
Noah was lying naked in his tent when Ham came along. He felt ashamed of Noah and took offense. He then stirred up those feelings in his brothers, and as they were "turning their faces so as not to behold the sight[;] they walked backwards and covered their father's body with a garment." (p. 204) This action was so bad that Noah rebuked Ham.
The Divine Principle says that this action constituted a sin.
Now, you're probably going crazy right now. One little thing like that becomes a sin? How?
Since the ark symbolized the cosmos, the events occurring after the flood symbolized the creation of the cosmos. This was equivalent to the creation of Adam and Eve right after Creation. (p. 204) So technically, this symbolized the time before the Fall.
As we recall, Adam and Eve were not ashamed of their nakedness before the Fall. After the Fall, though, Adam and Eve were ashamed and had to cover their lower parts in fig leaves. This means that they had guilty consciences and were ashamed to go before God.
So what God wanted to do here was recover the time before the Fall where no one was ashamed of their nakedness. This is why God had Noah lie naked to test Ham.
What should have happened was Ham should have been one in heart with Noah and not regard nakedness with any sense of shame, just like times before the Fall. But when Ham felt ashamed and covered up Noah, "he made a condition for Satan to enter; hence his feeling and act constituted a sin." (p. 205) Recall that a sin is making the FPF with Satan. Relating with Satan in any way can cause a sin: since Ham felt ashamed, he was basically in the mindset of after the Human Fall when he should have been in a mindset at a time before the Human Fall. Since Satan could relate with that, it was considered a sin.
It's important to note that it is not always sinful to be ashamed of nakedness. But this was one very particular case, where God wanted to recover the time before the Fall, so he made the situation just like it.
Because of this one seemingly little thing, the foundation of substance was not completed.
It seems so minuscule, but God needs to accept conditions that are pure and holy and uncompromised, or otherwise Satan will accuse these conditions too. And once again, God was frustrated and had to find someone else.
Lessons Learned in Noah's Family
1) Just like in Adam's family, God has respect for the human portion of responsibility; there are no guarantees and it all depends on this.
2) If Ham had humility, obedience, and patience, he would have fulfilled the foundation of substance. This is why it's important for us, too, to have these values.
3) Since responsibility was not fulfilled, though God was so regretful, He didn't hesitate and found someone else in his place.
Now, I wonder who that someone would be…
_____
Abraham's Family
The Foundation of Faith
Central Figure
At last, after many more years, God finally found someone faithful enough (again). This time, his name was Abraham. He was to inherit the mission of Noah and therefore the mission of Adam, too.
Object
This time, the object for the condition was also another sacrificial offering: it was a dove and a pigeon, a ram and a goat, and a heifer. The dove represented the formation stage, the ram represented the growth stage, and the heifer represented the completion stage. Together, they symbolized the cosmos through the three growing periods.
These three sacrifices were to indemnify all the indemnity conditions accumulated through the families of Adam (formation), Noah (growth), and Abraham (completion). He was to restore all of this at once, just like Adam was to go through the three stages in one lifetime (before the Fall), so he put all the animals on one altar.
Time Period
Seems immediate to me.
_____
So what actually happened?
God asked him to bring these animals to an altar. He asked Abraham to cut each of these animals in half. Abraham, being very old at the time, managed to cut the heifer and ram and goat into two, but he felt tired after and went into a deep sleep. So he did not cut the birds in two. After birds of prey descended onto the carcasses, God told Abraham that because of his failure, his descendants had to be oppressed in a foreign land for 400 years. (p. 211)
Whoa, whoa, whoa, 400 years? How is that even fair? How does any of this make sense? Also, the Divine Principle calls it a sin to not divide the birds in half. (p. 211) Why is that?
God instructed to divide the birds in half as a symbolic way to divide good and evil. This theme appeared in Adam's family (Cain and Abel) and Noah's family (dividing the ark from the rest of the world), and since they were both unsuccessful, Abraham was also trying to indemnify those failures.
Satan is always looking for an opportunity to invade. If he sees any offering that is not pure, holy, or uncompromised, he can accuse God and take possession of the offering himself. That's what happened here. The birds of prey can also represent Satan looking for an opportunity to invade.
Because the birds, representing the formation stage, were not cut, it remained in Satan's possession. But because the growth and completion stages were meant to be completed on top of the formation stage (which was not completed), Satan can claim those too. Basically, the entire symbolic offering was handed to Satan.
Because Abraham could not fulfill this condition, he had to indemnify this by having his descendants suffer oppression for 400 years in a foreign land. This was to indemnify and restore the years before Abraham, since he couldn't do so with the offering, plus his own mistake.
Once again, just one seemingly little thing that wasn't fulfilled had a huge impact on God's Providence. It seems small, but God's commands are very serious. At the time at least, since human beings could not receive the Word directly, He was just looking for anyone to have absolute faith to fulfill their responsibility. How frustrating it must have been for God.
But okay… Abraham failed. He couldn't lay the foundation of faith. Now what?
So far, if any central figure didn't fulfill their responsibility, God didn't work with him again. But what ended up happening was that God told Abraham to offer his only son Isaac as a burnt offering, presumably, as a greater indemnity condition.
Why could God do this? The basic premise is, since the number three represents completion, for the third time the foundation for the new Adam takes place, it must be brought to completion. (p. 214) So no matter what, God had to continue working with Abraham's family.
So Abraham and Isaac began a journey to offer the sacrifice. After realizing that Abraham had no animal to sacrifice, Isaac understood that he was going to be the sacrifice. Isaac followed with absolute faith. Abraham laid him on the altar, took out the knife, and then…
An angel stops him right in his tracks. Huh?
To God, this offering was done with absolute faith: pure and holy and uncompromised. Both Abraham and Isaac were united in heart and did this with absolute faith, obedience, and loyalty. To God, this was enough (and enough for Satan to not accuse God), and the providence of restoration could continue through Isaac.
If Isaac had resisted to be sacrificed, then God would definitely not have taken this offering (Satan would accuse it as not uncompromised). Since Abraham was technically not supposed to make the symbolic offering himself again, he had to regard Abraham as not having failed or prolonged the providence of restoration. Therefore, some of the responsibility was shifted to Isaac.
It's not clear how old Isaac was at the time, but he was old enough to understand his father's intentions. (p. 216) Because Isaac was victorious in having absolute faith, Isaac's victory became Abraham's victory, and they both were regarded by God as having succeeded.
Technically though… there was no offering that was actually offered, since Isaac didn't die. So Abraham offered a ram as a substitute for Isaac, and this became the symbolic offering where Isaac restored the foundation of faith.
Alright, onward we go…
The Foundation of Substance
If Abraham had not failed in his mission, Isaac and his half-brother Ishmael would be in the positions of Abel and Cain (respectively) and they would had to have laid the foundation of substance. But, since Abraham failed, God set up Isaac in place of Abraham, and since Isaac succeeded, his sons Esau and
Jacob
were to now lay the foundation of substance.
Esau, the older son, was in the position of Cain, representing 'evil', while Jacob, the younger son, was in the position of Abel, representing 'good'. Esau was to remove the fallen nature through Jacob.
Before that can be done though, Jacob had to fulfill the indemnity condition to restore the position of Abel. How'd he do that?
First, he had to get the birthright, even though Jacob was the younger son. The story goes that Esau, a hunter, came back home starving one day because he had not gotten anything from his hunting.
In the end, Esau traded his birthright for bread and lentils. Just… wow. Desperate times, desperate measures I guess.
Now that Jacob had the birthright, he had to somehow obtain the blessing of the birthright from his father, Isaac. So Jacob and his mom Rebecca (or Rebekah depending on how you spell it) worked together to make Jacob seem like he was Esau. Since Isaac was old and basically blind by that time, it was a feasible plan. Jacob wrapped his skin around animal fur to make it seem like he was hairy as Esau, and it worked. Isaac blessed Jacob when he thought Jacob was Esau.
Now when Esau came back from hunting and heard about the news, he became so angry that he wanted to kill Jacob. Rightfully so, I guess, when he stole your birthright? But, at the same time, he did give it up for some bread and lentils, so I don't know…
Still, Esau was angry enough to want to kill Jacob. So Jacob had to run away to his uncle Laban, which, according to the Divine Principle, represented the satanic world. (p. 219) There, among 21 years of drudgery, with basically Jacob having to follow Laban's orders, Jacob triumphed and gained family and wealth as his due inheritance. With this, he thought he could finally return to Canaan, where Esau was.
On the way though, Jacob encountered an angel. He had to wrestle with this angel, and despite his hip bone coming out, Jacob did not give up. Finally, the angel had to go, but Jacob did not let him. So the angel blessed him, gave him the name 'Israel', and Jacob was victorious.
This event restored the dominion of human beings over angels. With all of this (birthright, Laban, angel), Jacob restored through indemnity the position of Abel.
Anyway, time to return to Canaan and remove the fallen nature. Now Esau and Jacob were in the same position as Cain and Abel were when God accepted Abel's offering. What Esau needed to do was simple and should now sound very familiar:
1) Love Jacob
2) Respect Jacob as his mediator to God
3) Obediently submit to Jacob's directions
4) Multiply goodness by inheriting goodness from the bearer of God's blessing
With these steps, Esau can remove the fallen nature. So what did he do?
Apparently, Esau was still mad at Jacob after 21 years. He was so mad, in fact, that he brought his army of four hundred men to fight him. Wow.
So what did Jacob do? After dividing his wives and children up, he went in front of all of them and bowed down 7 times on the ground to Esau until he came near. (p. 219)
Esau still could have been mad at Jacob. But nope, Esau ran to meet Jacob, embraced him, fell on his neck and kissed him, and together they wept. (p. 219)
Ahh! Finally, finally, finally, when Esau affectionately welcomed Jacob, they fulfilled the indemnity condition to remove the fallen nature. Finally! For the first time ever, the foundation of substance was laid successfully. Esau and Jacob were victorious, and their victory, by extension, was Isaac's victory and Abraham's victory. At last, Esau completed the position of restored Cain and was able to receive God's love.
So… we're done here, right? Foundation of faith? Check. Foundation of substance? Check. We got the foundation for the new Adam! Time for God to send the New Adam, right?
Haha, very funny. Remember what I said before? Yes, we need the foundation for the new Adam to receive the New Adam, but we're missing one thing. There also needs to be a social environment conducive to his coming. About that…
By this time, fallen (other) people had already built up societies on the national level. In comparison, Abraham's family laid the foundation for the New Adam, but only on a family level.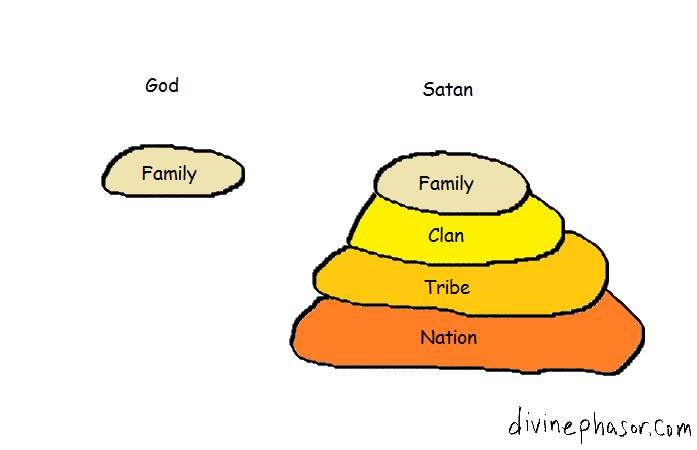 There's no way the new Adam would be safe here. God at least has to create something on the national level to make it safe for the new Adam to come. What a bummer…
Important to note, though: If Adam's family, or even Noah's family, successfully laid the foundation for the new Adam, then the new Adam would have come at that time. Back then, there were no other families or nations that could attack or kill the new Adam. But nope, not this time.
Also important: even if Abraham was successful in his offering, it still would not be safe for the new Adam to come. What God needs to do now is to create a national foundation for the Messiah. So here we go, let's begin…
But wait! Abraham's family was successful, but we forgot one little thing… Abraham's descendants still had to suffer 400 years oppressed in a foreign land. Gotta do that first.
Jacob's family is going to take the responsibility in shouldering Abraham's sin, since he is the central figure of the substantial offering. What happens now?
Funny you asked. So Jacob had a son named Joseph. He was the 12th son of Jacob. One day, he had a dream that the Sun, Moon, and 11 stars bowed down to him. He thought this may have been implying that his parents his brothers were going to bow down to him. It made his brothers angry.
Later on, Joseph received a rainbow coat(?) from his father, and that made his brothers even angrier. They were so angry that they sold him into slavery in Egypt, and told their parents that Joseph died.
So Joseph was a slave in Egypt. Now what? Well it turns out he was very good at interpreting dreams, and the Pharaoh had a lot of them. After correctly interpreting his dreams countless times, the Pharaoh made him Prime Minister of Egypt by the age of 30. Wow.
And by that time, there was a famine going on in Canaan, but Egypt was flourishing. So Jacob's family went to Egypt for food, and they bowed down to Joseph, the Prime Minister. They had no idea it was Joseph. His dream had come true. Funny how that works.
So after they found out, all of Jacob's family moved to Egypt. And after Joseph died, the Pharaoh and leaders of Egypt became more and more hostile toward Jacob's descendants. And now, they were to embark on the 400-year indemnity course to atone for Abraham's mistake.
I wonder what happens 400 years later? Too bad, that's for next time.
Lessons Learned in Abraham's Family
1) Once again, God has absolute respect for the human portion of responsibility. He cannot do things alone. At least not to complete the providence of restoration.
2) If human beings fail to complete their portion of responsibility, the fulfillment of God's Will is delayed and this requires a greater indemnity condition to be fulfilled. God also does not hesitate finding someone else in the central figure's place.
3) Abraham's offering dividing the animals in two provides us with a lesson that we need to separate good and evil from our own selves. Only by dividing good and evil can we offer things to God, and we should constantly work on separating good and evil from ourselves. If we don't do this, then Satan can invade.
4) Since Jacob was the first person to successfully lay the foundation of substance, his course becomes the model course to bring Satan into submission. More on what that means next time.
5) In the period from Adam to Abraham, human beings could not receive the Word of God directly. Therefore, this age is often called the Providence to Lay the Foundation for Restoration, or the Providence to Lay the Foundation for the Word. Don't worry, I probably won't use these terms again.
6) This age could also be called the age of the providence to lay the family foundation for the new Adam, since that was finally done through Abraham's family.
7) This age is also called the age of symbolic parallels. Remember this clearly.
_______
Well, for the first time, human beings were finally able to fulfill their responsibility, even though it was only on the family level. But there's a long way to go before the world can be restored, at least from this point. But we're moving onto the 'image' age, where things (maybe) will get more recognizable? Probably not, but who knows. A step is a step.
Now that we're finally done with the symbolic parallels age, we can talk about its accuracy.
As for Noah… yeah, there's no way we're ever going to find any archaeological evidence on that. Let's not even try. But the flood… that's really interesting. I've always wondered if it was a universal flood, a regional flood, or a symbolic flood.
I'm not even going to guess how long ago Noah lived, if he did. But let's talk about the flood.
I don't think it could have been a universal flood. Seems way too unreasonable that all land (or at least land where humans lived at the time) went underwater.
So it's either symbolic or regional. You could think it's symbolic, and I'd have no problem with that. But if, and only if, human beings were only living in one area at the time, it could be very possible that it was a regional flood. Just my opinion though, so don't quote me on it. This is all just speculation.
Abraham, though… that's a little more realistic. I think few historians are going to regard him as a historical figure (as in track when and where he was born, died, and what he did). But we know for a fact that other human beings had already developed nations (civilizations? Empires?) at the time, so it had to be relatively recent.
We also know that Egypt as a civilization/empire already existed, too, so that also gives us a bit more clarity. If I had to make a guess, I'd say he lived around 2000BC, give or take a few hundred years. But this is all just my speculation. Please, please, do not quote me on this as historical fact.
But back to the real story. Now that we've learned all of this, we know the next step is to restore a national foundation. So for the next post, we'll see how God tried to do that. As always, thanks for reading, and see you next post!
_____________________
Like this? Share it.
Also sign up for the mailing list below. Only 2-4 emails a month.
Also like us on Facebook. Why? Why not?
Support mechanisms here.